Dutchsinse is claiming Las Vegas, NV was recently "sprayed" and that the offending trails were "caught on radar".
http://dutchsinse.tatoott1009.com/3052014-metro-las-vegas-sprayed-at-night-caught-on-radar/
https://www.facebook.com/photo.php?...2.106418.296574443728320&type=1&stream_ref=10
https://www.facebook.com/photo.php?...2.106418.296574443728320&type=1&stream_ref=10
No Dutch. What you were seeing is chaff released by military aircraft over central Nevada. There is currently a Red Flag military exercise running from Nellis Air Force Base and it is highly probable participating aircraft released chaff that was later seen by weather radars in the area.
http://www.nellis.af.mil/library/flyingoperations.asp
One of the most useful dual polarization weather radar products available is called "Correlation Coefficient" or just CC. In a nutshell, the higher the value is to +1.0, the more "correlated" the objects in that area are; in other words the
more they are alike
. Rain and snow bands will appear anywhere from a yellow to an almost pink and have a CC closer to 1. Non-meteorological returns such as birds, bugs....chaff....are not very uniform and so therefore their values as seen on weather radar will typically be less than .7 and appear an almost grey or blue.
Examining the correlation coefficient product from KESX, the WSR-88D in Las Vegas, we see values of less than .41 and no higher than .73 in Dutch's "spray clouds" - indicating a non-uniformity of the objects in that area, something you'd expect to see from irregularly shaped chaff that is flowing and tumbling through the air.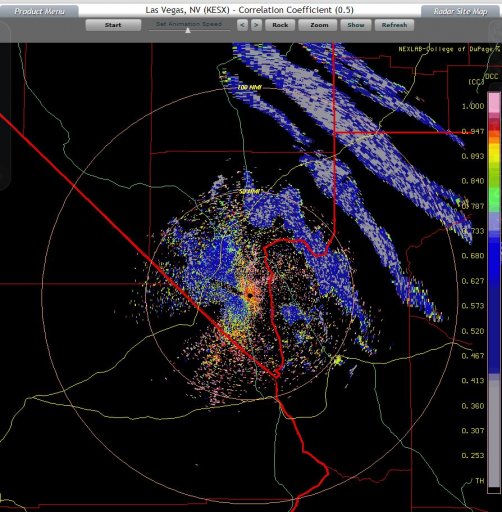 As the chaff drifted into southern Utah, it was also picked up by KICX weather radar. Examining the CC from those returns, we continue to see the same values for the chaff. However, southern Utah was also experiencing a precipitation event at the same time and for those returns, we see the pinkish-red returns indicating a value close to +1.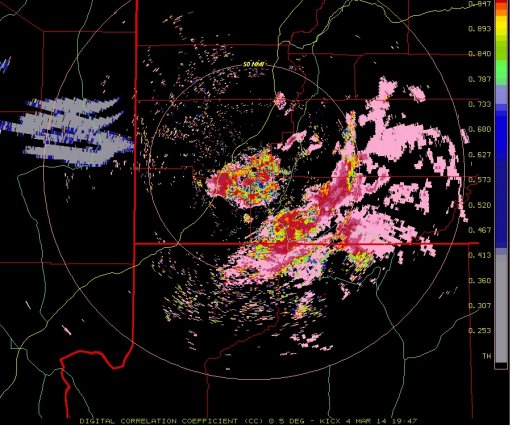 Just for curiosity, I e-mailed the staff at National Weather Service in Las Vegas and showed them these captures. They confirmed it was indeed a chaff release and that they see it all the time on radar appearing out of both Nellis and Edwards AFB in CA. In addition I asked one of the staff meteorologists here what they thought and they also concurred those are the types of returns and values typically associated with chaff.
Below is a guide to interpreting CC values on weather radar: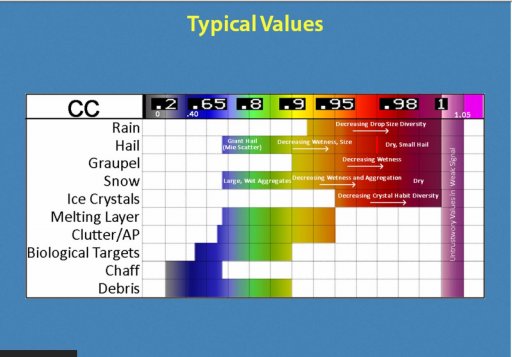 I have animated GIF of the event as seen in both base reflectivity and correlation coefficient but am not sure if they will load and then run properly if uploaded here.
A link to the Jacksonville NWS showing an example of chaff on weather radar that looks very similar to the image posted here:
http://www.srh.noaa.gov/jax/?n=interpreting_radar_images
Maybe if Dutch actually knew how to interpret some of the fancy images he loves to post so he can dazzle all his gullible followers, we might actually give him more credit as a real "investigator".....