Administrator
Staff member
It looks like a big rise in interest occured some time around end of 2014 or beginning of 2015. I don't think this rapid increase just accidentally happened. Doing some googling, I find that a guy named Eric Dubay published a new book about flat earth "theory" in November 2014, and in December 2014, he also produced a 1.5-hour documentary published on youtube, along with several other sensationalistic videos like "Nasa insider exposes the flat earth", etc. Several of his videos have hundreds of thousands of views. Looking at his youtube channel, apparently he started producing flat earth videos about a year ago. So maybe this recent surge is at least in part the result of his activity and its cascading effects.

His youtube channel:

https://www.youtube.com/user/ericdubay77/videos

His books:

http://www.lulu.com/spotlight/ericdubay
I was just perusing the welcome thread, and I noticed Dubay actually signed up here in December 2013,
@ericdubay
(he just made that one post, and never returned).
Hi everyone, this is my first time here, I'm Eric Dubay an American living in Thailand where I teach Wing Chun and Yoga part-time while exposing the New World Order full-time. I'm the webmaster at

http://AtlanteanConspiracy.com

and look forward to contributing on your forum! Peace
On his blog the oldest post tagged with Flat Earth is also in Nov 2014, coinciding with the
http://www.atlanteanconspiracy.com/2014/11/the-flat-earth-conspiracy.html
The Earth is flat and motionless just as it seems, the Sun/Moon are the same size, and all the celestial bodies revolve around us. This stable geocentric universe, proven true by experience and experiments, which reigned undisputed for thousands of years adequately explaining all Earthly and celestial phenomena, was violently uprooted, spun around, and sent flying through infinite space by a cabal of Sun-worshipping theoretical astronomers.Early Masonic magicians like Copernicus, Kepler, Galileo, and Newton, along with their modern Masonic astro-not counter-parts like Armstrong, Aldrin, and Collins, hand-in-hand with NASA and world Freemasonry have pulled off the greatest hoax, propagated the most phenomenal lie, and perpetuated the most complete indoctrination in history.
Before that he had a passing familiarity with the topic, and willing to consider it. Aug 2009:
http://www.atlanteanconspiracy.com/2009/08/alex-jones-mentions-atlantean.html
While

I'm certainly not here to debate the shape of the Earth

, I will say that there is plenty of compelling evidence that the Earth is not a sphere and does not rotate. For instance, take a look at the Zetetic Astronomy book,

"Earth Not a Globe" by Samuel Birley Rowbotham

Now

I'm not saying I believe one way or the other about the shape of the Earth

, but I would like to say, I disapprove of the demeanor (ever so common in modern society) of instantly condemning and ridiculing something like Flat-Earth or the Moon landing hoax just because "everybody knows the Earth is round" or "NASA showed me pictures." Why not question everything and really research for yourself? NASA was started by a large group of ex-Nazis and Masons, not the most historically trustworthy folks...
Later he rejects the Heliocentric model of the solar system in favor of the geocentric, but does not explicitly say the earth is flat: Nov 2011
I'd like to know if we're really being subject to all those forces/motions, then why hasn't anyone in all of history ever felt it? How is it that all the centrifugal, gravitational, inertial and kinematic forces somehow cancel each other out perfectly so that no one has ever felt the slightest bit of motion or resistance? Why aren't there world-wide perturbations of our smooth rotation after earthquakes or meteor strikes? Why can I still feel the slightest breeze on my face, but not the air displacement from all this motion? If the Earth is spinning beneath us, why can't I just hover in a helicopter, wait until my destination reaches me, and then land when it comes?
...
By removing Earth from the motionless center of the Universe, the entirety of astrology, a science of consciousness coveted and used obsessively by the elite, is made null and void. If the Earth is the center of the Universe and all the planets (ancient gods) revolve around us, then birth charts, alignments, and astrology are measurable, calculable, repeatable, and thus scientifically verifiable. But if the Earth is just one of billions of planets revolving around billions of stars in billions of galaxies, then astrology disappears into the realms of pseudo-science believed by our ignorant ancestors.

In the comments on that post, a year later (Aug 2012), he's getting closer to Flat Eartherism.
http://www.atlanteanconspiracy.com/...howComment=1344999183588#c2621435188679110855
The links he gives there are to the 1881 book "Zetetic Astronomy", a section on perspective that seems to have been written by someone with poor eyesight who is unfamiliar with telescopes. The argument there is that a "hull down" ship does not have the hull below the horizon, but instead just has the hull too small to see, because as it's smaller than the sails, it vanishes first because of perspective. It's interesting that Dubay presents this obviously wrong explanation as a good challenge.
But it seems like at some point after 2012 he decided to go entirely flat-earth, presumably he felt it fit well with his large scale, long term, "Atlantean" conspiracy.
Here's a recent video he made, adding illustrations to a radio interview he gave:
It seems at first like an endless stream of trolling, correction-bait, but then it seems like he really does believe it.
His book contains things that are inarguably false:
https://books.google.com/books?id=effuBwAAQBAJ&pg=PA135&lpg=PA135&dq="eric+dubay"+"hull+down"&source=bl&ots=0hh2zPclum&sig=_XRBVAQgIQA6NXIx2fh3xpxZ4uo&hl=en&sa=X&ved=0ahUKEwjqltO9gtfKAhUT9GMKHSV9C1MQ6AEIMjAE#v=onepage&q="eric dubay" "hull down"&f=false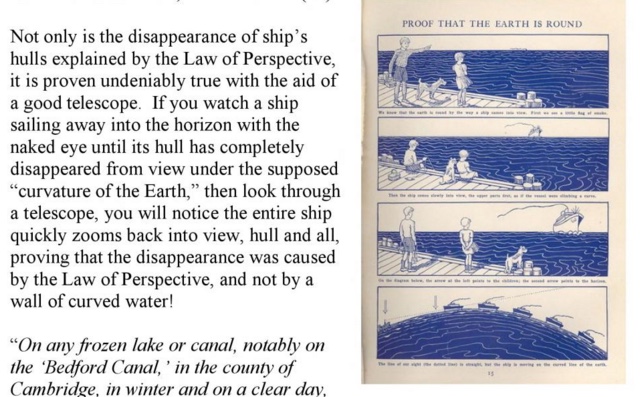 Could it be that all the Flat Earthers share this misunderstanding of perspective? There's a real dissonance here, because clearly there are multiple examples of the bottoms of ships NOT "zooming into view" when viewed through a telescope. This is particularly clear with large liners, such as in the comic on the right above. An excellent example is in this album:
https://www.facebook.com/dave.greg1...92969940750.1073741918.100002201677137&type=3
Looking through a telescope (a zoom lens) on the left, half the ship is still below the horizon.
It would seem that presenting evidence such as this should be undeniable evidence that the earth is not flat. Do people reject this? Are they simply unaware of this? Does this evidence just need publicizing more? Is it worth pointing out just how incredibly wrong Dubay is on this point? I'd certainly not want to waste time debunking every single point in his book - but I'd really like to hear how he explains these telescopic photos of ships that directly violate what he claims in his book.
Last edited: