Administrator
Staff member
The growth of photography has been a mixed blessing for debunking. On the one hand the vast number of photographs of events like the Boston Bombing helps to quickly disprove (but not prevent) the spread of conspiracy theories. Also the sheer number of cameras around makes it highly improbable that things such as Bigfoot and Alien UFOs could be appearing to people, and yet avoiding having good photographic evidence.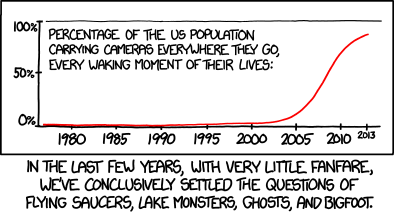 But on the other hand the vast number of cameras and photos means that there are far more photos of everything now than there were 10 or 20 years ago. And this leads to a special problem, the illusion of frequency.
The illusion of frequency is the impression that something is more frequent now because you can find more photos of it now. It's an illusion because the increase in the number of photos of a thing (say, persistent contrails) is due to a combination of several things:
There are more photos of everything now
If interest in a thing increases, people will take more photos of it.
More recent photos are vastly more likely to be found online that older photos
How many photos are we talking about? What has been the growth? Have a look at the growth of Flickr: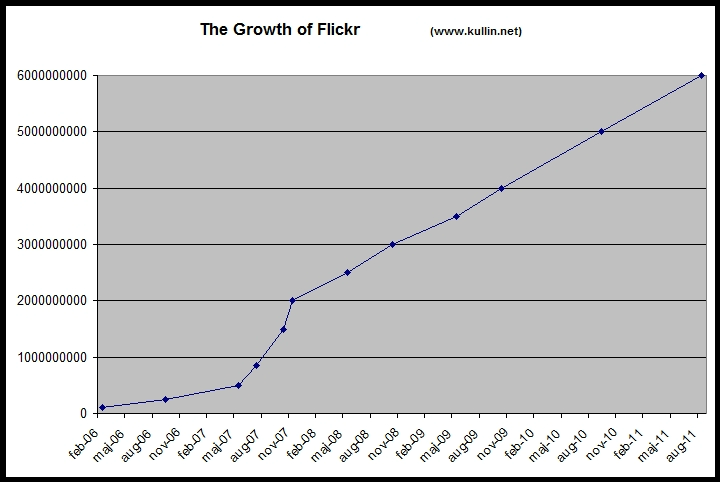 or Instagram: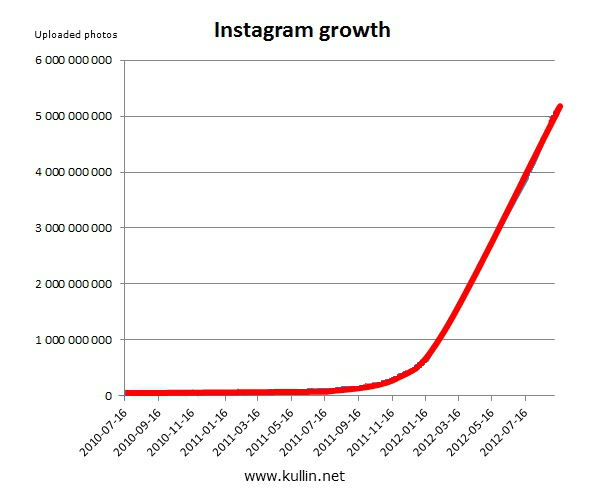 Then realize the Flickr and Instagram are small fry compared to Facebook and Snapchat: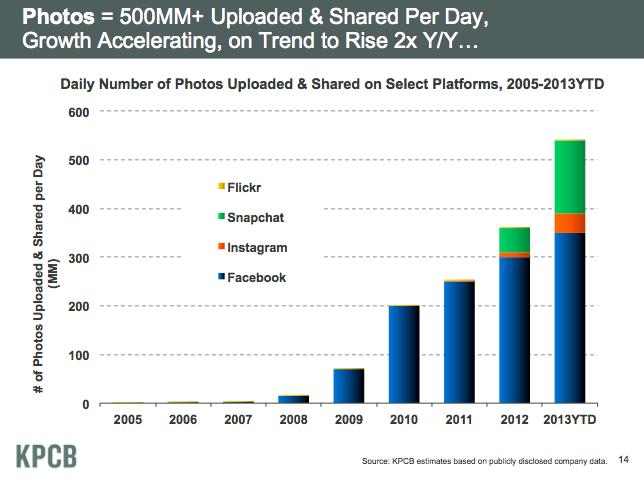 Note Flickr barely even registers on that graph, and yet it has over six billion photos, nearly all of which are since 2005. At 300 million images per day, Facebook uploads that many photos every three weeks.
So if we are comparing photos now with photos then, we have to do it honestly. With "chemtrails" we are comparing the very best photos from a time when hundreds of millions of photos are taken and shared every day, and when thousands or even tens of thousands of people are really interested in the chemtrail theory, and when photos are free to take and share. This is being compared against a time when relatively few photos were taken, and these photos were not shared, and nobody had heard of "chemtrails", and photos actually cost money to take and share.
But really the key here is the sheer weight of the number of photos. It's just easy to find a photo of
anything
taken in the last five years. But unless that thing was a typical subject of photography, then you will find vastly fewer online photos of that thing taken over ten years ago, and probably none taken over 20 years ago.
Take, for example, sidewalk gum. Easy to find recent images of it, near impossible to find old images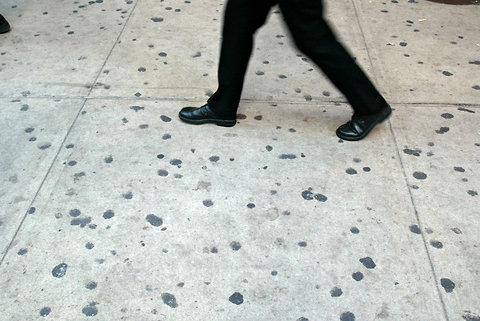 Does this mean it suddenly sprang into existence around 2000? And we got more and more sidewalk gum in the last five years? Of course not. There's no conspiracy here:
Although you could invent one that's just as well based in fact as chemtrails, like "chemspots", as in this spoof: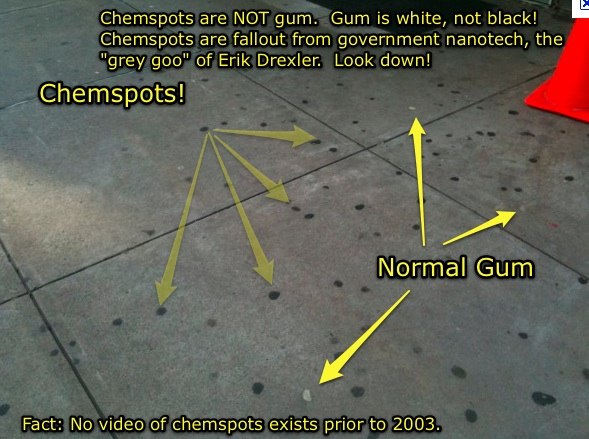 http://chemspots.wordpress.com/

I have long been concerned about the many ways that the powers-that-be are seeking to poison us, or are performing some kinds of chemical experimentation on or around us without our consent. Much of this activity is performed quite openly: fluoride in our water, chemtrails in the air, GMO in our food.

But one government activity seems to have gone without notice – introduced in the early years of the 21st century, possibly as a backup vector, triggered by the growing public awareness of other projects, this new threat I term "chemspot", and appears as dark spots, about an inch in diameter, found ubiquitously in all population centers through the United States, and possibly other parts the world (although the Asiatic countries seem to have escaped so far).

Last edited: