One of the main arguments 9-11 truthers use as 'proof' of controlled demolition is the alleged 'fact' that 'fire has never caused a tall building to collapse before or since', often going on to quote more recent incidents such as the
Marina Torch
and
The Address
fires in Dubai.
Thankfully build collapses due to fire are very rare, however they can happen as the events unfolding in Tehran have proved
http://www.bbc.co.uk/news/world-middle-east-38675628
Many firefighters are feared dead after a landmark high-rise building in Iran's capital, Tehran, caught fire and collapsed, state media report.

Two hundred had battled the blaze in the 17-storey Plasco building for several hours before it fell to the ground in a matter of seconds.

More than 200 people were also reportedly injured in the incident.

Completed in 1962, the building was once Tehran's tallest and contained a shopping centre and clothing workshops.

The fire reportedly began around 08:00 (04:30 GMT) on Thursday, at a time when many of the shopkeepers were not inside.

Initial photos showed flames and smoke pouring out of the top floors.

Ten fire stations responded to the blaze and state television reported that dozens of firefighters were inside the building when the north wall collapsed, swiftly bringing down the whole structure.

"It was like a horror movie," a local grocery shop owner, who was forced to evacuate the area by police, told the Reuters news agency. "The building collapsed in front of me."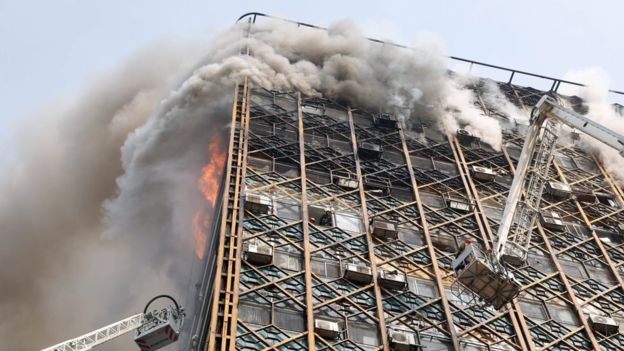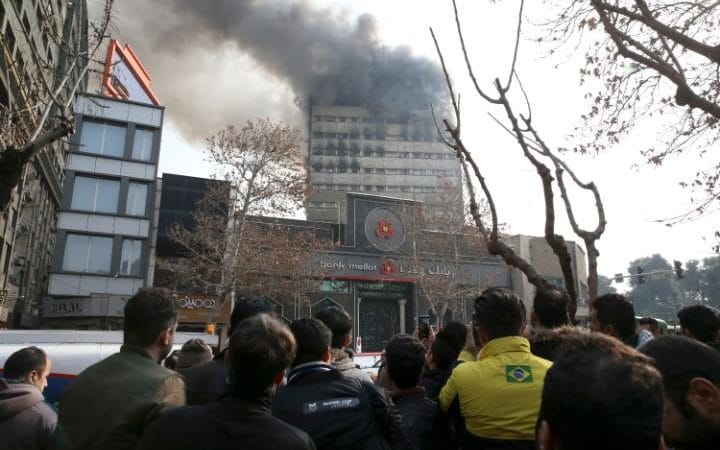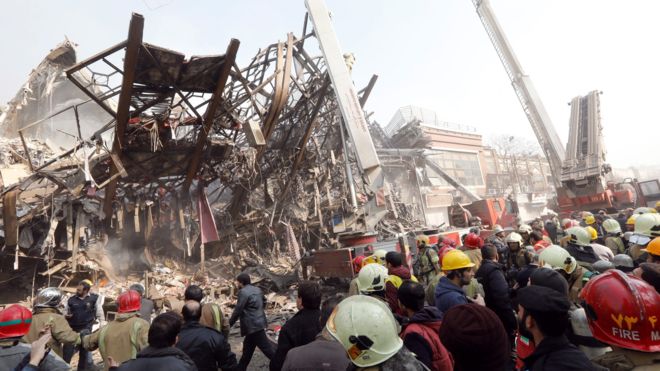 Video of collapse here
So do tall building collapse when burning for several hours? The answer is rarely, but yes.
See also:
Last edited by a moderator: