Several pre-election fake news stories and ads on Craigslist for "paid protesters" had found their way onto the social media, and spread through thousands of re-postings.
These stories are continuing to be re-posted, even now, after the election.
Back in March of this year, Paul Horner created a fake news story on his site "abcnews.com.co", which has nothing to do with ABC the network. (I don't sugest people click on the story, because Horner will just make more money because of his false story)
Here is a screen-shot. (Notice he has recently changed the posting-date from March, to Nov. 11)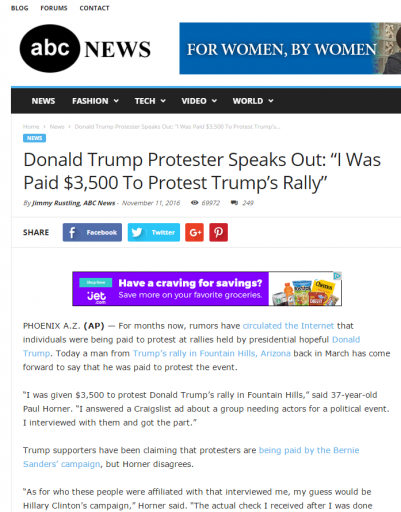 Horner also posted a fake Craigslist ad for "paid protesters", to help verify and bolster his fake news story.
Paul Horner is well-known to Snopes for other fake news created in the "National Report".
Politifact debunked his recent ploy...
The Washington Post has an interview with Horner, and he admits to his fake news stories.....(exerpt)
Some of these Craigslist ads
were real
and were for paid phone solicitors (or canvassing), which were then misinterpreted and believed to be part of the above Hoax story.The fake Craigslist ads for "paid protesters" in various cities, have been since deleted from Craigslist.
It's rather silly idea anyway. There would be no need to "pay" anti-Trump protesters....there are enough of them already.
Last edited: