Here's an image ostensibly showing that a Facebook group about yesterday's bombing was set up prior to it taking place -
http://beforeitsnews.com/conspiracy...-before-boston-marathon-bombings-2450056.html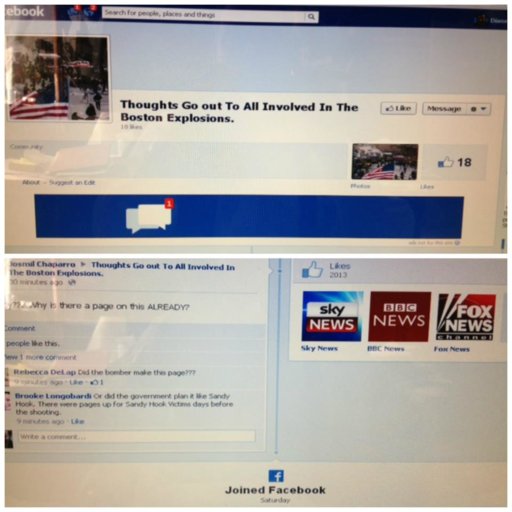 Which has since been debunked by MSN...Which all the conspiracy theorists will naturally believe -
Facebook tribute page to Boston Marathon bombing victims was not created before the bombings took place
Like many events of national importance, Monday's bombings at the Boston Marathon has a Facebook page that aims to serve as a tribute to the victims. Titled "Thoughts Go out To All Involved In The Boston Explosions," the page currently says it was created on April 15 -- the day of the bombings. But an image purporting to be a screenshot of the page from earlier in the day shows it saying it was created on Saturday, two days before the actual attack. MSN News asked Facebook to confirm the actual date of the page's founding and thus address accusations that whomever set up the page must have had prior knowledge of the attacks. False alarm

Perhaps not surprisingly, the page in question was not founded on April 13, but on April 15 -- the day of the bombings. Facebook spokesperson Andrew Noyes tells MSN News that the page used to be about a different subject matter altogether, but was changed on Monday to reflect news of the bombing. "We looked into the issue and the page existed before, with a different name and a different subject matter," Noyes says. "It looks like the admin of the page changed it to reflect the events of (April 15)." As for the screenshot being passed around that shows a "joined Facebook" date of Saturday, April 13: Noyes says that a user can change the group's founded date to anything they want.

Page creator fesses up

Late on Monday, after many commenters on the Facebook page wrote messages asking the creator of the page to say when he or she created it (along with posting numerous conspiracy theories), the administrator of the page posted the following message: "Guys this is not the Original Page that is in the profile picture, this was an old page that I've used to set up this page to pay my respects to those out in Boston. Sorry for any misunderstanding." The explanation matches what Facebook tells MSN and should put to bed any accusations that the page was set up before the bombings.



http://news.msn.com/rumors/rumor-boston-bombing-facebook-page-set-up-two-days-before-attack