Just wondering if anyone has come across this guy yet? Supposedly this is a quote by Matt Anderssen, now involved in Indigo airlines but a former consultant. Indigo Airlines is/was (I don't know if it is still operating) a business airline based in Chicago and is not related to another Indigo Airlines in India.
http://en.wikipedia.org/wiki/Indigo_Airlines
This quote is doing the rounds at chemmie sites.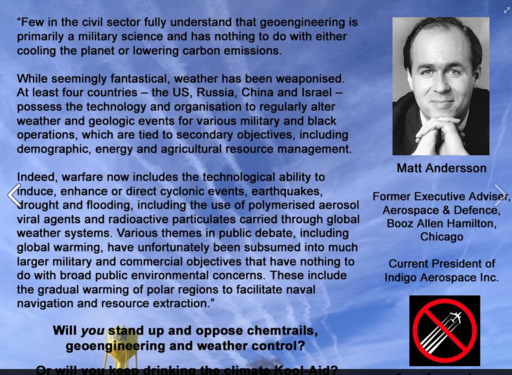 The quote is taken from The Economist readers comments. I don't how thoroughly The Economist vets those contributions but here is the compilation of others quotes by him in the Readers comments... which, charitably put, appear to be all on a certain theme. There are three possibilities in my mind as to the veracity of these quotes, in descending order of probability;
1. It is the man in question and he has "lost it".
2. Someone has hijacked his identity and is posting under his name, or,
3. What he says is based on technology he is aware of but offers no proof.
Anyway here are the comments allegedly written by him... the invasion of Norway one I find ... interesting.
https://www.economist.com/user/3726484/comments