One of the most often heard claims by chemtrailers is that Aluminium oxide is being sprayed by aircraft. Presumably this means that other aircraft are flying in an atmosphere laden with aluminium oxide and would be colliding with the particles all the time.
In the early 80's a British Airways 747 (Speedbird 9 from Kuala Lumpur to Perth, Australia) had a volcanic ash encounter over Java as Mt Galunggung erupted unannounced. One of the effects was to clog the engines as the heat in the combustion chambers turned the silicates effectively into glass, which caused all four engines to flame out. They got them all back after they exited the ash cloud.
As the flight returned to Halim airport near Jakarta, the captain thought that the weather had gone foggy because the view out of his windows was "fuzzy". What had actually happened was that the volcanic ash had abraded the windscreens, as well as all the leading edges of the wings, tailplane ,vertical stabilizer and engines. All had to be replaced before the aircraft could fly again.
Volcanic ash has a Mohs scale rating of between 5 and 6. Aluminium oxide has a Mohs scale rating of 9. It is used as an alternative to industrial diamonds. It is used to make sandpaper.
Chemtrailers ask us to believe that aircraft fly around all day in aluminium oxide fall-out. I would suggest such a suggestion is ludicrous considering that a 10 minute ash encounter did this to the 747's windscreens.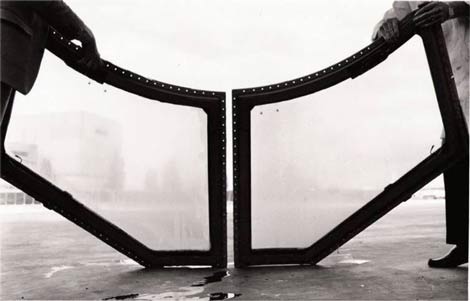 This has been posted before by I made a film of me in my A330 flying through hours of what many people consider to be chemtrails. My windscreens remain mysteriously unaffected. Funny about that.
[video=youtube_share;EB5WiCZHXws]http://youtu.be/EB5WiCZHXws[/video]