Administrator
Staff member
The National Report is a satire site, like The Onion.
http://en.wikipedia.org/wiki/National_Report
National Report

(nationalreport.net) is a satirical website devoted to often subtle parodies of real news which convince the unwary. It is published by Allen Montgomery.

[1]

Among headline-generating spoofs are a report that Arizona's governor

Jan Brewer

intended to introduce mandatory gay-to-straight conversion courses into the state's public school system,

[2]

and a report that fooled researchers at

Fox News Channel

, in which the President was purported to have announced his intention to spend his own money to keep a Muslim museum open during a government shutdown.

[3]

Another report that fooled people in Wyoming claimed that a man in

Hanna, Wyoming

was the first recipient of a

RFID

chip which, the report claimed, was part of an Obamacare pilot program.

[1]

A report published by National Report on November 2, 2013 claiming a fictitious Assam Rape Festival created a furore in Indian national media.

[4][5][6]
Hence this story is satire:
http://nationalreport.net/rfid-mascot-chippie-nationwide-tour/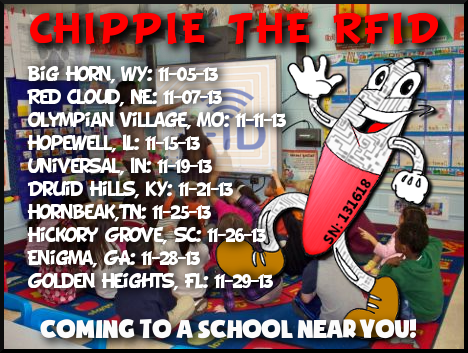 In an effort to separate myth from truth regarding the federally mandated Obamacare RFID chip implantation program, a public awareness campaign has been launched to tour in a number of public schools across our nation.

The operation features a jovial animated mascot, a cartoon RFID chip named "Chippie". They use the character to demonstrate to their young audience the benefits of having the RFID implanted under your skin.

After a whimsical 30 minute cartoon following Chippie during one of his many adventures, there is a puppet show where children are encouraged to ask Chippie any questions they may have relating to the RFID chip or the implantation process. Each child leaves the exhibition with a "Chippie" stuffed doll, coloring book and several informative pamphlets for their parents to read that may assuage any lingering fears to their children receiving the device.
Really it should have been obvious from reading the story. Or a brief perusal of the other stories on the site, such as the cannoisation of the iPhone 5s:
http://nationalreport.net/catholic-church-canonizes-iphone-5s/
In an unprecedented traditional upturn by the Vatican, the Catholic church has canonized the first artificial intelligence device in history: the iPhone 5s. The Congregation for the Causes of Saints -the committee that oversees determinations of sainthood within the church- had the privilege of testing the beta versions of the sleek, newly released iPhone 5s approximately four weeks ahead of the general public.
...
All in all, it seems that the iPhone 5s has captured the hearts and minds…and spirits of the Vatican who will be holding a public canonization ceremony in March 2014 to honor the newly appointed Saint, along with a small award ceremony commemorating this year's runner-up nominees: Thomas Merton, Karl Marx and Luther Vandross.
Last edited: