The following posting has shown up recently on Twitter, containing photos of trees partly covered with moss and lichen. The claim is that 'chemtrails' are the cause of this, and the implied subtext is that these things are in some way harmful.
No reference or reason is given for these assumptions.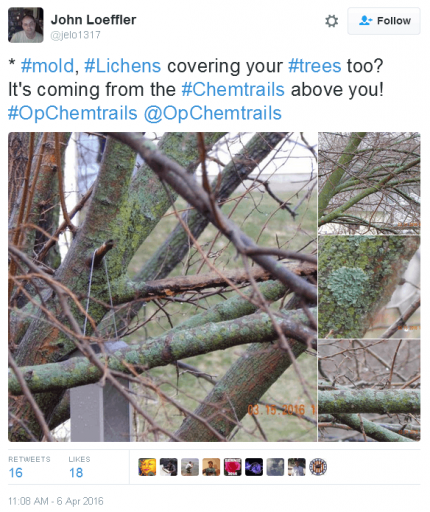 This claim is bunk.
Lichens are - quite on the contrary - well-researched indicators for good air quality. They are regularly used in science as bio-indicators for air quality monitoring; specific lichen varieties react in certain ways to specific pollutants. Most are affected negatively by sulphur dioxide which is one of the most discussed substances for use in proposed 'geoengineering' measures (solar radiation management).
Moss on tree bark indicates a humid environment. Like lichens, it does not affect the health of a tree. On the other hand, both may be indicators that a tree is in bad health, so cause and effect may be misattributed by laymen.
In a nutshell: be glad if you find lichen on the trees in your area.
Also, SRM by stratospheric sulphur injection would at some point keep lichens from growing.
Here is what the Royal Horticultural Society in GB has to say (my emphasis):
https://www.rhs.org.uk/advice/profile?PID=411
This is from a paper about lichens as bio-indicators from the Forest Service of the US Department of Agriculture, page 4:
http://www.treesearch.fs.fed.us/pubs/29523
(full paper available)