Administrator
Staff member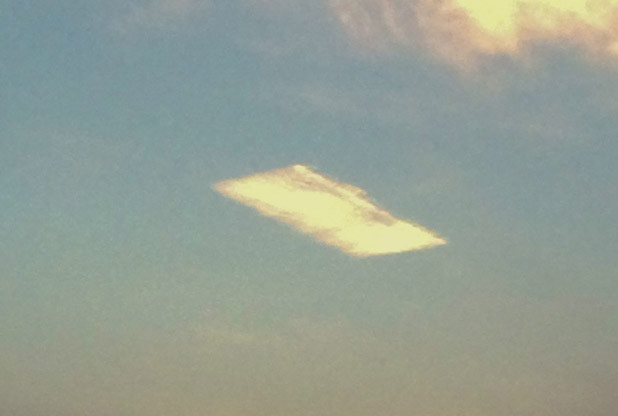 via:
http://www.westernmorningnews.co.uk...carpet-cloud/story-22011903-detail/story.html
The straight-edged rectangular formation was seen in the sky in Exeter, Devon - and images were quickly posted on social media.

One picture of the rhombus-shaped cloud was snapped by local Philip Mussel - and another put online by Laura Gilchrist, an employee at the Met Office.

The Met office gives the correct explanation:

"In this case an aircraft has moved through a pocket of air with the right conditions for the contrail to form, meaning there is just a short section.

"The wind is blowing at right angles to (ie across) the contrail, and due to the right atmospheric conditions this is causing the ice crystals in that trail to spread outwards - creating this rectangular shaped cloud.

"It's unusual to see the cloud edges quite so well-defined as in this example but the processes involved are very common."
However this is a little hard to visualize from the text alone. Perhaps a better way of looking at it would be to see what it would look like if the contrail were not broken:
Now that looks a bit more like a regular contrail that's been around a few minutes, and has spread out a bit. But how does it end up like the "magic carpet"? Why does it get cut up so neatly.
The answer is that it does not get cut off along a long straight line, but rather gets cut off when the contrail is narrow, and then the longer "edge" forms as the contrail spread vertically, and the wind shear spreads it horizontally. So what might the original contrail look like?
Now that looks more reasonable. Contrails are generally not continuous. Most contrails start and stop. A contrail is basically the jet engine revealing regions of the atmosphere that have a lot of water in them - kind of like invisible clouds. In this case there was just a single "invisible cloud" in that particular region of the sky, and the plane flew through it and made a contrail.
So why did it spread out? Well, a contrail is a type of cloud. More specifically it's a cirrus cloud, a high altitude cloud made of ice crystals. It spreads when there is enough moisture in the air for the ice crystals to grow. They grow at different rates, and the larger ice crystals will sink through the air faster than the smaller ones. With a cirrus cloud, this can lead to the "cirrus uncinus" (curly hook) clouds because the wind speed is generally lower as you descend, so the falling crystals will trail behind.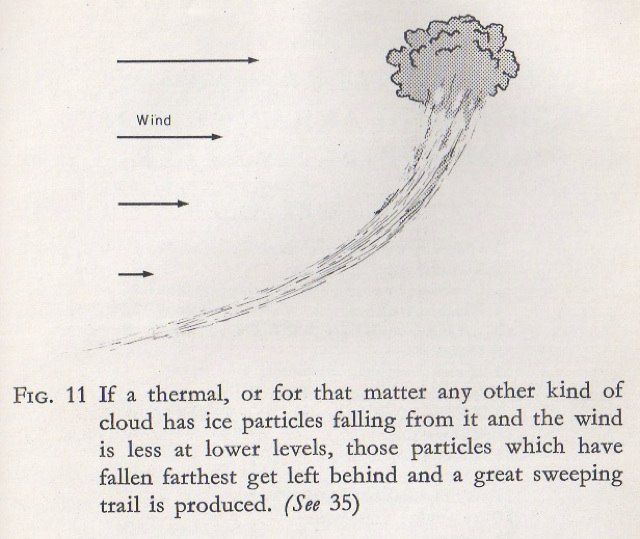 While this gives a "tail" for an individual cloud, when the cloud is a long contrail, you actually get a whole sheet. Have a look at the progression of an individual contrail from the initial narrow trail (starting around 400 feet wide), to a much thicker contrail, often over a mile wide.
Now imagine what would have happened if the trail was only a short segment, passing through a small region of ice-supersaturated air
So we can see how a short segment of a normal contrail can end up like a "rhombus" shape.
Last edited: