I can't watch videos right now, I wonder what they twisted for this story.
It is the recent lithium payload fired by NASA. It's a sounding rocket fired into the upper atmosphere to study the winds on the edge of space. It's something they have done for decades. It's totally unrelated to airplane contrails, and nothing at all like what people call "chemtrails"
Here's NASA's description of the program:
http://www.nasa.gov/mission_pages/sounding-rockets/
Here's a 1964 description of a similar experiment. As NASA says this is nothing new, and it's nothing secret.
http://news.google.com/newspapers?id=sekcAAAAIBAJ&sjid=11gEAAAAIBAJ&dq=nasa sounding rocket lithium&pg=5885,4057829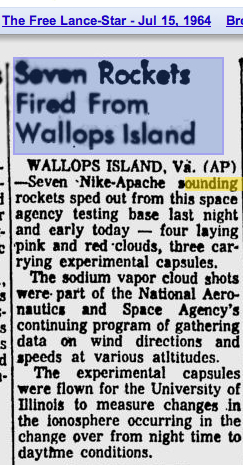 The scientist on the other end does use the term "chemtrails" twice that I recall - in the context of "chemical trail" which he also uses for the lithium gas released. He's just using the term because the caller used it, and it's a useful abbreviation for "chemical trails". The rocket obviously leaves a trail of chemicals.
He also points out that the actual trail would be invisible, that lithium is actually hard to use because its invisible and they are trying to develop direct sensors so they don't have to release anything (this test was part of that development programme), and that they are much higher than aircraft contrails.
[Admin: OP expanded with info from the thread]
Last edited by a moderator: