Administrator
Staff member
This seems like a prime example of lying with statistics. The suggestion is that Obama is being especially draconian in refusing commutations. Here's how the bunk appears:
http://harpers.org/archive/2013/03/harpers-index-348/
[bunk]Chance a prisoner seeking a commutation of sentence under President Clinton received one: 1 in 90
Under George W. Bush: 1 in 780
Under Barack Obama: 1 in 6,631[/bunk]
The source of these statistics is given rather loosely as "Office of the Pardon Attorney". I say loosely as it's quite easy to give a direct link to the actual figures, and it's almost like they don't want you to check.
http://www.justice.gov/pardon/statistics.htm
The reason that these figures are bunk is
they only cover the first four years of Obama's presidency.
The majority of commutations are given in the last four years, peaking very sharply in in the last year.
If you look just at the same time period, you'll see that the are basically the same number of commutations. Three for clinton, two for Bush, one for Obama. It's not a meaningful distinction.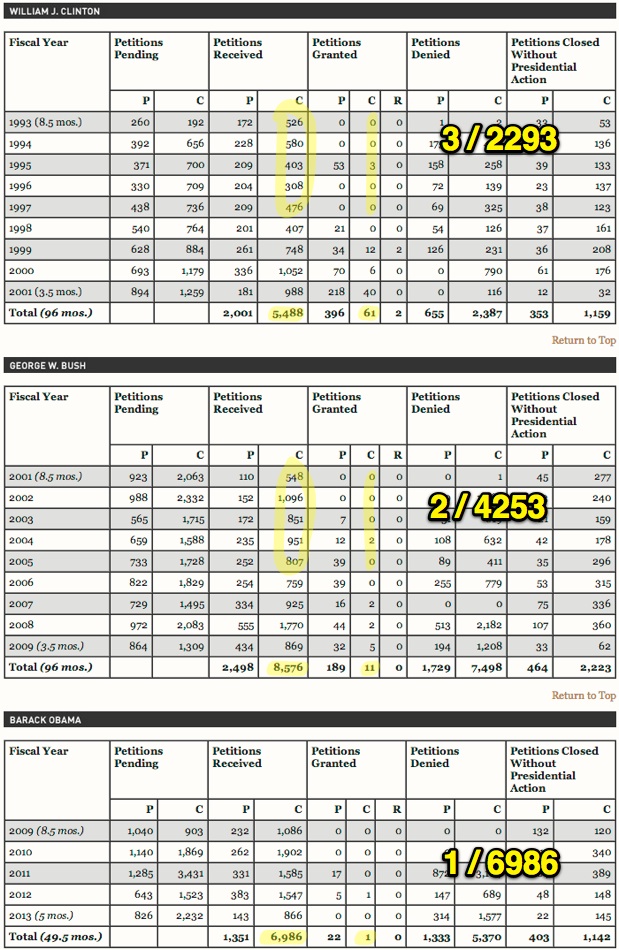 Last edited: