Administrator
Staff member
Claimed Quote:
This is an accurate quote, however it's missing context. It's actually about communism, in the 1950s. It also might not have been written by Hoover, as many of the atricles attributed to him are now thought to have been ghost-written by FBI employees.
Here's the original source with some context (many thanks to The Elks Magazine for photocopying the relevant pages from their archive). The quote is on the first column of the last page.
https://www.metabunk.org/images/1956 Elks Hoover OCR.pdf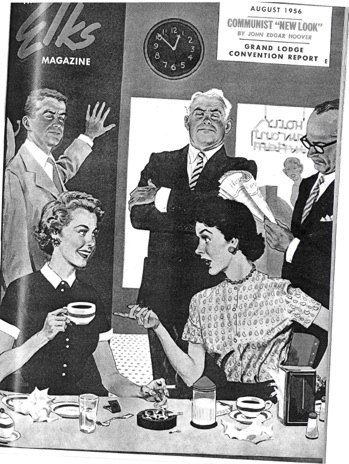 The full article is an interesting read, given the historical context of the time. The American Communist party had disassociated itself from Soviet Russia, after the excesses of Stalin were revealed, in part though the "
secret speech
" earlier that year. The membership eventually slipped from 80,000 to around 5,000. Approximately 1,500 of those were in the employ of the FBI. Hoover boasted that he effectively financed the US communist party, so he could spy on it.
The last paragraph is interesting, in that it reveals the strong Christian bias of Hoover. I was momentarily delighted to see him mention skepticism, until I realized it was playing third fiddle to "monumental" faith. The whole paragraph is an interesting illustration of "faith" - which amounts to belief without evidence. One must ascertain for oneself what the facts are, and simultaneously have unquestioning belief in certain claimed facts. This harkens forward to the modern conspiracy theorist's oft repeated call of "do some research" often being closely paired with "nothing you can say will make me change my mind".
This quote was interesting to research as it comes from a very obscure article, that, until now, did not appear to have been re-printed anywhere other than the 1956 Elks Magazine. So how did it make it's way into modern conspiracy culture.
The attributions are a variation of the following:
There seems to be almost no other record of this in Google Books before around 2001, when it crops up in conspiracy circles.
Jerreld L. Newquist, was an apocalyptic preacher and writer.
There's a longer version of the quote in
Our Immediate Responsibility
by Ezra Taft Benson. Our Immediate Responsibility. BYU Devotional, October 25, 1966.
And an even fuller (but still edited, and with no context) quote can be found
here, in this online version of "Prophets Principles and National Survival"
This is verified in
Google's scan of the 1964 version
.

The quote crops up again in the John Birch society newsletter, American opinion, 1966, Vol 9, Page 82. But it seems to has simply skipped though history from the original 1956 article in Elks, via Newquist in 1964, a few reprints in the years after, then it was rediscovered, and went viral in conspiracy culture when it could be easily spread via the internet.
One interesting reference is
from an FOIA request.
A citizen wrote to Hoover asking about L. Ron Hubbard, and he received a form letter, along with the following anti-communist literature, #2 of which was this article from the Elks Magazine.
The "bunk" in the usage of this quote is the suggestion that it applies to something other than communism. Hoover was rabidly anti-communist, to the point of paranoia. While he may have though there was some conspiracy within certain levels of american government, that only referred to communism. If anyone was engaged in conspiracy it was Hoover himself via the
COINTELPRO
program and his infiltration of the US Communist Party.
Last edited: