A frequent claim you'll run across is that the constancy of the stars in our night sky is inconsistent with the Globe Earth Model. I'm not going into issues of distances, parallax, precession or proper motions of stars in this thread. I'm going to concentrate on two interwoven issues:
- A poor understanding of the geometry of seasonal constellations. Poorly drawn illustrations.
- The remarkable and alarming claim that there is no change whatsoever in our night sky during the year.
The common Globe Head reply to this later claim is that the circumpolar stars are visible all year and this has led to confusion. The common reply from FE Believers is that there is no change at all in any part of the sky. One has to suspect that many FE Believers are either making that up on an ad hoc basis, or simply repeating comments made by other FE Believers. Not easy to prove. Another problem is very casual and poor observation. And this poor observation is recklessly raised to the status of absolute truth.
I should add a note of caution to well meaning Globe Heads. The circumpolar stars are a little trickier than you might think. I'll talk about that later.
With this in mind I'm going to talk about a well known FEB who has made poor, casual observations of the southern sky. He concludes that there is no change in the southern sky. This is something amenable to debunking.
Well known FEB "Phuket Word" lives in Thailand. Yes, Thailand is in the Northern Hemisphere. Phuket Word's home is somewhere near 7.5 degrees north latitude, and Polaris is visible to him. So, one might suspect that in his YT video called
Flat Earth: Seeing The Same Stars Every Night
he is going to show us
northern circumpolar stars.
But he doesn't
.
He shows us stars on his southern horizon, in a constellation that lies on the plane of the ecliptic. Stars in constellations that definitely show seasonal changes and are not visible at all for many months. He then claims that he has video proof that these stars are visible all year; and this is devastating proof that the Spinning Globe Earth Model cannot be true.
So what's going on?
He has videos from three different months: Sept of 2106 (with no specific day identified), April 25, 2017, and July 28, 2017. All were taken from his own garden - (that's "yard" to us Yanks). This one is from April 25.
I've boosted the white point here to make the stars more visible. He does not identify which direction he's facing or the name of any stars or constellations. (It's clear that he doesn't know their names.) Fortunately these are very familiar and distinct constellations - Sagittarius and Scorpius. I've outlined the teapot asterism of Sagittarius. Scorpius is a bit less distinct, with some missing stars due to relative dimness, seeing, and the quirks of the camera: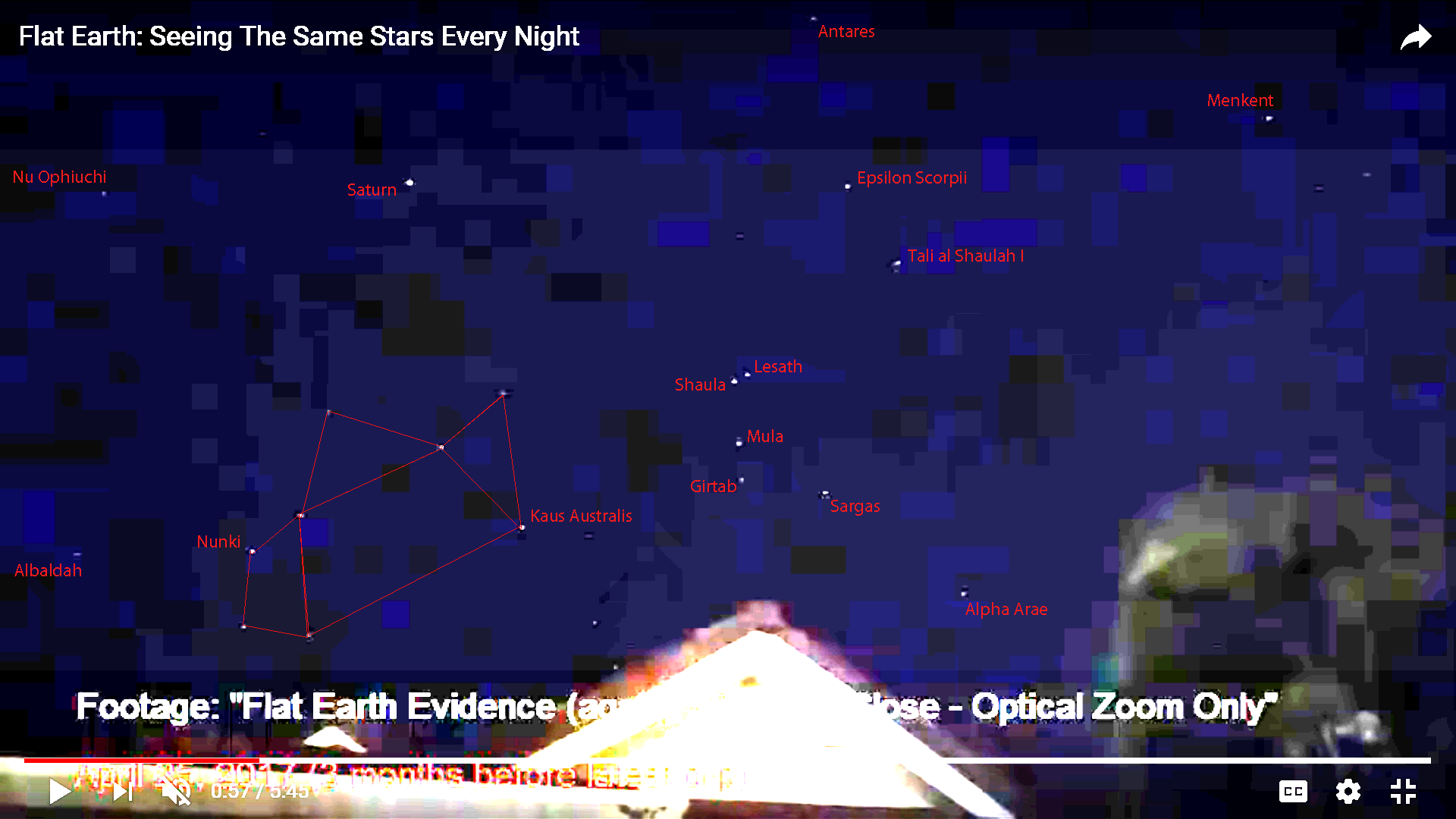 (What I've labeled "Antares" may be Alniyat II, with Antares just out of frame.)
Here's the Stellarium view set to his location in Phuket, Thailand: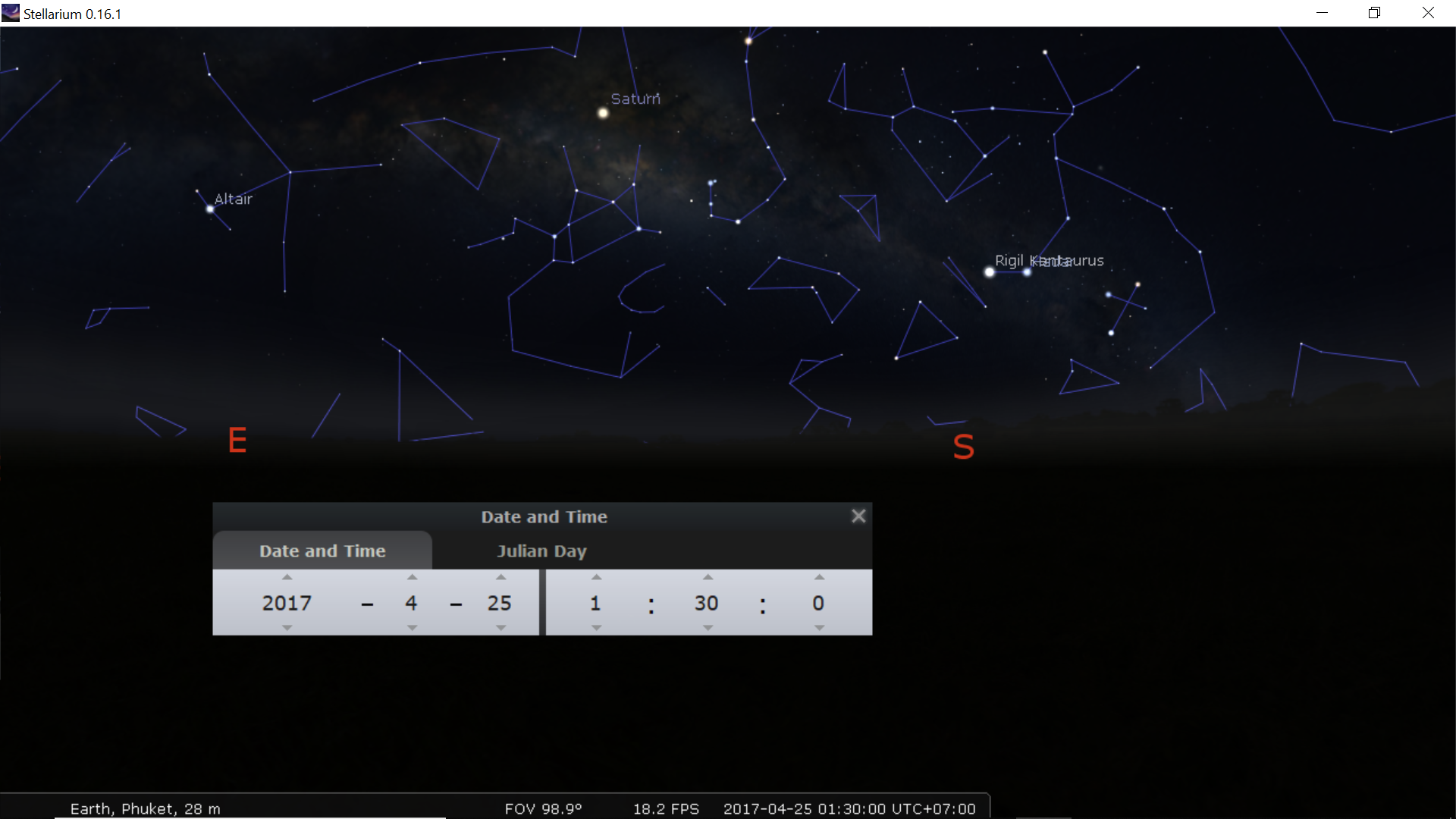 The best match is about 1:30 a.m. local time. There is no DST issue. Thailand has never used DST. Because it's past midnight there could be confusion about whether it's actually the morning of April 26.
A reminder of what these constellations look like: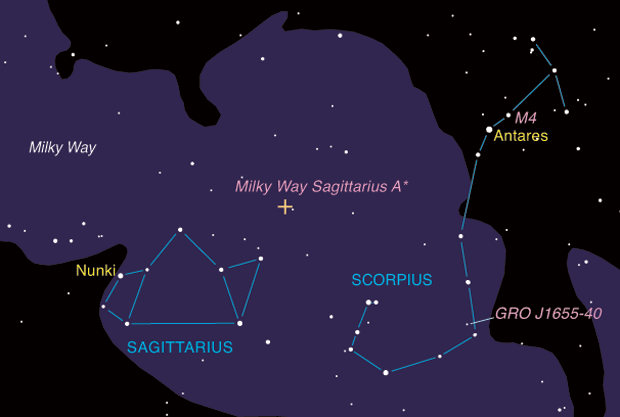 This is the video taken on July 28, 2017: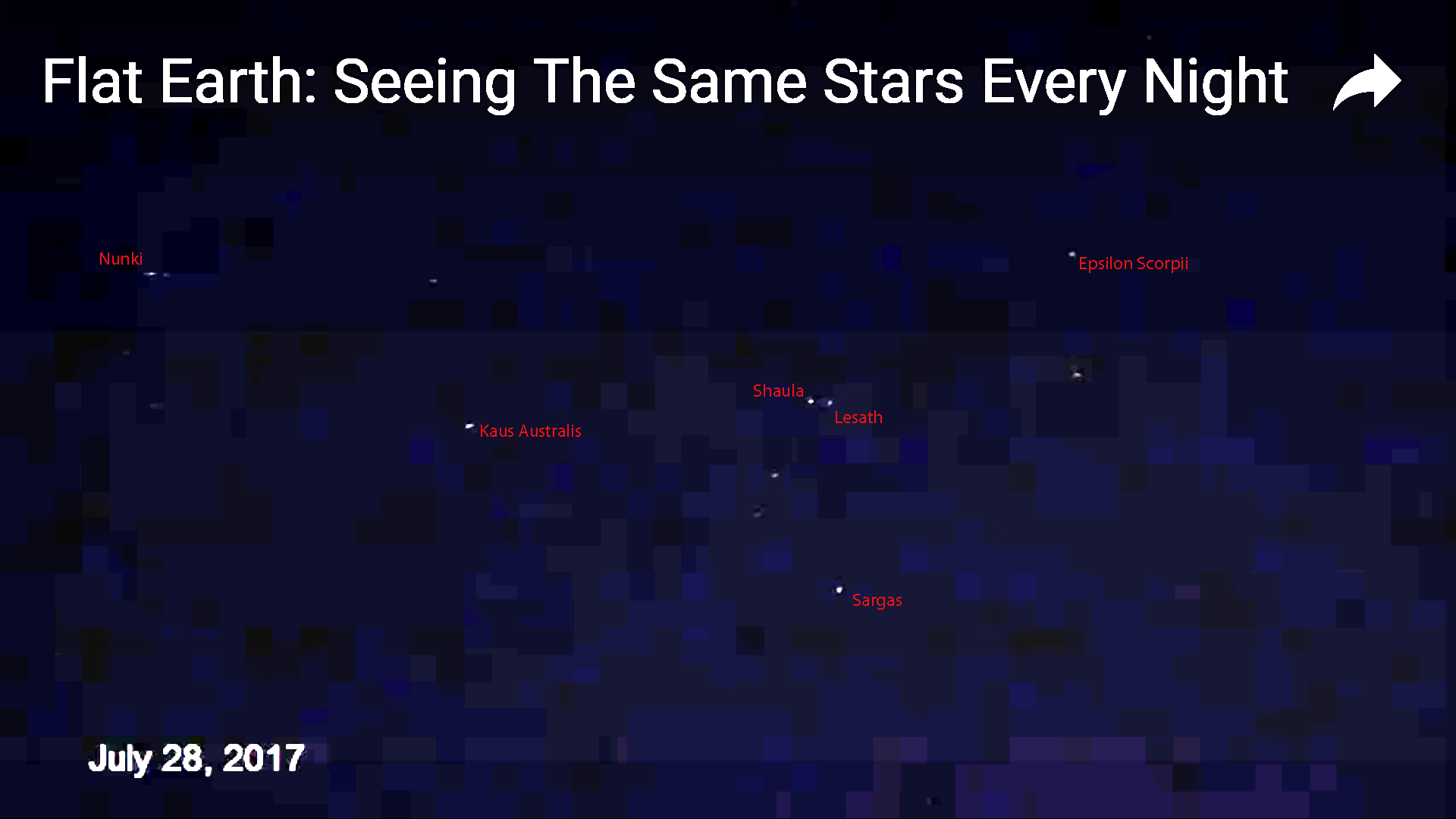 The Stellarium view for that location and time: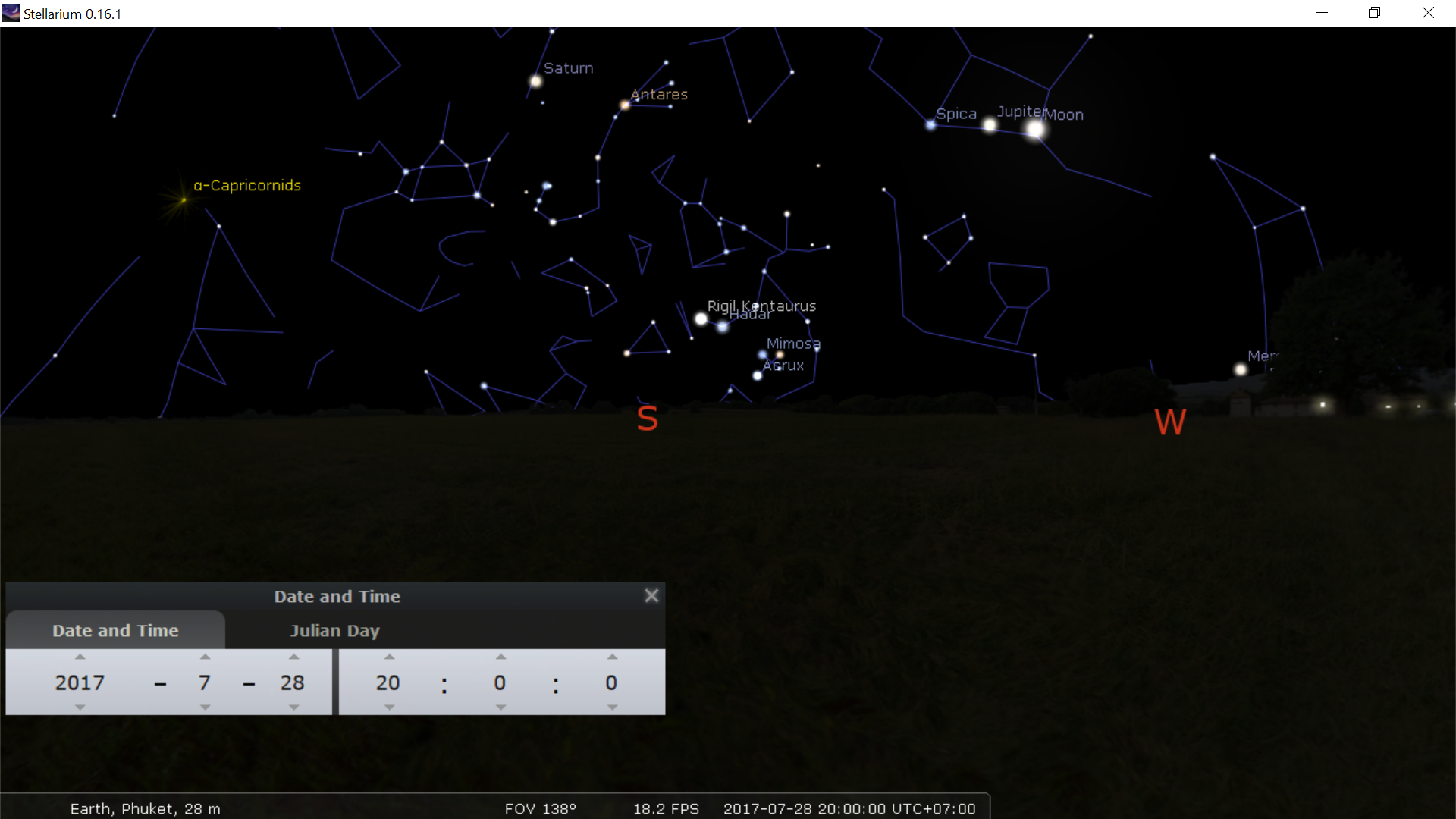 A wider shot that includes Saturn and Antares: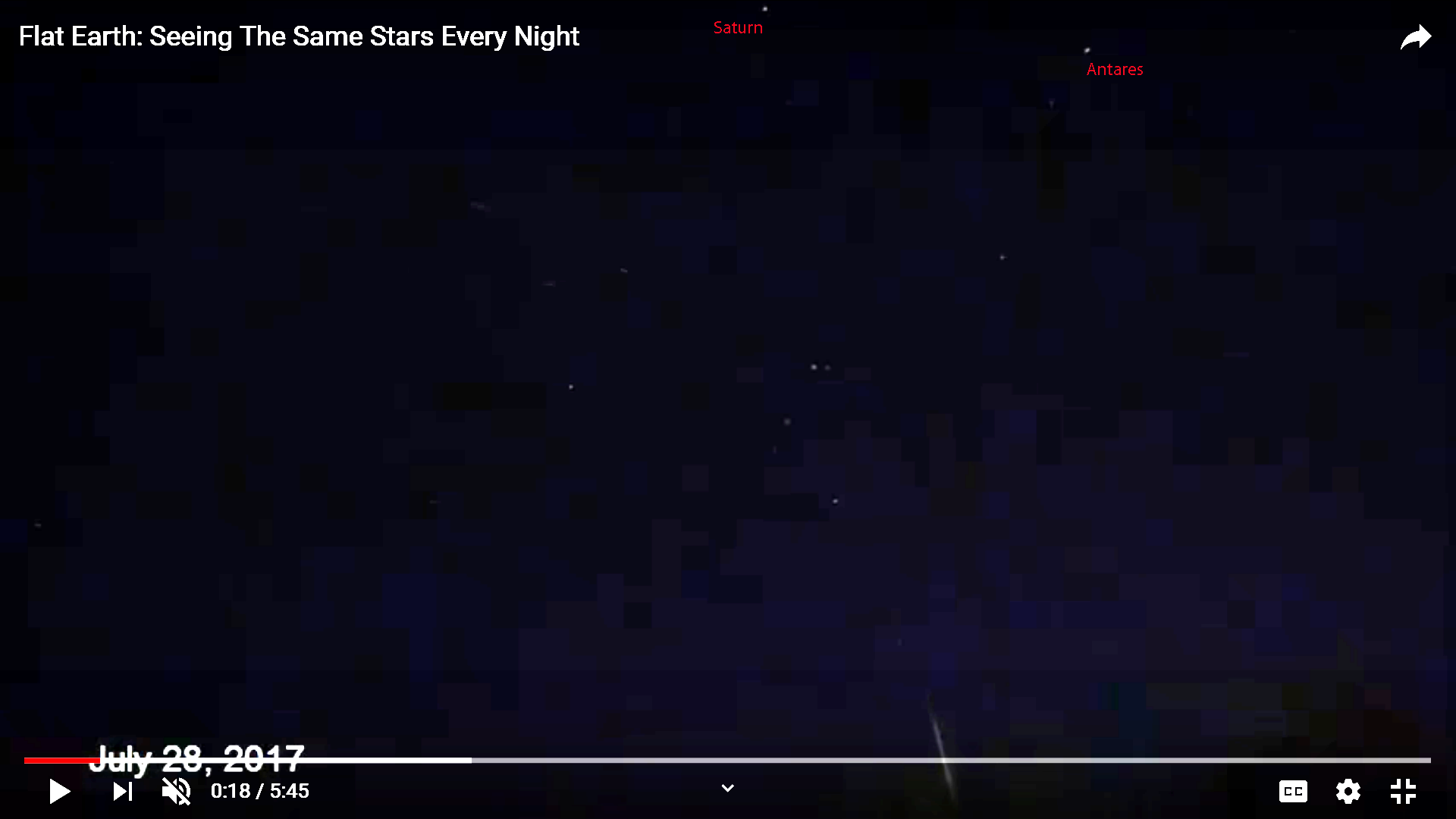 Just wanted to include that to support my conclusion that the best match is about 8:00 p.m. local time. That's five and a half hours earlier than in the April video. The rule of thumb is that stars rise about 4 minutes earlier each day. This video is 94 days later, which means you'd expect that the stars would be in the same spot about 6 hours earlier. Checks out.
That's important because PW emphasizes several times that these stars are in about the same part of the sky at about the same time of night. He is aware that stars move across the sky over the course of the night and it's important to match time and position.
I'm standing in the same spot in my garden that I was about three months ago, looking at the same stars in the same position in the sky at about the same time.
They are in about the same position, but they are not in the same position at the same time.
This next video from September, 2016 was a real challenge. It took awhile to get a good match, but I'm pretty confident I did. Once again the white point on these shots has been boosted to make the stars stand out. In the video these stars are blinking in and out because of the clouds and the light in the sky from the nearby Moon, seeing, and camera quirks. I found two different shots that together reveal enough information to get a match in Stellarium.
The glow in the sky is from the Moon. Earlier PW panned up and to our left to show the Moon. That's an important clue as to what day this was.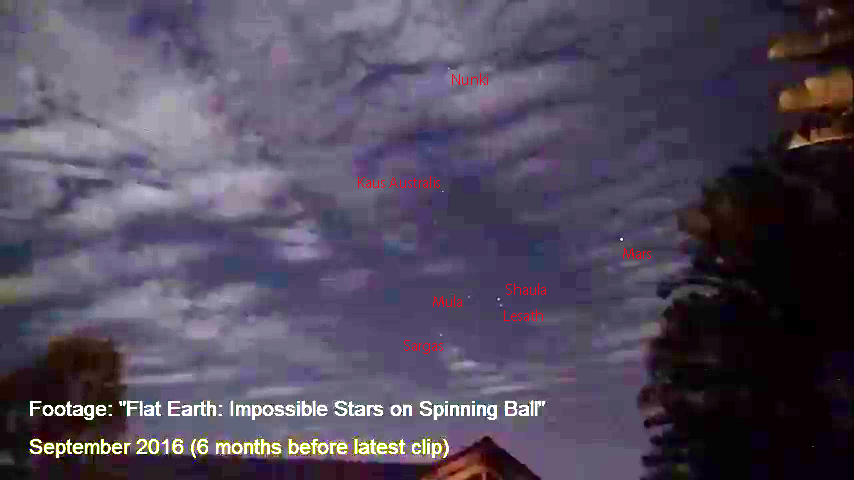 Another important clue. In this frame is a fleeting image of what I think is the star Garafsa. Because Mars is wandering day by day past the stars in this part of the sky, there's only one day that it was next to Garafsa. The same night that the Moon was in the right part of the sky.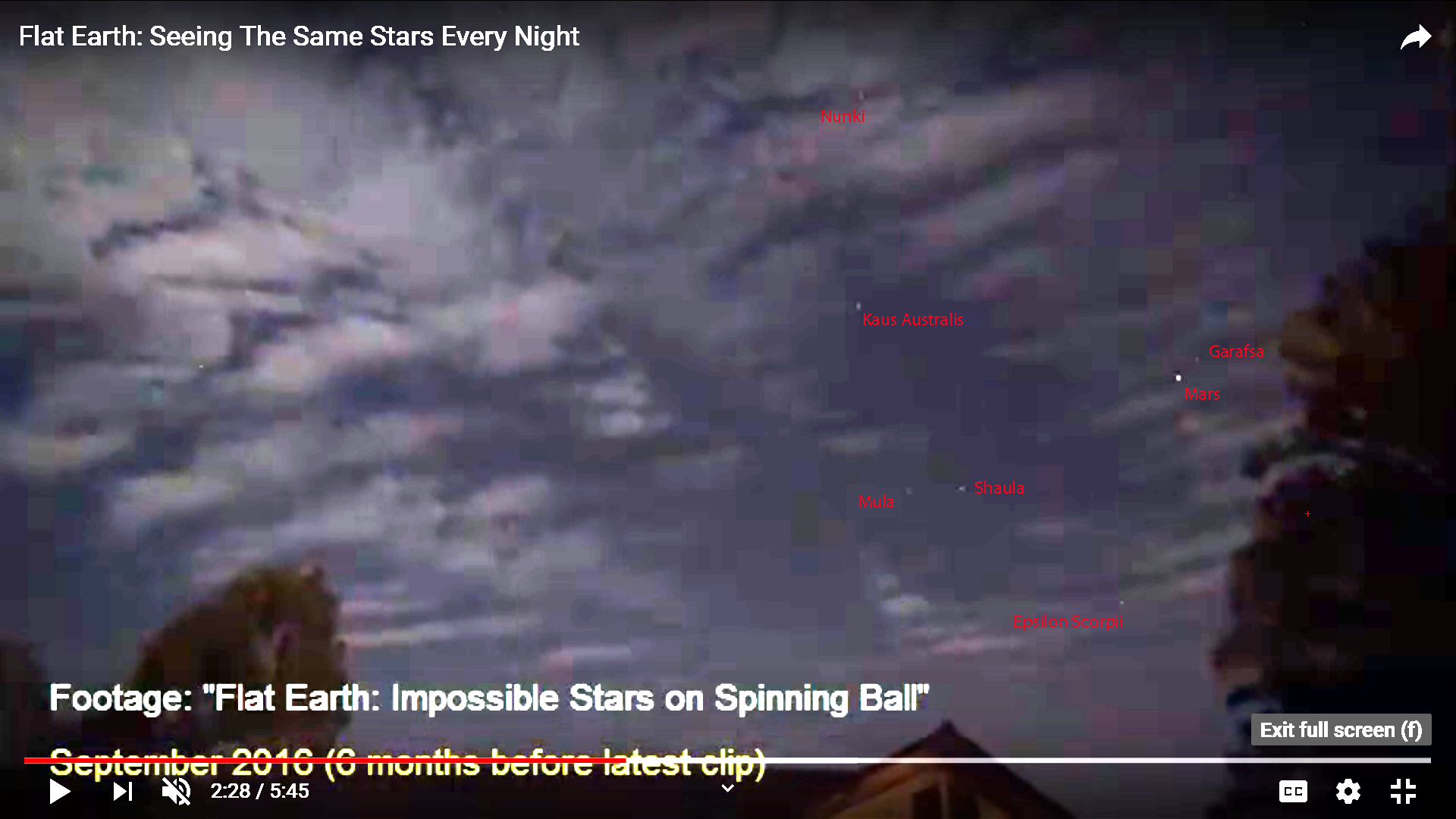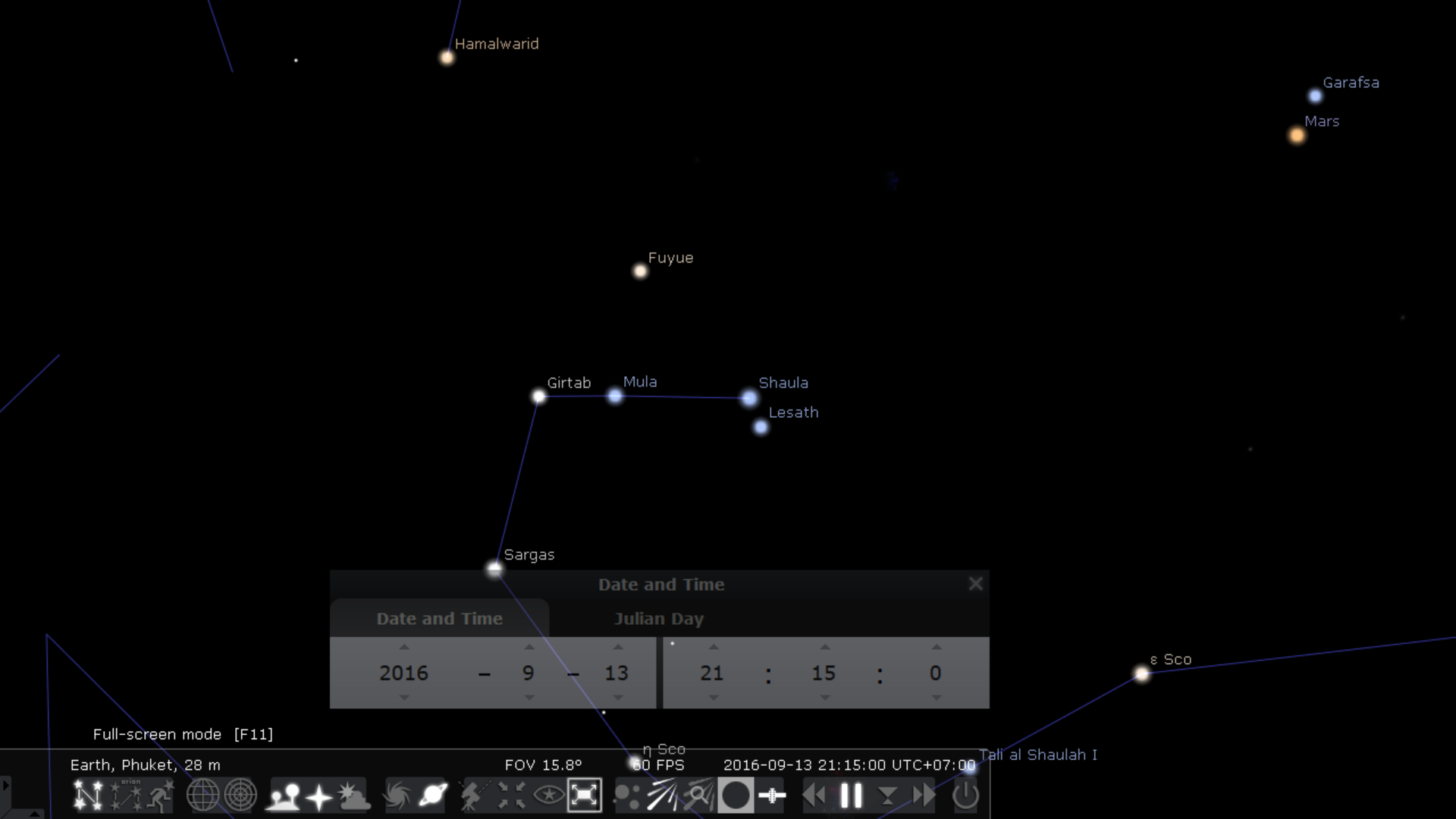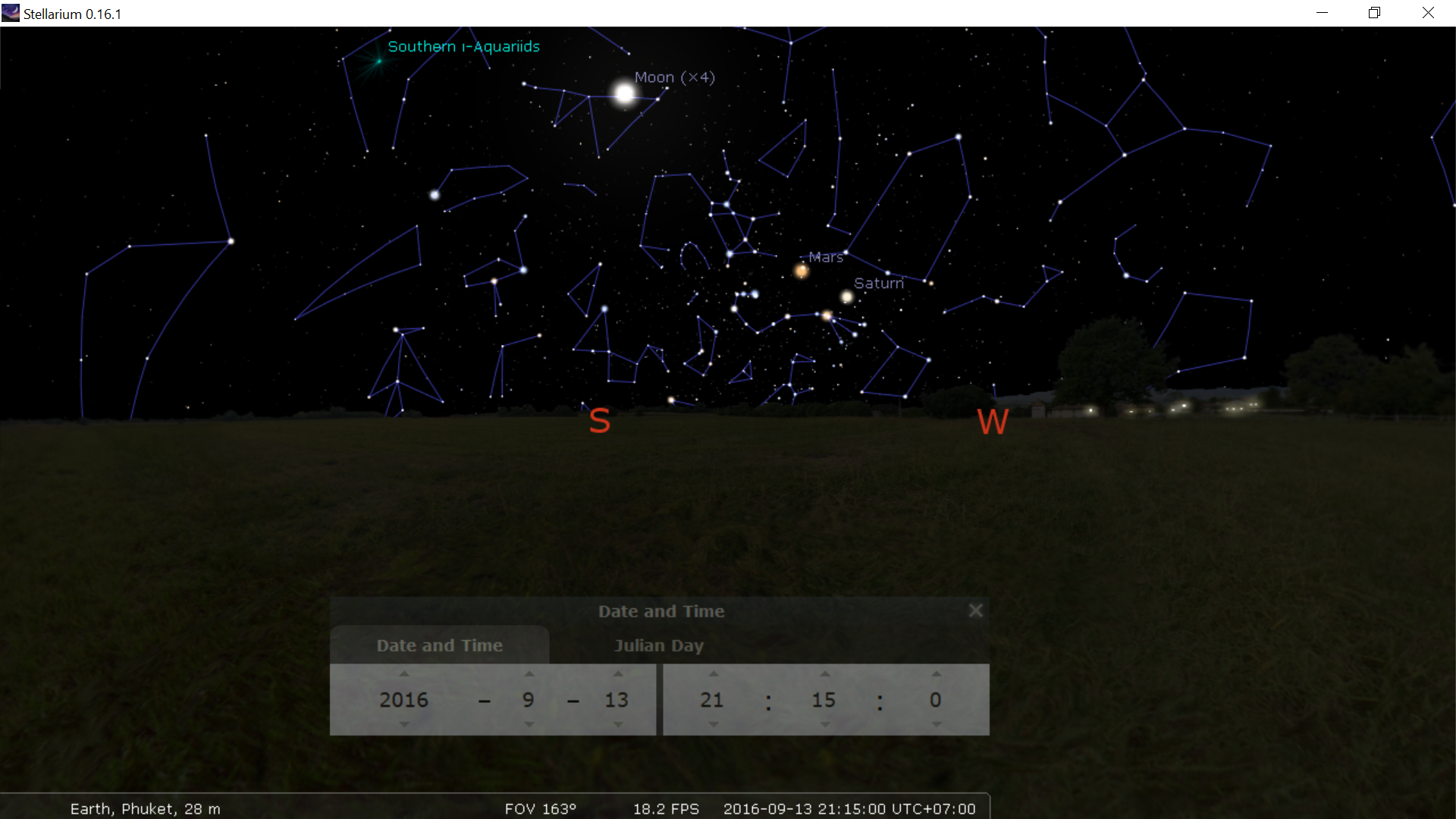 Saturn and Antares are hidden by the tree. Everything points to about 9:15 p.m. local time on September 13, 2016.
At 1:50 in the video, as he is showing the Sept video:
I just wanted to show that this is something really quite impossible on the spinning ball Earth. Above the rooftop there we have the same stars that we always see, going the same direction [he's aware that stars move across the sky during the course of the night], in the same place in the sky, every single night, every night of the year. It never changes. It's always the same.
But these stars are not in the same part of the sky. He is clearly in another part of the yard with different trees, the stars are over another part of the roof. Sagittarius and Scorpius are in different positions, with Scorpius on its side and the teapot of Sagittarius pouring tea on the scorpion's tail. They are setting in the western sky, whereas in July and April they were high in the southern sky. Yet it is earlier in the evening than it was in April. They are both much too far west.
PW believes he has almost the entire year covered: September to July - ten months. These stars were visible for ten months, he thinks. But this is a mistake. The time frame is actually April to Sept. It doesn't matter that it is a Sept. of a previous year. The stars are in the same position on Sept 13, 2016 and Sept 13, 2017. What is important is that Scorpius is about to disappear from the night sky in October; not to be seen again for many months.
This video shows what happens to these constellations from April to November in the southern sky of Thailand, just as PW would see them. The time is always 10:00 p.m. local time. It's the months that are going by one by one. The video starts with Scorpius just peeking over the Eastern horizon at 10:00 p.m. on April 25 - the day PW shot his April video. By Sept 25, Scorpius is setting in the West. Sagittarius is setting by Oct. 25 and nowhere in sight in November.
A reminder of what they look like.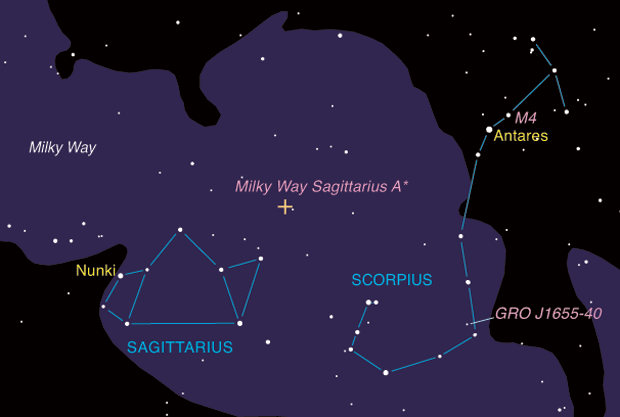 This video shows where these constellations are in the southern sky of Thailand all year long. The time is set for 7:00 p.m. local time. About sunset. On May 25, Scorpius is just rising in the East. By October it's setting in the West. By November it's nowhere to be seen. Where is it? Well Scorpius is still there, but it's up during the daytime and can't be seen. Around Nov 22 it's behind the Sun. If you're born at that time, you're a Scorpio. That's what astrology is all about. (Although the 2,200 year old astrology dates have drifted away from present day astronomy dates. Due to precession! I said I wasn't going to talk about precession.)
Stay tuned. More to come. Same Bat Channel.
Last edited: