I was recently directed to
this 'scientific article'
by a friend and decided to do some research into its claims and origins. The main focus is on the point:

There was nothing special about the temperature of the Earth in 2014. In fact, there has been no meaningful warming since last century.

This is true no matter what set of temperature data you examine.

As far as I can deduce, CFACT.org and its affiliate website climatedepot.com have been pushing this story since the start of the year.
CFACT do not directly reference any scientific study or quote where they obtained their data from but it is written in a manner that suggests it is their own. However on one of the graphs shows that the data came from
Remote Sensing Systems (RSS).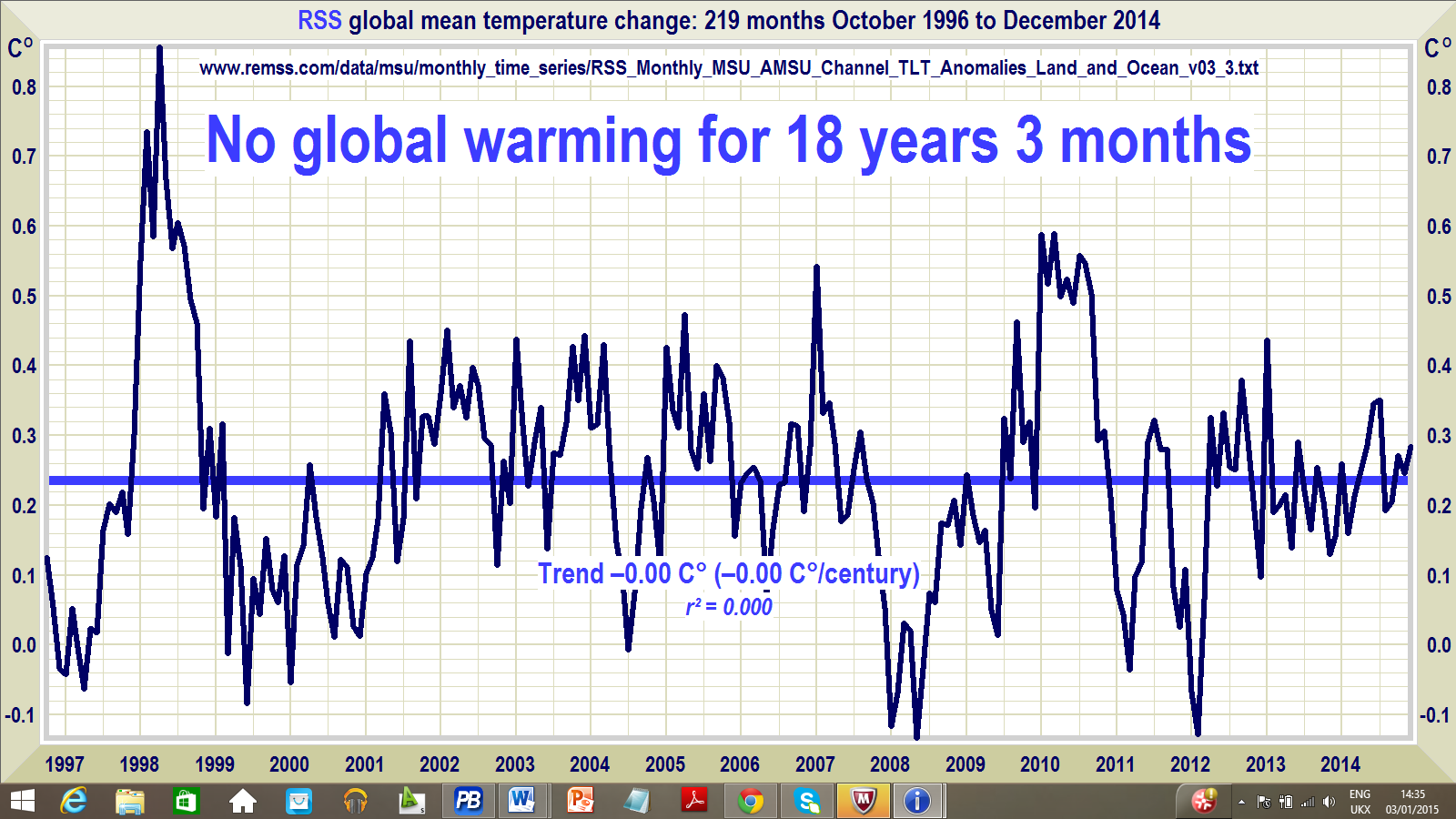 The graph above shows us that there has been no meaningful warming since the 1990′s. Today's school children have never lived in a warming world.
L
ooking through the RSS website I was surprised that the tone of most of the work was that 'yes, climate change is a thing, it is real' and not a climate change denier site like CFACT.org
One page
is devote entirely on the research that RSS has done in the field of global temperature measurements. It includes the following information:
Over the past decade, we have been collaborating with Ben Santer at LLNL (along with numerous other investigators) to compare our tropospheric results with the predictions of climate models. Our results can be summarized as follows:

Over the past 35 years, the troposphere has warmed significantly. The global average temperature has risen at an average rate of about 0.13 degrees Kelvin per decade (0.23 degrees F per decade).
Climate models cannot explain this warming if human-caused increases in greenhouse gases are not included as input to the model simulation.
The spatial pattern of warming is consistent with human-induced warming. See Santer et al 2008, 2009, 2011, and 2012 for more about the detection and attribution of human induced changes in atmospheric temperature using MSU/AMSU data.

But....

The troposphere has not warmed as fast as almost all climate models predict.

I
t appears to me that CFACT.org has latched onto this final point, cherrypicking that data set, and portrayed it in a manner that suggests that global warming is an imaginary construct.
The article makes note that while there is a overall mean global temperature increase, it is out of spec with some climate projections that they have matched their data up with, but can explain this as:
The reasons for the discrepancy between the predicted and observed warming rate are currently under investigation by a number of research groups. Possible reasons include increased oceanic circulation leading to increased subduction of heat into the ocean, higher than normal levels of stratospheric aerosols due to volcanoes during the past decade, incorrect ozone levels used as input to the models, lower than expected solar output during the last few years, or poorly modeled cloud feedback effects. It is possible (or even likely) that a combination of these candidate causes is responsible.
I can find no mention of the climate pause that CFACT claim they can deduce from the RSS data.
Last edited: