Administrator
Staff member
Its nothing like that. But if you can't explain it thats OK.
It's more like a triangle vs. rectangle on top of a tall rectangle, but I thought that a bit hard to visualize. Look at what you did with the three stages.
As the formula used Delta T then it was clear to me that a step by step process could be used. I used the formula to check expansion from ambient to 300C ( 572F ) as follows :-

640.69 x 502 x 0.0000069968 = 2.25" ( new length 640.69" + 2.25" = 642.94" )

Then I applied the formula and coefficient for a further rise from 300C ( 572F ) to 500C ( 932F ) as follows :-

642.94 x 360 x 0.0000076808 = 1.78" ( new length 642.94" + 1.78" = 644.72" )

Again from 500C ( 932F ) to 600C ( 1112F ) as follows :-

644.72 x 180 x 0.0000080228 = 0.93" ( new length 644.72" + 0.93" = 645.65" )

Thus I had staged the event from ambient to 600C ( 1112F ) over three seperate calculations using Delta T logic and the new coefficient for each seperate event, and got final length 645.65" - an increase from 640.69" of 4.96".

As this was less than the 5.35" achieved by going in one stage from ambient directly to 600C in my initial simple calculation it indicated that using three stages had had a reducing effect. That led me to consider that if I had staged the calcs over 1042 stages representing each single degree F from ambient to 1112F then a further reduction would probably be seen.
Here's a rough visualization of what you did: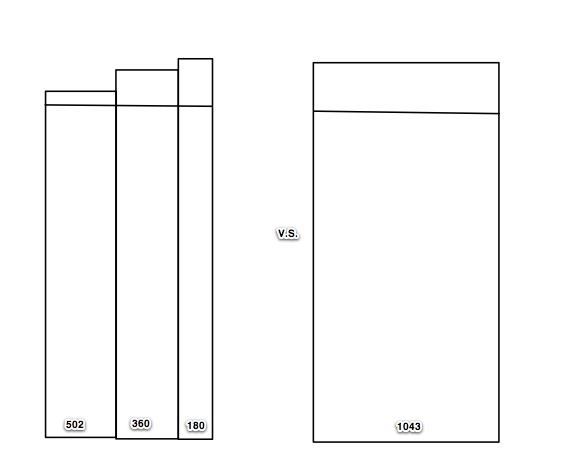 The area above the line represents the amount of expansion.
Last edited: