It IS a fair question.....
Is a health product a scam, or not ?
(does it work as promoted ?)
I've often searched Google...for example: an alternative health product, but also adding the word "scam" in the search field.
Increasingly, I've come across hits (many youtube) that seem to ask that very question.
But many of these hits are actually promoting the product, or are attempting to "remove the scam from it" by preemptively bring it up in the title, then simply denying the scam aspect in about a few sentences (or not it all).
This sales pitch is plainly aimed at the "on-the-fence" crowd, who may be searching the net about the possible doubts of a said product, and may think they have found a fair review of a product.
I am feeling...this is a deception.
My example typed into google was something like this... "skin cream" "scam". (I forget the orig)
Found on the first return page was....
"
Is South Beach LifeCell Anti Aging Skin Cream Scam?"



"Revitol Scar Cream Review - A Scam Or Real Deal?"

and the idea is often found in beginning entrepreneurs...she addresses it more than most (below).....(and funny....the most genuine, she really seems to believe it.)
"Ultimate Reset SCAM !!! Is it worth it"

Other results also appeared...people saying the products do nothing, especially long term.....and/or included the word "scam" either in the body of text, or in the replies.
The results saying certain products were fantastic were a mix of obvious sales sites, or possibly legit user posts. The product may work.....but these positive singular testimonials were minimal for such a wide range search, and only believable if looked hard at (and for) the sources.

This result below, seems to be a user-generated post (who sells the product) with a positive description of a product (note the title below, never mentioned on the linked page), but backfired if you read the responses.
Here is the google result....first page...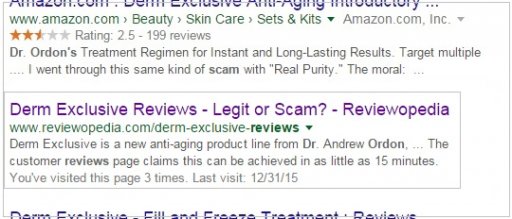 http://www.reviewopedia.com/derm-exclusive-reviews
In brief, the (above) reply titles (responses) were, in order so far, over months:
Are there other instances of "pseudo debunking" ?
Is this a correct description ?
Last edited: