Administrator
Staff member
Half of all chemtrail believers did not notice persistent trails until after 2010. So if there was a chemtrail spraying program that started in 1995, then why did they not notice it?
Data:
https://www.metabunk.org/attachments/persistent-trails-history-survey-2016-02-10-xlsx.17483/
Four years ago, in January 2012, I started a survey to try to discover when people first noticed persistent trails being left by aircraft in the sky. These trails are generally agreed by scientists and the general public to be aircraft contrails - condensation of water vapor which triggers cloud formations which can persist and spread if conditions are right. However there are a significant number of people who believe the theory that these trails are actually "chemtrails", and that they are being deliberately (and secretly) sprayed by the government in order to control the weather and/or the climate.
The chemtrail theory arose in the late 1990s on AM talk radio (particularly the Art Bell show), and spread after that via the internet. There are many claims of evidence used to support the theory - claims that contrails should not persist, or that traces of sprayed chemicals have been detected. All these claims have been addressed elsewhere (on Metabunk.org, or ContrailScience.com). However, one claim has been quite difficult to address - the claim that in the past contrails did not persist.
Now there is plenty of evidence that contrails persisted in the past. 70 years of books on the weather describe how contrails can persist and spread, and there are extensive archives of photos and videos of contrails predating the 1990's birth of the "chemtrail" theory. But ultimately the individual believer finds this evidence uncompelling, as they rely on their own personal memory. They generally claim that since they (and other chemtrail believers) personally don't remember contrails persisting, then they could not have persisted, and hence the chemtrail theory must be correct.
So I set out to test this. If the chemtrail theory were true, then I would expect that people would start to notice persistent trails around a certain date, i.e. there would be a peak when the chemtrails program started in the 1990s. If, on the other hand, the chemtrail theory were false, then there would be no such peak.
The results are summarized in the chart at the top of the post. There were approximately equal numbers of people who believed the chemtrail theory vs. those who thought they were just contrails. Among those who believed in chemtrails (purple), there are very few before the 1990s, then the frequency rises rapidly in the 2000s and 2010s (note we are only half way through the 2010s, so the actually numbers would likely be double.
With those who thought the trails were just contrails (green), there is some random variation, but essentially there is little difference between decades. There is simply no particular year that people started to notice persistent contrails after the start of the jet age.
A more detailed look, broken down by year: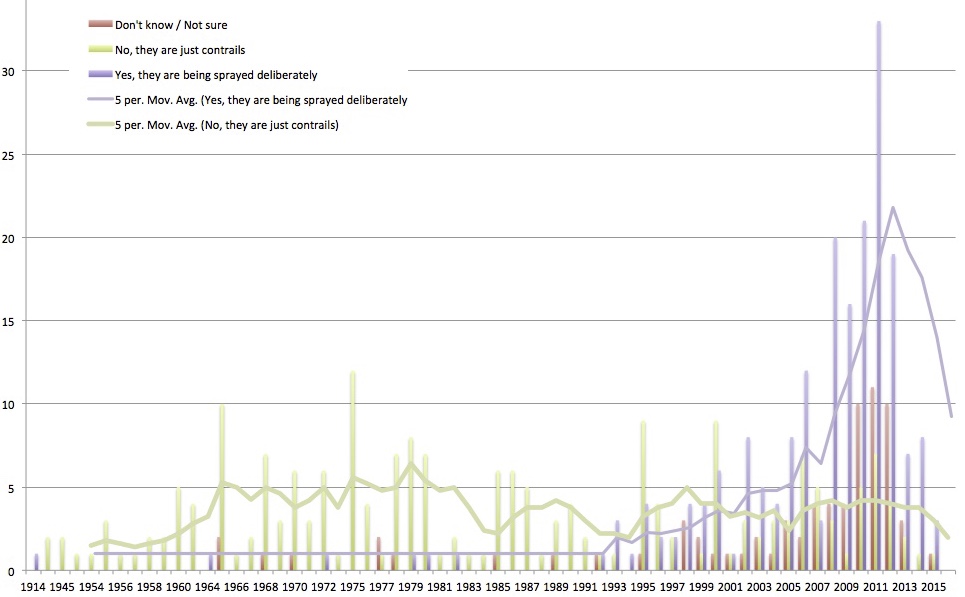 (note the bottom axis is not linear, and just contains years for which there is data)
Here I've added a five year moving average line for believers (purple) and "just contrails" (green). The difference between the two lines is stark. There is no clear time when the believers noticed the persistent trails. In fact there is simply a gradual increase starting in the 1990s, with a huge peak around 2010. Non-believers on the other hand have been noticing them at a near constant rate since the 1960s.
This strongly suggests that the chemtrail believers simply started to pay attention to the sky a lot more after they heard of the chemtrail theory. They almost entirely consist of people who did not notice persistent trails until AFTER the chemtrail theory was created. Half of them did not notice persistent trails until after 2010.
Consider that point carefully.
Half of all chemtrail believers did not notice persistent trails until after 2010
. So if there was a chemtrail spraying program that started in 1995, then why did they not notice it? If they were failing to notice something that other chemtrail believers had been observing for 15 years, then why is their recent noticing of these trails evidence of a spraying program?
And if this increase in noticing is a result of a ramping up of the spraying program, then why is there no corresponding increase in the equally sized "just contrails" group from 1990 to 2016?
The simplest explanation is that there has been no sudden change in the nature of persistent trails. There has been an increase in the popularity of the "Chemtrails" theory, and the increase in believers noticing trails simply reflects the growth in the popularity of the theory.
Last edited: