The best I can figure is that they are following Samuel Rowbotham's argument for re-writing the standard model of perspective. This argument:
- Confounds resolution with perspective.
- Confuses convergence
along the line of sight
with an upward slanting line in a
side view
of the same terrain.
- Then confuses this abstract line with the actual level surface of land or sea.
- In general confuses abstraction with reality.
This section is about resolution, not perspective:
http://www.sacred-texts.com/earth/za/za33.htm

This is obviously an example of resolution, and has nothing to do with convergence. Figure 74 is an attempt to suggest that resolution is somehow different when an object meets another straight edged object; as if we would still resolve the white painted segment separately from the rest of the disk if it were not in contact with the straight edged base.
If the disc is allowed to rest on board D, the effect is still more striking.
Would it? Why? The opposite would be true in most cases. The white segment would be more easily seen, because it would stand out
in
contrast
to the dark board. This would imply that a white ship would appear less hull-down than a dark colored ship at an equal distance. Even when looking at the two ships through a telescope, we would see the ocean surface hiding less of the white ship than the dark ship. That would be a very strange sight.
The disc at C will appear perfectly round - the white segment having disappeared.
But the shape has not changed? So how does this relate to distant objects changing shape? (I.e the bottom disappearing first.)
This is a mixture of an untrue assertion with a non-sequitur. He's priming the reader to think that there's something special about how well we can resolve the bottom of a distant object, because the bottom is "in contact" with the surface of the sea or land. Not only does this make no sense, the rest of Rowbotham's argument does not follow from this at all. It's just used as conceptual priming.
Wiki:
Priming

is a technique whereby exposure to one

stimulus

influences a response to a subsequent stimulus, without conscious guidance or intention. For example, the word NURSE is recognized more quickly following the word DOCTOR than following the word BREAD. Priming can be

perceptual

,

semantic

, or

conceptual

.
This is just a salesman's trick: Get your
sucker
client thinking along a certain line, then present your main spiel, and hope the client himself intuitively links the two together without actually thinking about it.
This next section is the actual start of Rowbotham's perspective argument. The not so subtle sophistry is that he's confusing convergence along the line of sight with a side view of the same terrain. The critical error involves line segment CH and the separation from line segment CD. It's as if the optical effect of convergence, the apparent slope of the land or sea along our line of sight, somehow becomes a real thing, separate from the actual land or sea surface; and something that would be relevant to a side view.

Convergence along our line of sight: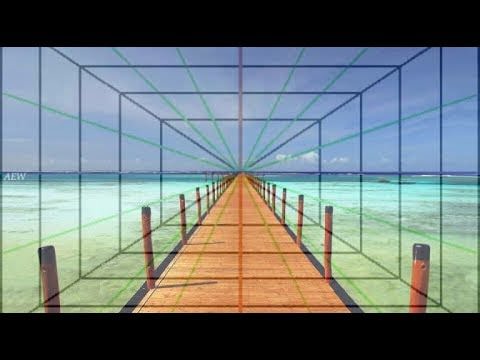 Yes, the ground or sea along our line of sight appears to rise. But this is an optical effect. Not a real thing that would somehow still remain a real thing from a side view.
In these next illustrations Rowbotham shows us a
side view
of a level land surface which includes the upward slanting line segment CH
as if we would see the level land or sea rise on that same apparent slant we see in the line of sight view.
It's as if that slant has some independent reality.
Segment CH somehow becomes the actual surface of level ground and segment CD becomes a line falling farther and farther below the surface. So is this a grade or is this level ground? It's supposed to be level ground! But somehow the optical effect and the reality have become merged. One can see that he's also sloppily mixing in the issue of loss of resolution at the intersection of the object and a perpendicular surface, without actually connecting the two arguments:

And we eventually get to ships disappearing bottom first on the FE due to the "real" laws of perspective.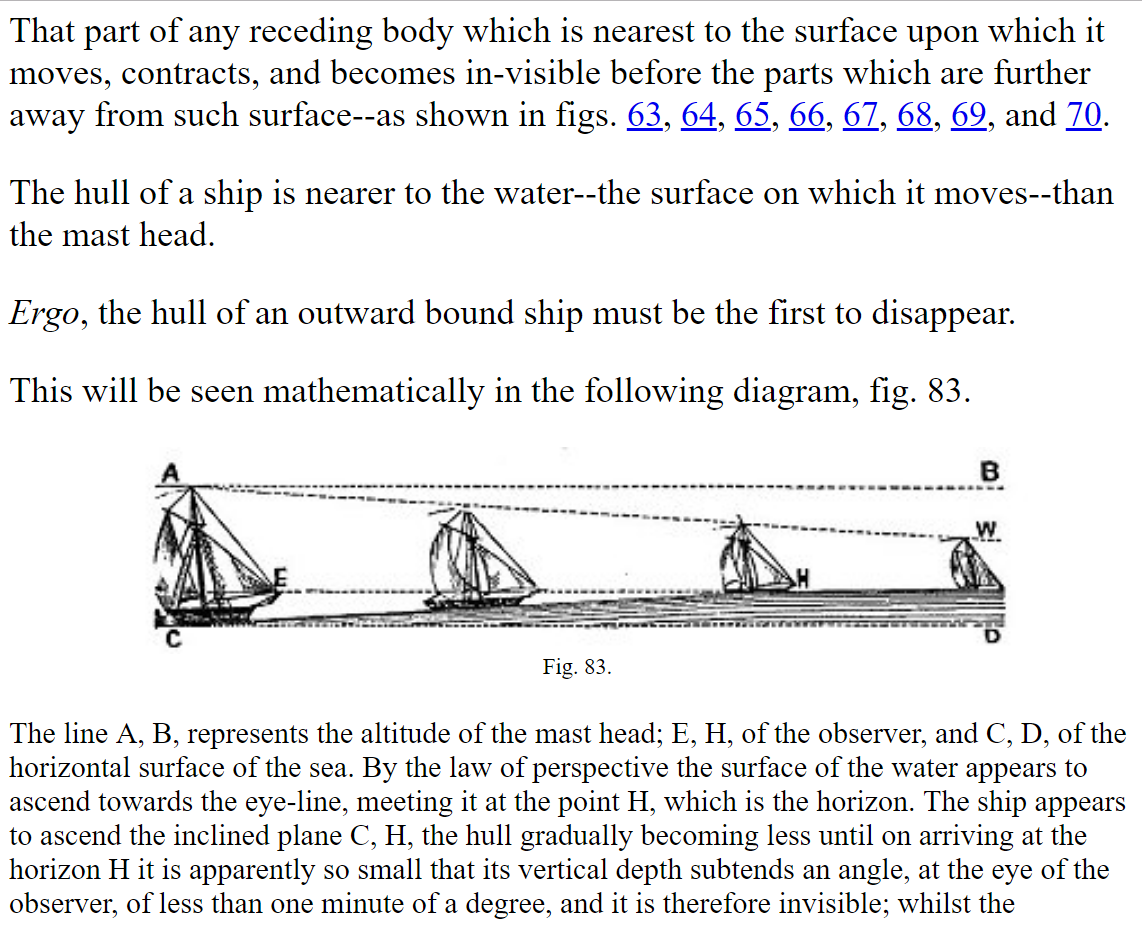 This is another example of FE Believers confusing an abstraction with a reality. They seem to have a feeling that
the optical effect of convergence along our line of sight is a real thing that affects a physical change in objects and affects the base reality of the terrain.
But it's not even an optical effect that would be
seen
from other viewpoints.
Last edited: