I'm beginning to think weatherwar is more delusional that Dutch.
They made that follow up video based off of this comment: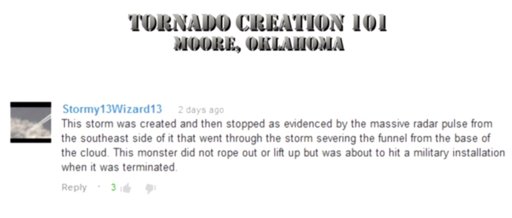 In which this stormy wizard person claims that tornado did not rope out or lift up but was instead hit by a massive beam - and then later in the video, at approximately the 13 minute mark, they show the tornado doing EXACTLY that....roping out.....only they are using it show an imaginary vertical energy pulse "terminating" the storm. Just another example of these types of people contradicting themselves and each other and also twisting images, videos, or technical data in whatever way is necessary to suit their theories.
And yet another example of someone not understanding you cannot see a transmitted pulse without over-saturating the radar receiver or destroying it. They just can't seem to grasp onto the fact that radar imagery is the transmitting station's reflected energy, or in the case of some anomalies, intercepted energy of a similar operating frequency from another source. That faint "beam" in the video that they claim "terminates" the storm lines up perfectly with the Vance, AFB WSR-88D.