couldn't see this as being done before, so i had a little poke around...
basic premise: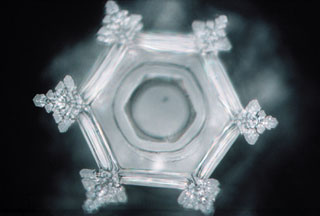 Water crystal exposed to the word "
UBUNTU
"
(probably meant to refer to this usage)
http://en.wikipedia.org/wiki/Ubuntu_(philosophy)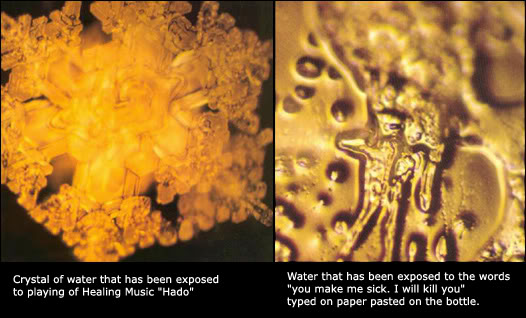 [BUNK]"..... Dr. Masaru Emoto has proven over and over again, through photographing water crystals, that there is a geometrical correspondence between human thoughts and emotions and the very shape of the matter that surrounds us. Water, Emoto has shown, "treated" with love or beautiful music, undergoes molecular change into beautiful, harmonious geometrical forms. And the same happens in reverse: chaotic or "negative" thought and emotion cause the crystals of water to become unformed and unlovely."[/BUNK]
More photos of Dr. Emoto's water crystals can be viewed
here.
(from...)
http://sites.google.com/site/toymonk5/science/amazing/dr-masaru-emoto-water-crystals-and-emotions
skeptical thread here (link in first post to particle physicist's analysis is broken) ;
http://www.physicsforums.com/showthread.php?t=72208
extensive analysis by
Kristopher Setchfield, BA, Health Science
Natural Science Department
Castleton State College, Vermont.
http://is-masaru-emoto-for-real.com/
(official research paper).
"... However, after many hours of investigation it became increasingly clear that a superior purpose for this project was to review Mr. Emoto's procedures and results for scientific validity. This revision in the original intent for this project has been very eye-opening and the findings have grounded my opinion of Dr. Emoto's work in a concrete of scientific rigor and skepticism."
and i guess it would be prudent to include the wikipedia entry...
http://en.wikipedia.org/wiki/Masaru_Emoto
Last edited by a moderator: