Administrator
Staff member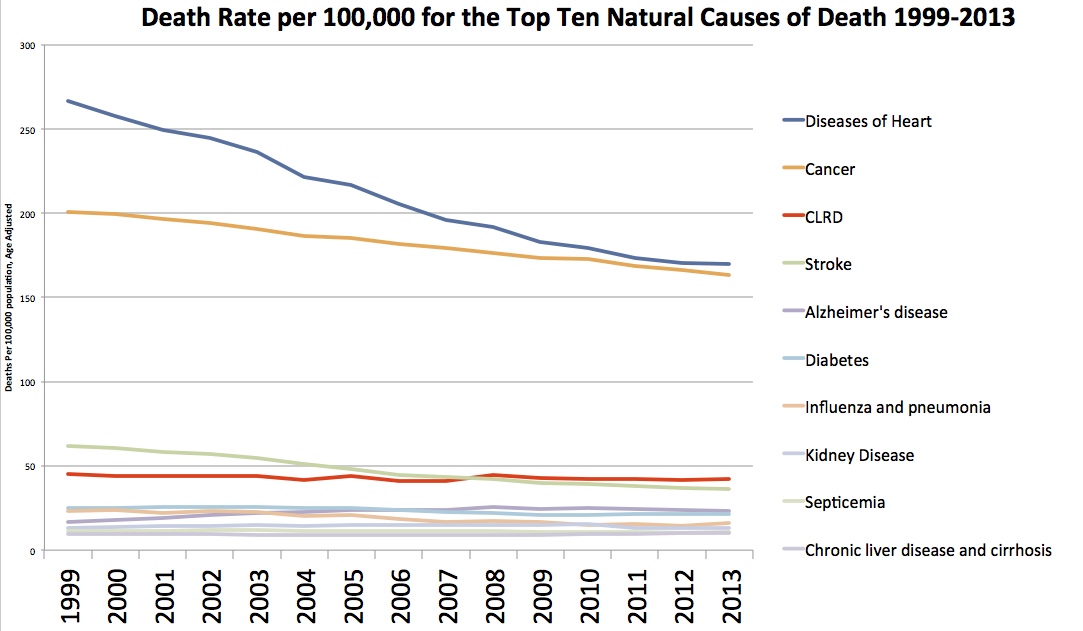 In the classifications of causes of death shown in the chart above, CLRD (the red line) is "Chronic Lower Respiratory Disease", which is
a combination of bronchitis, emphysema, and asthma
. CLRD is currently the third leading cause of death in the US, moving from 4th to 3rd in 2008.
However the actual rate of CLRD is largely unchanged from 1999, actualy moving down slightly from 44 deaths/100,000 in 1999-2001 to 42 in 2011-2013. So
there is no rise in respiratory mortality.
The reason CLRD "overtook" stroke in 2008 was because the rate of deaths from stroke is decreasing faster than deaths from CLRD. Let's compare just stroke and CLRD: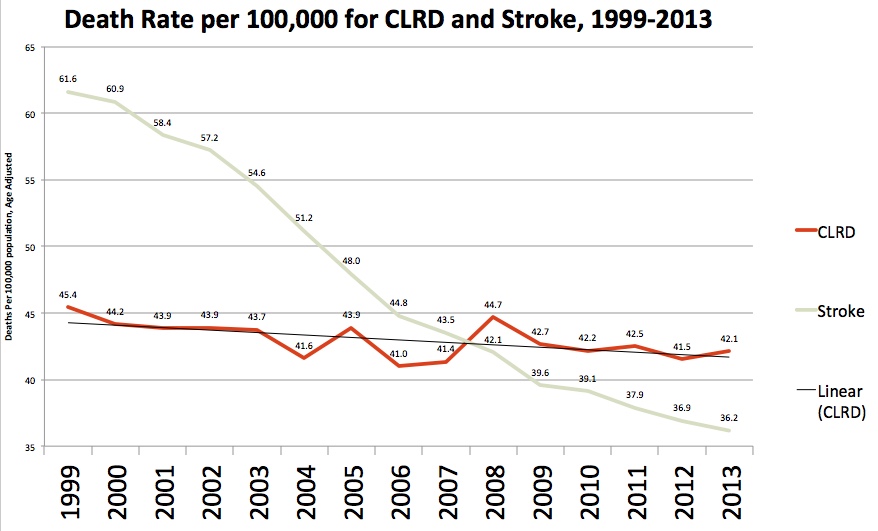 Notice the trend line for CLRD, the average rate is trending down - on average fewer people are dying of respiratory disease.
The data set here comes from the CDC, specifically the NCHS data visualization: T
op 10 Leading Causes of Death: United States, 1999–2013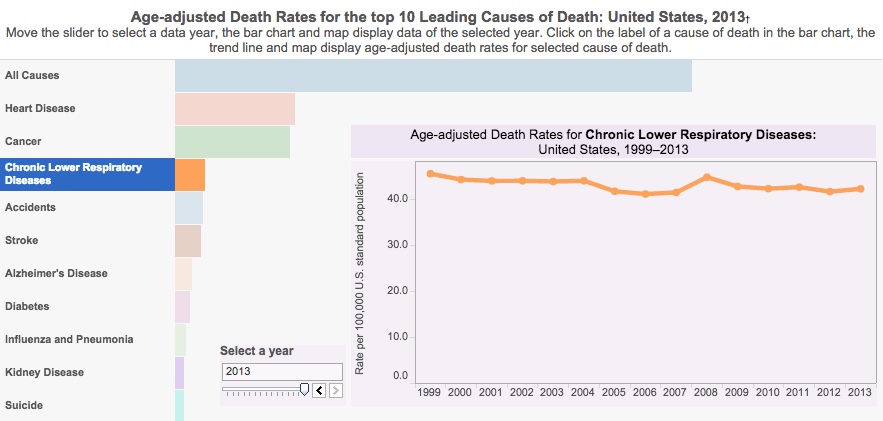 The interactive tool there is useful, but does not let you compare the different causes against each other, so I created the above graphs from the
linked data spreadsheet.
You can verify this yourself, or simply compare the individual graphs there with the ones I posted above.
So given the lack of changes in this number, why are some people (specifically chemtrail theorists) claiming it as evidence of some secret program of spraying that's affecting everyone's respiratory health?
This origin of this claim initially seems to date back to 2011, when the stroke rate falling below the CLRD rate was reported, first by the CDCC:
http://www.cdc.gov/nchs/data/databriefs/db64.pdf
Do leading causes of death change rank?

Between 1980 and 2007, the three leading causes of death (heart disease, cancer, and stroke) did not change in order of ranking. In 2008, however, chronic lower respiratory diseases replaced stroke as the third leading cause of death, and stroke fell to the fourth leading cause (6ranking order remains in 2009 (3). It is worth noting that because deaths from heart disease have tended to decrease throughout the 1980–2009 period, it is likely that at some point in the near future heart disease will no longer be the leading cause of death in the United States.) (Figure 6). This

Figure 6. Age-adjusted death rates for leading causes of death: United States, 1999–2007 and preliminary 2008 and 2009

NOTES: Rates are plotted on a logarithmic scale. Leading causes of death from 1999 through 2007 were, in order: heart disease, cancer, stroke, and chronic lowerrespiratory diseases. Leading causes of death for 2008 and 2009 were, in order: heart disease, cancer, chronic lower respiratory diseases, and stroke.SOURCE: CDC/NCHS, National Vital Statistics System, Mortality.
This story was picked up by the American Lung Association, a group that advocates for lung health.
http://www.lung.org/associations/states/wisconsin/news/chronic-lower-respiratory.html
Chronic Lower Respiratory Disease Surpasses Stroke As Third Leading Cause of Death (August 15, 2011)

—

New data

released by the Federal Centers for Disease Control and Prevention (CDC) indicates that the deaths from Chronic Lower Respiratory Disease (CLRD) are on the rise, and that it has surpassed stroke as the third leading cause of the death in the United States. CLRD deaths – with includes asthma, chronic bronchitis, emphysema, and other lower respiratory illnesses – rose 7.8 percent from 2007 – 2008, the most recent years for which data is available. At the same time, stroke deaths dropped 20 percent.

CDC advises that the data be approached with caution, however, as there were changes made in 2008 to the way that CLRDs are coded and classified; it is unclear at this point to what extent these changes contributed to the increase shown for this cause of death.
CLRD did indeed rise slightly from 2007 to 2008, going from 41.4 to 44.7. However this was not all the data available. As seen in the CDC graph, from 2008 to 2009 the rate dropped from 44.7 to 42.7. And now with the 2013 data available, we can see this was part of a general downward trend that has been occurring since 1999.
This slight misrepresentation by the American Lung Association was then pounced on by the "chemtrail" theorist, for example Patrick Roddie, who used it in a statement he read at an EPA hearing, linking to the lung.org paper in a transcript he posted later
http://stopsprayingus-sf.com/epa/
[this paper] documents the dramatic increase of Alzheimer's and respiratory failure since the 1990s when persistent contrails became commonplace around the world. I conclude that these persistent contrails are in fact artificially nucleated with the toxic particulate metals outlined in Raytheon's patent and that a Solar Radiation Management program has been deployed since at least the 1990s.

In 2011, respiratory failure overtook stroke to become the

third leading cause of death in the United States

, at a time when smoking was at an all-time low, emissions standards on vehicles and power plants were at their strictest and heavy industry had relocated to China.
And yet as we see for the actual figures, far from a "dramatic increase", there has actually been a slow but steady
decrease.
(Note the 4th to 3rd change was in 2009, not 2011)
While Roddie's claim can be dated back to 2011, it seems to have been conflated with earlier claims by chemtrail theorists who originally claimed that the rise was from
eighth
to third. Many of these claims are still published as fact, with varying dates, for example in 2015:
http://www.geoengineeringwatch.org/...te-engineering-dangers-at-community-workshop/
Respiratory complaints have already risen to 3rd place from 8th on the list of conditions requiring medical care – this, within the last five years.
That does not really make any sense, as the most recent data show a drop from 2010, and it's actually been in 3rd place for all the last five years. But then back in 2012, Geoengineeringwach said:
http://www.geoengineeringwatch.org/chemtrails-when-you-read-this-you-will-become-a-believer-too/
Dr. Gwen Scott, who I refer to later on as well, mentions (

in a 2005 documentary

) that

mortality from respiratory diseases went from being the 8th most leading cause of death in the USA to being the 3rd in a span of 5 years.
Which is very odd, as in the span indicated (from 2000 to 2005) CLRD actually fell slightly, and stayed quite solidly in 4th place.
The linked video
is an interview with Naturopath Gwen Scott, who says:
"The top respiratory specialist in the US was recently on the Today Show, he's written a book, something about 'The Breathing Crisis', ... [he said] that death or mortality from respiratory disease has gone from number eight, five years ago, to almost number three. That's huge, that means that the third leading cause of death now in this country is breathing. "
"Almost number three" is still fourth, which is where it had been over all those five years. Or rather the five years up to 2003, which seems to be when she first made the claim:
http://www.bariumblues.com/reason_for_chemtrails.htm

Additional Notes Aug 17 2003:
I am the researcher that relayed information to Carnicom [...] Do you question that people are dying in record numbers from the aerosol operations? It is a fact that an increase in particulate matter increases mortality.A top respiratory doctor has just written a book about the "breathing crisis." On the Today Show, not in some secret meeting place, he tells us that respiratory disease has gone from eighth to fourth place as a leading cause of death, soon to be third, in only FIVE years. The doctor says the increase in respiratory death is because of smoking. Now that seems a little off, since many people have stopped smoking, and yet in FIVE years dying from breathing is the major cause of death behind heart failure and cancer.

I can't find any reference to a book called "The Breathing Crisis". But it seems most likely she simply misinterpreted something she saw on the daily show. After all, she was half right, the CLRD rate
was
"almost number three" in 2003 - it had just always been like that.
The mistake propagated, with version of it finding its way onto many web pages, speeches and documentaries. Such as this statement by Dane Wigington in 2012: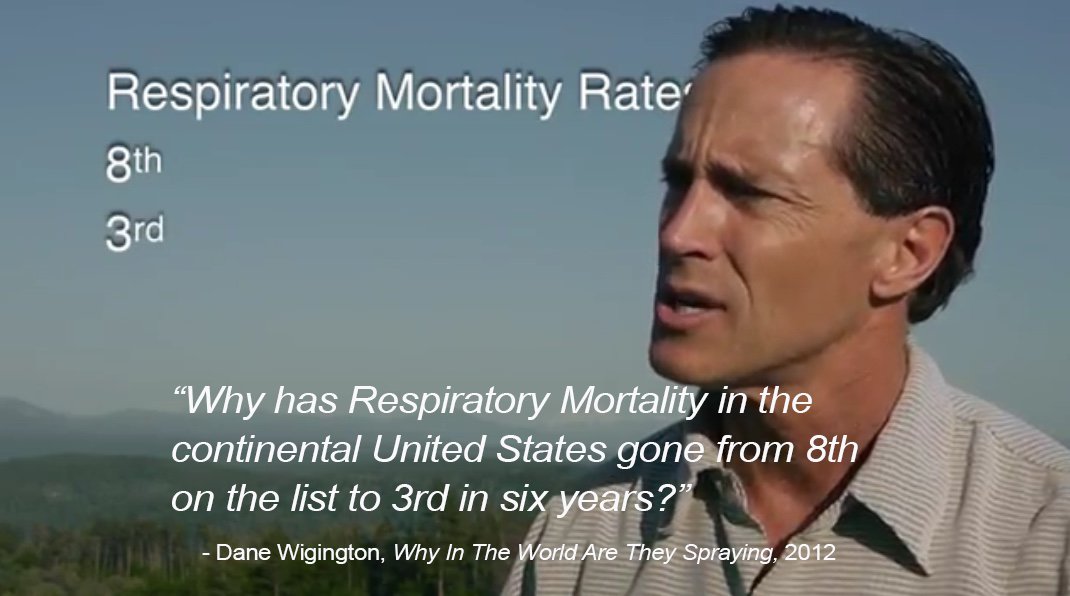 Why has Respiratory Mortality in the continental United States gone from 8th on the list to 3rd in six years?

It's a little unclear which six years he's referring to, but that's not very relevant, as he's wrong. Respiratory mortality has not gone from 8th to 3rd. In fact it's actually decreased over the last 16 years. He's simply repeating a garbled version of something someone thought they saw someone say on TV in 2003.
Last edited: