From Mike Adams, the Health Ranger
EPA literally wants you to DIE from radiation
Adams concludes later in the article that:
http://www.naturalnews.com/054537_radiation_in_water_EPA_limits_radioactive_elements.html
I am starting to get used to looking past Mike Adams' usual hysterical claims to get to their source. It seems pretty clear upon closer examination that the EPA is developing a contingency plan for a potential disaster.
The actual policy document mentioned by Adams, "Draft Protective Action Guide (PAG) for Drinking Water after a Radiological Incident," is attached.
The PAG includes exposure guidelines for water consumption.
It does not mention radioactive Iodine-131.
The PAG draft originally comes from
Executive Order 12656 (
1988). The main focus of the older document is disaster preparation.
http://www.archives.gov/federal-register/codification/executive-order/12656.html
During a "radiological incident," the EPA's responsibility is determining acceptable levels of contamination in water after an emergency, specifically in the time involving cleanup efforts.
What constitutes a "radiological incident" has changed since the Cold War in the eighties. It now includes terrorist acts as well as disasters similar to Fukishima.
https://www.epa.gov/emergency-respo...diological-and-nuclear-consequence-management
The intent of a Protective Action Guide is made clear in the proposed policy
https://www.epa.gov/radiation/protective-action-guides-pags
The PAG does allow for radiation levels that are higher than those allowed under the National Primary Drinking Water Regulations.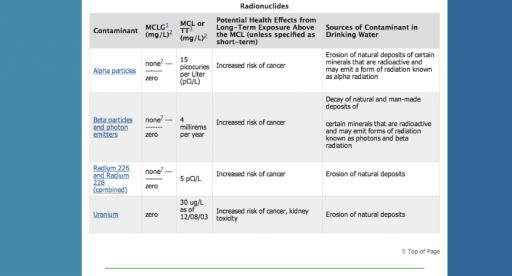 https://www.epa.gov/ground-water-an...ted-drinking-water-contaminants#Radionuclides
The Department of Energy provides good context on a range of normal annual radiation dosages.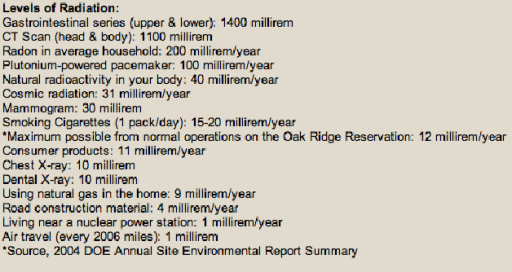 http://www.oakridge.doe.gov/externa...rmation/aboutradiation/tabid/319/default.aspx
The EPA is also soliciting public comment on the draft PAG throughout July.
https://www.regulations.gov/document?D=EPA-HQ-OAR-2007-0268-0210
Last edited: