Administrator
Staff member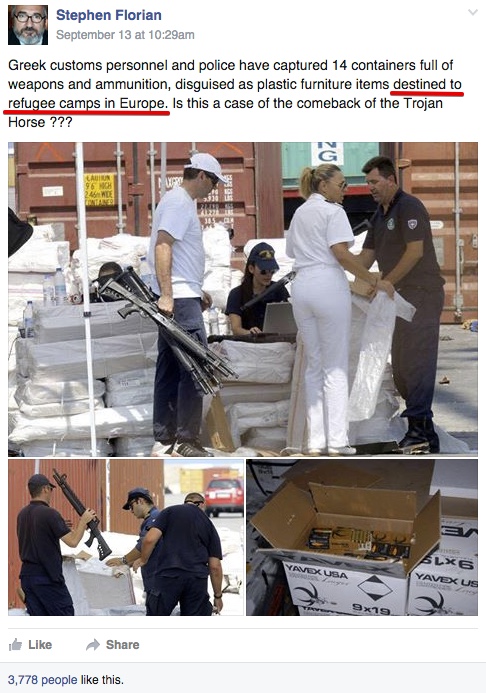 source:
https://www.facebook.com/groups/377595985622234/permalink/901227429925751/
Anti-immigration fears have been stoked by a story that a container of "plastic furniture" destined for Syrian refugees actually contained thousands of weapons and tons of ammunition.
However the ship was actually sailing
from
Turkey (where most of the Syrian refugees are) to the Libyan city of Misrata, in Africa, and while the intended recipients are unclear, they were certainly not refugees.
http://uk.reuters.com/article/2015/09/02/uk-libya-security-greece-arms-idUKKCN0R20UB20150902
Greek authorities have seized a freighter carrying an undeclared shipment of weapons en route from

Turkey

to

Libya

, coast guard officials said on Wednesday.

A coast guard patrol boat raided the vessel on Tuesday, 20 nautical miles northeast of Crete. The freighter, with a crew of seven and which had sailed from the Turkish port of Iskenderun, was escorted to Heraklion port on the island.

The United Nations has imposed an embargo on weapons shipments to Libya, which is plagued by factional conflict.
http://www.ibtimes.co.uk/isis-weapon-shipment-intercepted-by-greek-coastguard-off-crete-1518013
A weapons cargo possibly headed to Islamic State (Isis) militants in Libya has been seized by the Greek coastguard off Crete. Greek authorities said the shipment was intercepted in a coastguard special unit raid south-east of the Mediterranean island.
...
Local media however reported the ship was sailing towards Libya when it was stopped, adding it is believed the weapons were intended for an IS local offshoot.

http://www.ibtimes.co.uk/greece-sei...ncealed-5000-shotguns-libya-islamists-1518372
It was not immediately clear who the cargo was being shipped to. The port of arrival, Misrata, is controlled by Libya Dawn, an Islamist umbrella group that took over the capital, Tripoli, last year, ousting the internationally recognised government and installing a rival administration.

Greek media however suggested the Islamic State (Isis) local offshoot, a rival of Libya Dawn, based in nearby

Sirte

was to be the final recipient.

The Turkish government however said the weapons were destined for the Sudanese police force, also claiming the shipment was fully documented. "If investigations by the Greek authorities show that the consignment is going to receivers other than those stated in the documentation, and if that is shared with us, naturally measures could be taken," foreign ministry spokesman Tanju Bilgic

told

Reuters. He added the vessel also carried building material for Libya, which is subject to a UN arms embargo.
Last edited: