This blogger claims video evidence shows that Walter Scott actually did shoot Michael Slager with the taser. Does anyone here have enough knowledge of tasers and frame by frame video analysis to debunk or confirm this?
http://theconservativetreehouse.com...-video-shows-officer-slager-with-taser-darts/
If you review

the raw footage

(

source New York Times

) of the witness shooting video you can clearly see the wire from the Taser connected to Officer Slager.

Additionally, if you follow the wire you also recognize the cartridge from the Taser itself is being dragged behind the fleeing Walter Scott.

This is critical because the darts are on one end of the wire, and the cartridge is on the other end – usually cartridge remaining in the trigger assembly. However, the cartridge is obviously dislodged in the struggle.

If the cartridge is dragging behind Scott -somehow tangled with his foot/shoe or leg – and the line is visibly taut (which it is) then the dart end is indeed attached to Officer Slager.

This means when the Taser fired during the struggle, the darts actually penetrated Slager, not Scott.

Factually this aligns with the recorded statement of Slager and the reports of his initial debriefing.

It could be that one dart is in the leg of Slager and the other is in the upper torso region as evidenced below.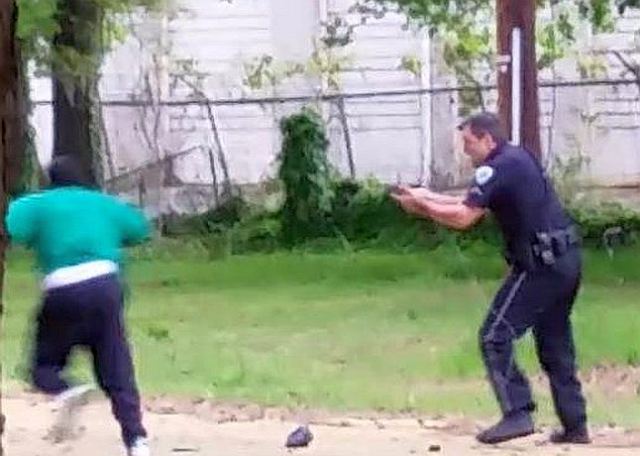 Last edited by a moderator: