In December 2009, an unprecedented spiral appeared over Norway.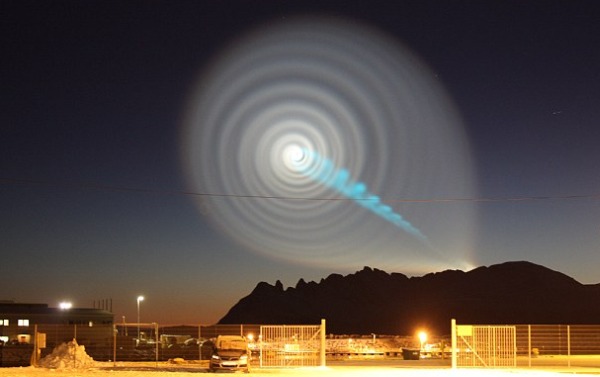 ​
So was it really a failed Bulova missile launch or was it caused by EISCAT, the European version of HAARP?
Despite early denials that they had launched a missile, the Russians quickly recanted and admitted responsibility and a failed launch. So, why would the Russians be so willing to accept responsibility, (and embarrassment), if they were not responsible?
But significantly, the phenomenon appeared near Tromso, which is also the location of EISCAT. if the missile malfunctioned over the White Sea as reported, it should have been visible in northern Russia, Finland and Sweden as well as Norway and yet no sightings were reported in Finland or Russia.
Further, since then there have been many similar spirals worldwide, showing up both visually and on radar.
Australia appears to have the best documented examples of this.
This is undeniably an interesting phenomenon which is apparently becoming more and more prevalent, (although there are some very dubious instances). Also, is it linked to at least some of the strange noises which have been heard worldwide of late?
Below is an interesting paper on the spiral's origin, trajectory and dimensionswhich actually tracks the source to the Russian White Sea.
http://www.spellconsulting.com/reality/Norway_Spiral.html
Last edited by a moderator: