Administrator
Staff member
Source: https://www.youtube.com/watch?v=mkH5I0lXiFs
Why do you sometimes see unburnt trees next to a burnt down house?
Conspiracy theories would say that this is because the houses were actually vapourize with beams of energy from space. But the actual reason, as many people have pointed out, is simply that the wood in the houses is dry, and the wood in the trees is wet.
If you don't use a wood fire in your house this might be a bit hard to understand, so I set out to do an experiment to demonstrate this.
First stop was my attic, which, like most new houses in California has an internal frame of 2 by 4s.
There was a bit of scrap wood left over from construction. The same wood as the frame of my house, so ideal for testing.
Then out back to chop a live branch off a tree, and then I chopped both the attic wood and the live wood into pieces about the same size.
Cutting to size:
I then built a symmetrical fire from kindling and put the live wood on the left and the attic wood on the right. I lit the fire, and fed it more kindling when it went out.
It was very obvious that the live wood never caught on fire, whereas the attic wood started burning almost straight away.
The end result was that the live wood just got a bit sooty, and the attic wood was burnt through.
[Update Dec 14 2017]
A few people have pointed out there are other factors in my test besides simply water content, namely:
Wood Density -
The live wood is oak and the attic wood is a conifer, probably Douglas Fir. Oak is denser than pine, and is harder to burn even when dry. However it's also still a typical type of tree in California. Doug fir has a density of 33 lb/ft3, oak is between 37 and 56.
Bark -
The tree has bark, which protects a bit from the fire.
Shape
- A square cross section will burn better than a round one.
None of this invalidates the point - in fact these are
additional
factors that show how the wood in a typical California attic is much more flammable than that wood in the trees around the house. The attic wood is about as flammable as you get, it's light, bark free, with sharp corners. And of course it's also really dry.
Admin: This post is from Dec 11 2017, but summarizes some material in the thread below, so has been moved to the top and backdated for position.
Post below show that this is not a new phenomena, but normal behavior in suburban wildfires: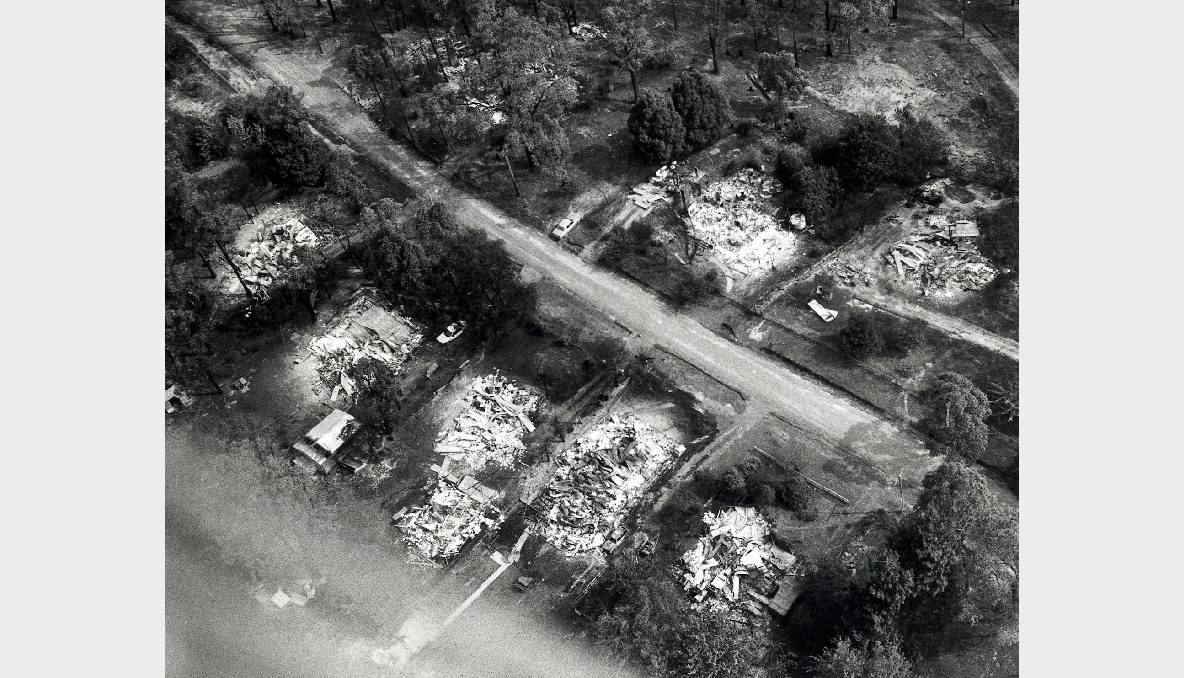 From the same site: Como, New South Wales, 1994: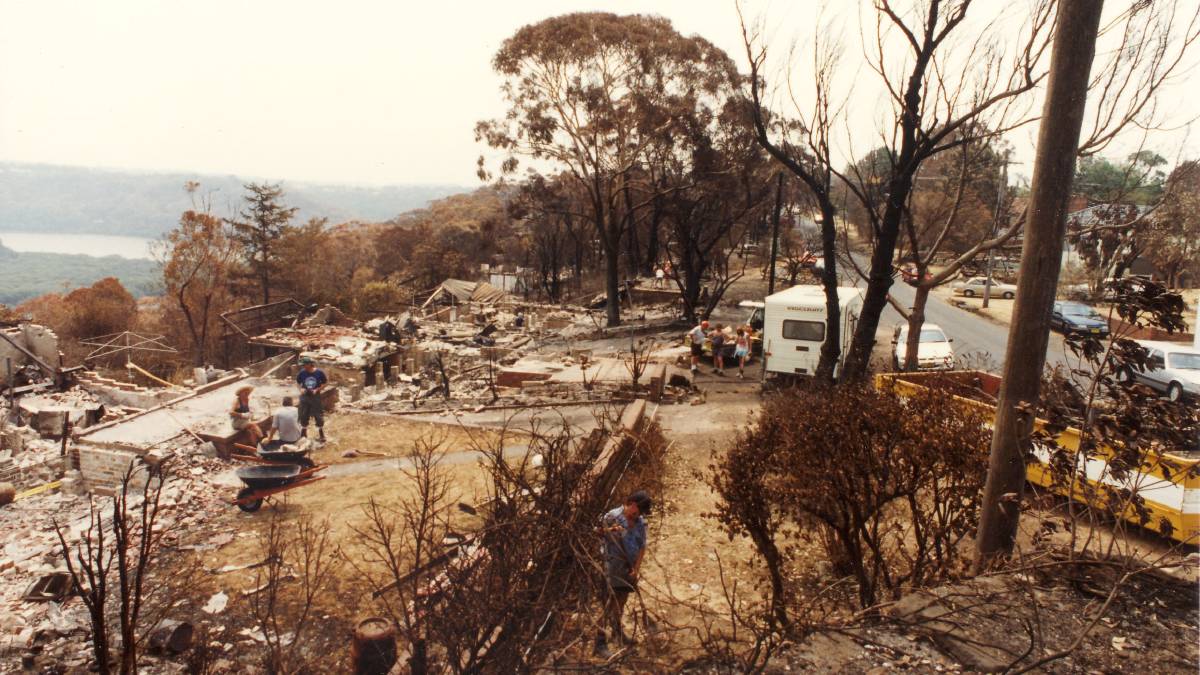 Kinglake, Victoria, 2009: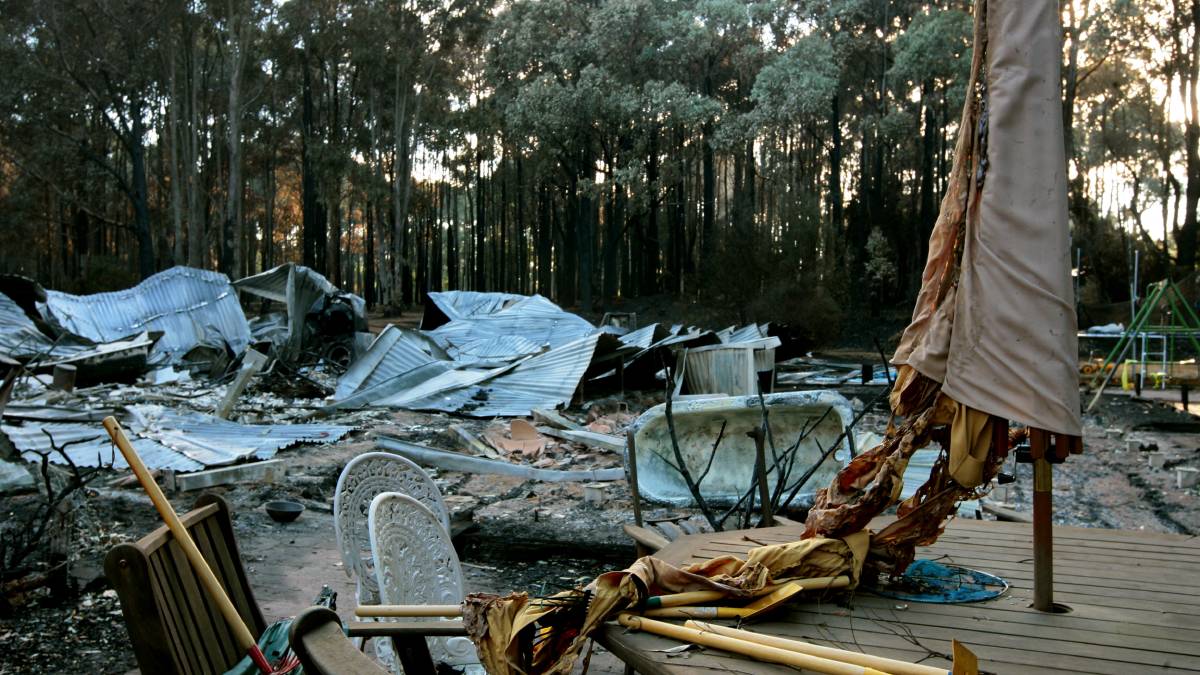 Getting back to the subject in the OP...

The 1961 Bel-Air fire...

Zsa Zsa Gabor's house on Bellagio Place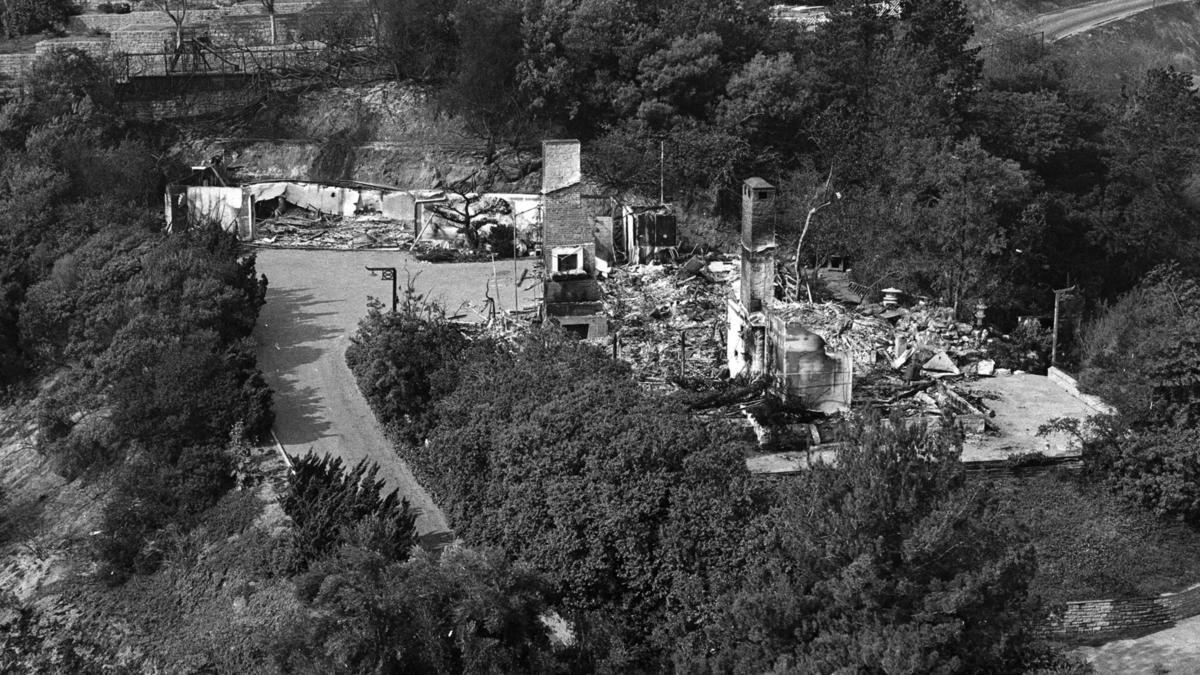 Cued to helicopter footage. Notice unburned trees and the two intact houses, both with a white roof. Most houses had a wood shake and shingle roof, (which were mostly outlawed after the Bel Air fire). These two had some kind of non-inflammable roof.
The latest episode on the 99% Invisible podcast, "Built to Burn",
interviews a former forest service fire scientist who conducted experiments setting forested areas on fire and studying factors that determined whether buildings within the forest burnt or survived:
He set about learning all of a house's potential weaknesses — all the ways it might plausibly catch on fire. He did a series of experiments, including one in the late 1990s in northern Canada where he set an actual forest on fire. Cohen cut plots of forest and set them on fire to watch them burn.

What Cohen found in the experiment was that an entire forest could be on fire, 30 feet away from the house… and nothing. It was fine.

But of course, Cohen knew that radiant heat and flames weren't the only threats to a house. There were also the embers. He frequently found himself standing next to houses reduced to ash with green trees sitting right next to them. It was a telltale sign that the fire front never even reached the home, but the embers had.
If you are still skeptical, I recommend this documentary from 1978 on the 1961 fires, which shows in great detail how similar it is to the fires of today, but nearly 60 years ago.
Source: https://www.youtube.com/watch?v=SlmEIj94fBk
Last edited: