Administrator
Staff member
This solicitation triggered a brief conspiracy theory:
https://www.fbo.gov/index?s=opportu...d9a6dfb22bca4a19150cb&tab=core&tabmode=list&=
13--Ammunition and Shooting Targets Solicitation Number: DG-1330-12-RQ-1028 Agency: Department of Commerce
Office: National Oceanic and Atmospheric Administration (NOAA)
Location: National Weather Service


[...]

The DOC NOAA National Weather Service - Western Acquisition Division ? Boulder requires the following items, Purchase Description Determined by Line Item, to the following:

LI 001, 16,000 rounds of ammunition for semiautomatic pistols to be factory-loaded .40 S&W caliber, 180-grain jacketed hollow point (JHP). No reloads may be used with these weapons. All service furnished ammunition for issued firearms will be U.S. factory production.

?Inside Delivery? to locations below:

NED:

8,000 rounds to: Ross Lane DOC, NOAA, NMFS, OLE, NED 130 Oak Street, Suite 5, Ellsworth, ME, 04605 8,000 rounds to: Troy Audyatis, DOC, NOAA, NMFS, OLE, NED 53 North 6th Street, Room 214 New Bedford, MA, 02740.,


[...]
It looks at first glance like the national weather service is ordering ammunition and targets. What would they need it for? Is the illuminati arming the weathermen so they can continue to cover up a secret geoengineering plot? Are weathermen no longer needed, so they are being conscripted into secret kill squads?
Nothing that exciting. If you look at where the ammo is actually going (i.e. the addresses), you see they all say:
DOC, NOAA, NMFS, OLE, NED.
NMFS, OLE, NED is the
National Marine Fishery Service, Office of Law Enforcement, North East Division.
Basically the fishery police - the people who enforce fishing regulations and quotas. These guys:
http://www.nmfs.noaa.gov/ole/about/employment.html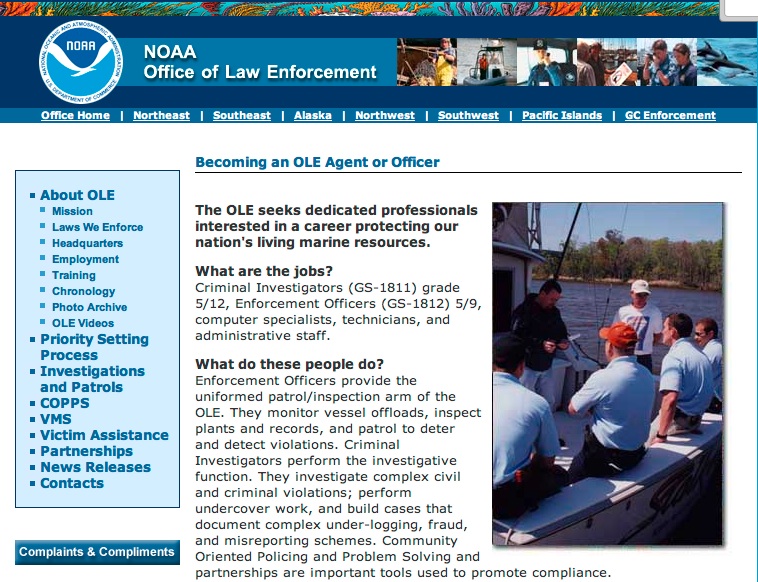 It's a division of the NOAA, which is a division of the Department of Commerce (DOC). Being a fairly large OLE they obviously have a use for ammunition and targets for their firearms training and practice.
Last edited: