Administrator
Staff member
Some things happen every year. A tree grows a bit and forms a new tree ring, snow falls in the arctic and creates a layer of ice, sediment settles in a lake, forming a layer of sediment called a varve.
Each of those things is in some ways a history record. Each encapsulates, in various ways, what happend that year. Ice cores contain tiny bubbles which contain a tiny sample of the atmosphere from hundreds and thousands of years ago. Tree rings vary in thickness. Varves contain whatever particulates settled into the lake that year.
We can look at these things and find a record of things like the metal smelting activities of the Roman Empire, but also of even of quite recent events. Examples:
http://www.nsf.gov/news/news_summ.jsp?cntn_id=112074
http://www.sciencedirect.com/science/article/pii/0013932775900555
http://pubs.acs.org/doi/abs/10.1021/ba-1987-0216.ch012
http://hero.epa.gov/index.cfm?action=reference.details&reference_id=364710
http://www.sciencedirect.com/science/article/pii/S0048969702000323
Here (from the above link) were see the history of lead in the deposits of four swedish lakes. A huge spike in the 20th Century is followed by rapid decline as leaded gasoline is phased out.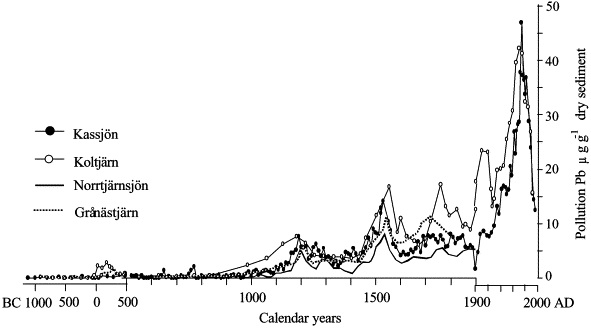 Although here's a slightly different story:
http://www.columbia.edu/cu/newrec/2417/tmpl/story.7.html
So could this be used to prove or disprove the covert-geoengineering hypothesis? Could the work already have been done?
Last edited: