Administrator
Staff member
People who think that there is something wrong with the world sometimes point to the sky and say it's different. It was bluer a decade ago, and certainly bluer when they were children.
Was it bluer? Probably not. Probably what they have is simply a memory of bluer skies, a memory that natuarally gets more intense with age, because that's what memories of color do. Look at the research:
http://www.opticsinfobase.org/josa/abstract.cfm?uri=josa-50-1-73
The memory colors of ten familiar, naturally occurring objects have been determined. Fifty observers chose their memory colors from an array of 931 Munsell color chips. The variability of the judgments is shown and their means are compared with the average chromaticities of the corresponding natural objects. The ten mean memory colors were all significantly different from the natural colors. Each memory color tended to be more characteristic of the dominant chromatic attribute of the object in question; grass was more green, bricks more red, etc. In most cases, saturation and lightness increased in memory.

And sky was bluer in your recollection. The colors in your memory tend to be brighter and more colorful than they are in reality, or in the photos you take.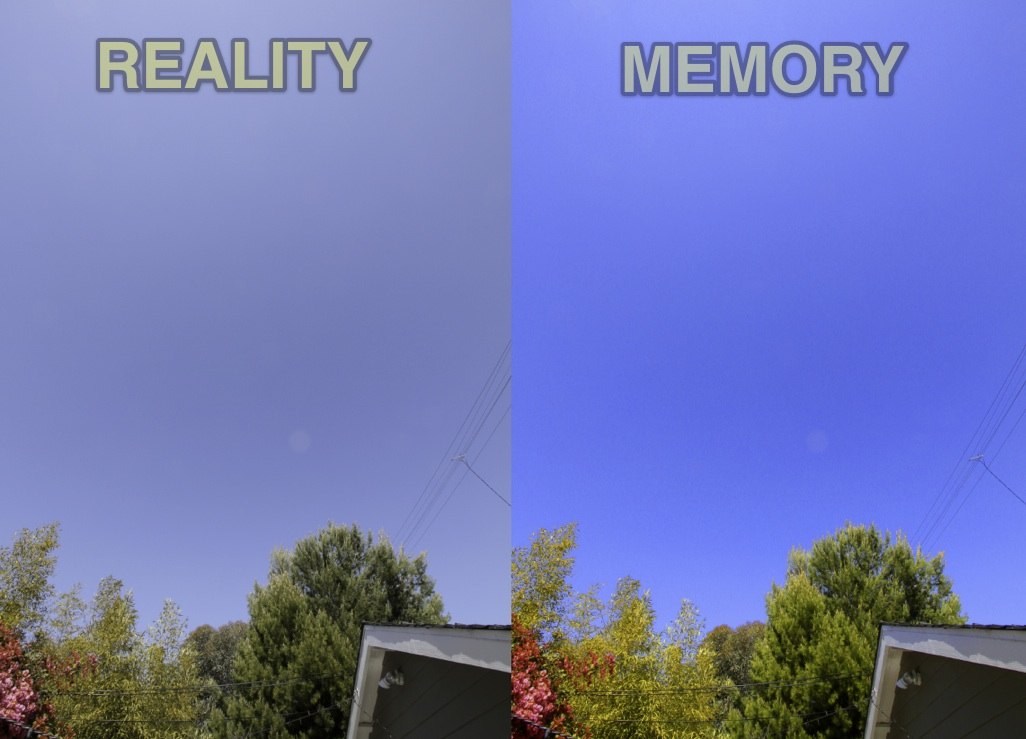 30 or 40 years ago our color memories were magnified by one of the the most popular film around at that time: Kodachrome. The way the film responded to colors gave them an overly saturated look. Blues looked bluer. But we did not mind, because that's how we remembered them. For us older folk, these are the holidays, the vacations of our youth.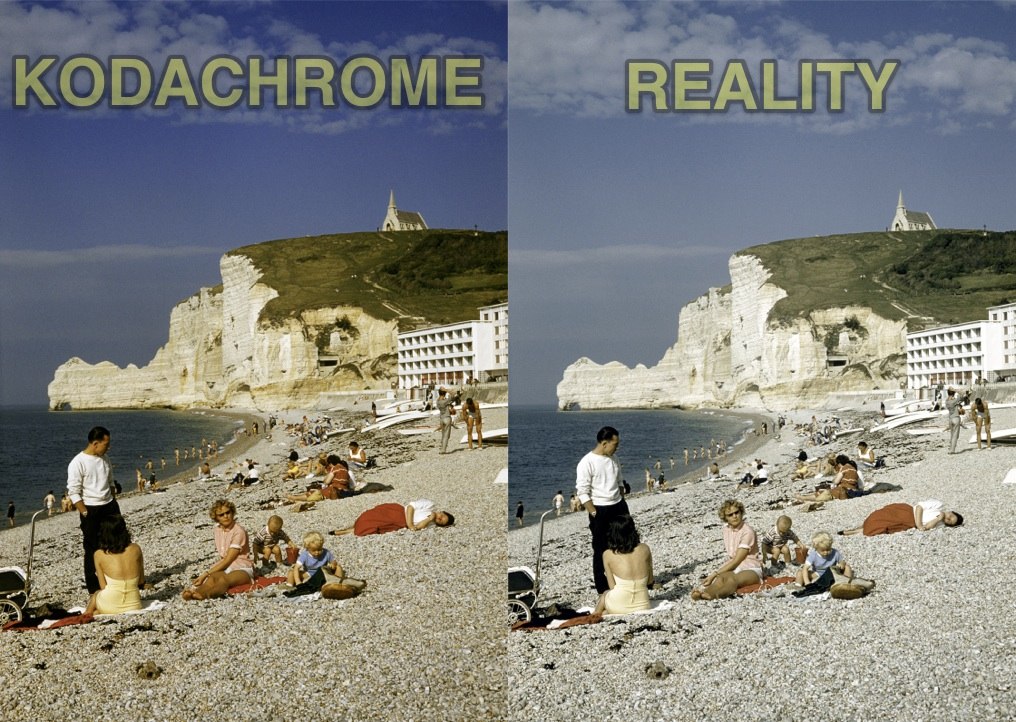 (image source:
http://intelligenttravel.nationalgeographic.com/2009/06/25/kodachrome_tourism/
)
But over time the Kodachrome reinforces our color memory, and we start to think that indeed everything was more colorful in our childhood. The vibrancy of our past increases with the passing of time. The present naturally seems pale in comparison.
And it's not just memory - your color vision actually does fade with time.
http://www.allaboutvision.com/over60/vision-changes.htm
Decreased color vision. Cells in the retina that are responsible for normal color vision decline in sensitivity as we age, causing colors to become less bright and the contrast between different colors to be less noticeable.

In particular, blue colors may appear faded or "washed out." While there is no treatment for this normal, age-related loss of color perception, you should be aware of this loss if your profession (e.g. artist, seamstress or electrician) requires fine color discrimination.
So with these two effects combined, it's no wonder people think the sky was bluer when they were younger.
[Update] There is some evidence of a slight whitening over the 20 years from 1996 to 2007,
see post #73
. However, it's does not seem like this would be something people would notice, with natural variation, and the other factors mentioned.
Last edited: