Advocates of Geo-Engineering state that any attempts at SRM must be made in the stratosphere. So where does the stratosphere begin? In the ICAO standard atmosphere that all pilots and meteorologists learn in Met 101, the stratosphere starts at the tropopause, which marks the height at which the temperature stops decreasing with increasing altitude (see lapse rate). In the ICAO standard atmosphere that point is just over 11 km-36,089 ft to be precise.
In the real world however there in a great variance in the height of the tropopause. So how can you quickly determine where it actually is on any given day? In a weather briefing given pre-flight to airline pilots, we are presented with a chart of significant weather along our route called the SIGWX. They can be found at this website.
http://aviationweather.gov/products/swh/
Updated version:
http://aviationweather.gov/progchart
Clicking on the world chart will get you an area chart such as this.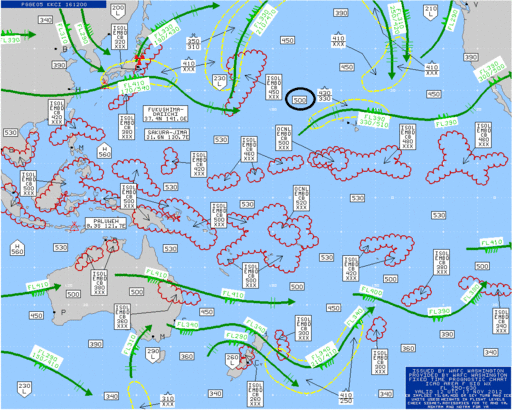 The actual height of the tropopause in each region is marked in the rectangular boxes, one of which I have highlighted. You can see how the height of the tropopause is much higher in equatorial regions than in polar regions.
Here is the US chart for today which also illustrates that point. Also the positions of jetstreams are clearly marked.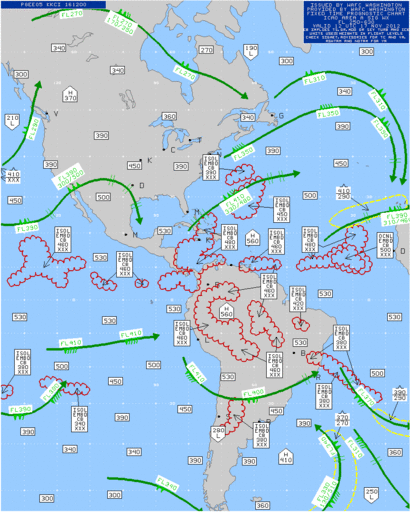 One of the points of noting this is to see just how difficult it would be to spray anything in significant parts of the stratosphere. In most parts of the world it is too high for any large aircraft to reach. A 747 has an operational ceiling of 45,000 feet but cannot reach that altitude with any sort of load. I never flew one above 41,000 when carrying passengers and then it was right at the end of a sector with very little fuel aboard.
Anyway, now you know where to find the stratosphere over your place!
Last edited by a moderator: