I was cruising Ebay when I came across some of the popular passive type (no power supply needed) EMF eliminating devices found under the category "
Natural & Alternative Remedies
"......like stickers attached to the back of your phone, orgonite pyramids, etc.
(disclaimer: I do not possess any of these devices, nor have I tested their functionality, but I do know they are rather pricey $$)
But I also came across some "powered" devices to protect the user from the suggested
harmful positively charged EMF waves
by counteracting these with
negatively charged waves
, thereby neutralizing them somehow. It all depending on who is describing it.
Here is a device, "
Total Shield EMF Protection
" powered by an AC/DC wallwart (found on Amazon as well) ....
But,
WHAT'S INSIDE ?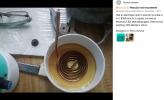 For about $400 US, it seems like a PVC pipe, a circuit board to drive some blinking LEDs
,
and a coiled piece of copper wire (not connected to anything).
~~~~~~~~~~~~~~~~~~~
Here is another "powered" EMF protection device called the "Geoclense" that plugs directly into an AC socket.....but it looks like it's not active in any way.

Their website
describes like this....
(excerpt)
The Geoclense® resin block, called Orgonium® which is unique and exclusive to Orgone Effects® Australia, is a man-made smart crystal formulation which has been frequency infused to produce a healthy "negative charge".
This negative charge frequency is carried by the electrical wiring to appliances that create EMF which all have a positive charge; the harmful component of ANY radiation field. The negative charge from the Geoclense® "neutralizes" or "harmonizes" the positive charge, thus making ALL EMF fields no longer harmful to the human meridian system, bio-field and organs.
Here is...
What's Inside ?
https://youtube.com/clip/UgkxQCsUxVeRpyiTiAofHFRiXs6BEKm6iDDm
~~~~~~~~~~~~~
Among the Radionic devices, some use the claimed power "generated" by crystals wrapped in wire (??), while others are conventionally powered to include blinking LEDs and low power amplifiers connected to some sort of coil or antenna.
Historically radionics primarily has been an alternative health technology used for diagnosing and treating disease. However, in the 1950's agricultural devices were developed that helped farmers treat their animals and soil, replacing expensive vet bills, pesticides and fertilizers with radionic procedures. Modern improvements on those early discoveries have resulted in a renaissance of radionics on the farm.
Sadly, the use of radionics to treat humans has been outlawed in most states, with many practitioners forced to quit or go underground. The only place one can readily find skeptics using radionics is in veterinary medicine, where the prohibitive costs of hospitalizing large animals has made radionic treatments an attractive alternative, even to disbelievers.
https://www.duncanlaurie.com/radionics
This one is called an "Analog Radionic Analyzer", aka sometimes called a "wishing machine".
It was opened-up to see
What's Inside ? from the Hakaday site
.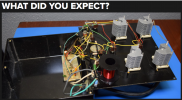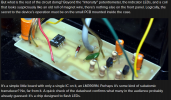 I could not find any sites testing these devices with conventional test instruments.
Many of the promotional sites I read somehow suggest that these "cannot" be tested by conventional lab equipment, because the devices work in completely different forms of energy, thereby making it a useless endeavor.
Ahhhh, that mysterious aether !!
Last edited: