Administrator
Staff member
Initial reports of the Washington Navy Yard shootings are conflicting, which is a somethings that always happens in a chaotic ongoing event, and yet something that is always used as fuel for conspiracy theories - particularly in shootings, where the inevitable caution of the police looking for additional shooters will somehow end up being interpreted as fact that there were additional shooters, and this was some kind of "false-flag" event to distract us from something, or shape the national discourse on something else.
http://www.foxnews.com/us/2013/09/16/active-shooter-at-washington-navy-yard/

A Navy Yard spokesman said the suspected gunman remains active and possibly barricaded following reports of shots fired at around 8:20 a.m. at the Naval Sea Systems Command headquarters in southeast Washington. A U.S. Navy official later told Reuters that it's possible more than one shooter is involved, although that has not been verified.

Police sources told The Washington Post that three shooters, including one in military fatigues, were involved in the incident.

And here come the conspiracies:
http://beforeitsnews.com/alternativ...vy-yard-washington-dc-false-flag-2764398.html
Shooter On The Loose-Active- In Navy Yard, Washington DC (FALSE FLAG)

(N.Morgan)

This may be the False Flag every one has been waiting for.

More details to follow. I have a bad feeling about this one. At least

one person

has been shot and an active shooter is on the loose on the grounds of the Washington Navy Yard in Southeast D.C. The Navy says three shots were fired at 8:20 a.m. Monday at Naval Sea Systems Command Headquarters Building 197 and at least one person was shot. D.C. Police and the FBI say they have received reports that multiple people have been shot. Emergency personnel are on scene and a "shelter in place" order has been issued, the Navy says. The Navy says about 3,000 people work in the building. This story will be updated.

They are telling us it's them!

CarriedbyGrace

: What the heck was that flash at :03 – :04? It looked like 2 pyramids!

Indeed it IS 2 pyramids! As clear as day, a brief flash.
The reference to pyramids there is from
this video clip of Fox News
, where a shot of the Pyramids is on screen for a fraction of a second during a fade. Presumably this was from a previous story segment on Egypt. But gets taken by imaginative as some kind of subliminal reference to the Illuminati.
[Edit: it's just the desktop wallpaper of the guy of who recorded it, you can see some icons]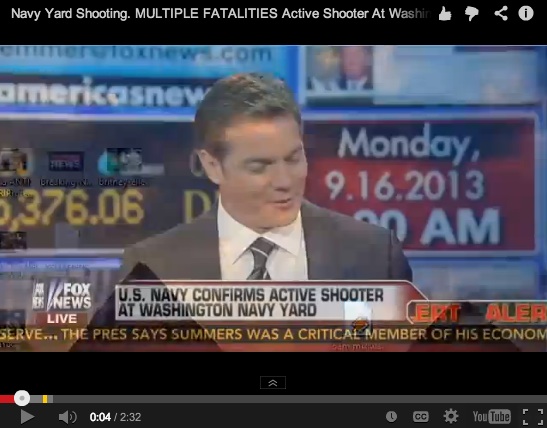 Last edited: