Administrator
Staff member
A massive explosion in a dangerous materials storage area of Tianjin earlier today injured hundred of people, with an unknown number of people dead. The fireball seemed to loom over a thousand feet into the sky, towering over nearly skyscrapers.
As with any major event, conspiracy theories are likely to arise. I anticipate people will tie this to the recent devaluation of the Chinese Yuan - suggesting China is being punished for that move. Because of the large size of the explosion and mushroom cloud, people will likely suspect it was a tactical nuke.
BBC states:
http://www.bbc.com/news/world-asia-china-33896292
http://news.xinhuanet.com/photo/2015-08/13/c_1116234351.htm
[Update] Infowars is limiting themselves so far to repeating MSM coverage, albeit with a disproportionate focus on "Martial Law Declared" (Infowars being obsessed with the supposed coming Martial law in the US).
http://www.infowars.com/i-could-fee...-declared-42-dead-9-firemen-over-400-injured/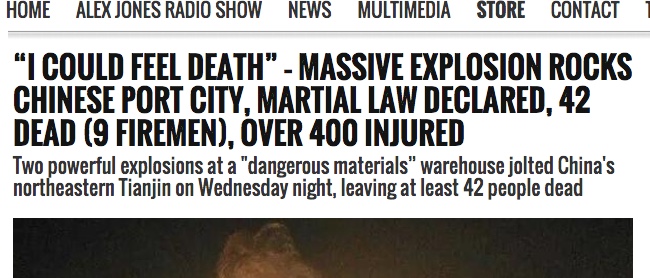 But the commenters are not so restrained: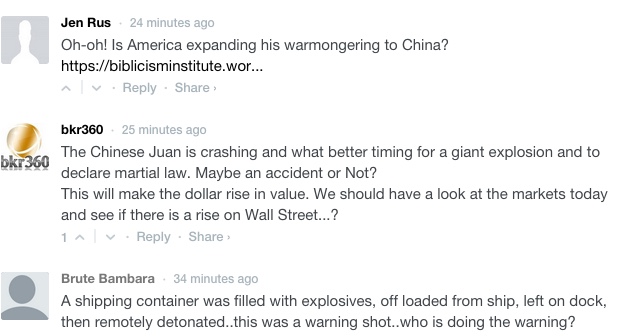 --------------------------------------------------------------------------------------
The purpose of this thread, as in similar threads about major emerging stories, it to keep track of the various claims and theories that arise around the event. This is both to get an accurate idea of the elements of the event that are likely to form conspiracy theories, and to record and address conspiracy theories as they happen.
Last edited: