I came across this on a few FB chemtrail pages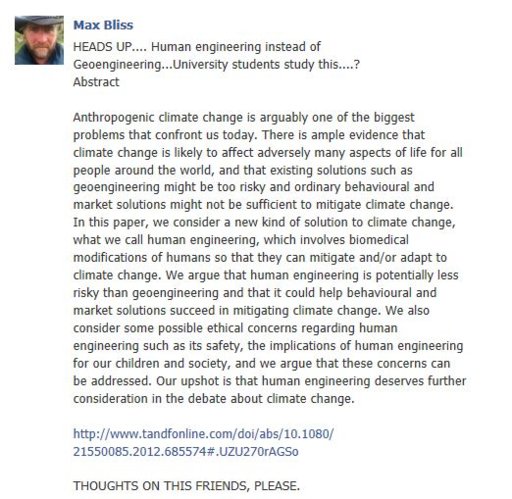 Max makes reference to an article that was presented in a journal called Ethics, Policy and the Environment in 2012
http://www.blackherbals.com/Human_Engineering_and_Climate_Change.pdf
Far from studying human engineering it is a philosophical thought piece designed to generate discussion, and the authors go to the lengths to place a disclaimer.
At the time of publishing it did court some controversy and the authors did receive some abuse, but that is the nature of philosophical inquiry I suppose. There is an elightening article with the authors here.
http://www.guardian.co.uk/environment/blog/2012/mar/14/human-engineering-climate-change-philosophy
As to the content of the article it is all pretty tame. There are no recommendations to engineer webbed feet or gills or even to grow ape like hair to keep us warm. Most of the ideas are non invasive pharmacological ideas to adjust behaviours.
Some of the ideas do hold some merit but that is a long way off from been studied and accepted as Plan C to counter climate change. I do have an interest in ethics especially debating the more out there ideas and to be frank this is not that bizarre or offensive. Around the same time I read an article about post birth abortion and the nature of when an infant becomes a person.
http://jme.bmj.com/content/early/2012/03/01/medethics-2011-100411.full
Ethics journals are of controversial and extreme articles.