[Admin: Thread split from https://www.metabunk.org/threads/debunked-the-sky-was-bluer.494/ ]
There is an interesting piece on colour perception on the BBC News site today:
Optical illusion: Dress colour debate goes global

A debate between family and friends about the colour of a dress for a wedding has become an internet sensation.

Alana MacInnes, of Uist, and Caitlin McNeill, from Colonsay, sought views on Tumblr about whether it was gold and white or blue.

There is a link to the article in WIRED magazine:
The Science of Why No One Agrees on the Color of This Dress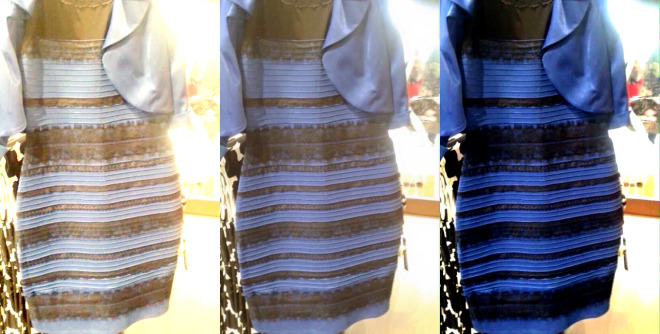 The original image is in the middle. At left, white-balanced as if the dress is white-gold. At right, white-balanced to blue-black.


Without you having to worry about it, your brain figures out what color light is bouncing off the thing your eyes are looking at, and essentially subtracts that color from the "real" color of the object. "Our visual system is supposed to throw away information about the illuminant and extract information about the actual reflectance," says Jay Neitz, a neuroscientist at the University of Washington. "But I've studied individual differences in color vision for 30 years, and this is one of the biggest individual differences I've ever seen." (Neitz sees white-and-gold.)

Usually that system works just fine. This image, though, hits some kind of perceptual boundary. That might be because of how people are wired. Human beings evolved to see in daylight, but daylight changes color. That chromatic axis varies from the pinkish red of dawn, up through the blue-white of noontime, and then back down to reddish twilight. "What's happening here is your visual system is looking at this thing, and you're trying to discount the chromatic bias of the daylight axis," says Bevil Conway, a neuroscientist who studies color and vision at Wellesley College. "So people either discount the blue side, in which case they end up seeing white and gold, or discount the gold side, in which case they end up with blue and black."

Original image: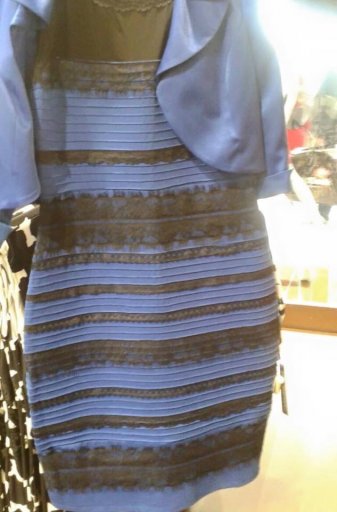 Last edited by a moderator: