The mighty Vigilant Citizen -
Last November, I posted a short news article entitled

Taylor Swift's Performance at the 2012 AMA's: A Typical Initiation Ritual

where I described how it symbolically represented an occult initiation ritual. For the 2013 Brit Awards, Swift brought back that same symbolism as she performed again her single

I Knew You Were Trouble.

While the setting of the performance was different than the one of the AMA's, its symbolic meaning and the color code used was identical. Furthermore, the ritualistic symbolism of the entire thing was even more blatant.
http://vigilantcitizen.com/latestnews/taylor-swift-at-the-brit-awards-yet-another-illuminati-ritual/
Just to make a start on this one, this image -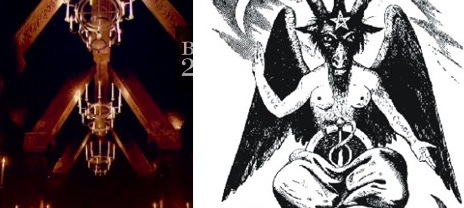 ...is captioned with -
Do you see it?…Or am I seeing things?
Do you? I don't...