Administrator
Staff member


Date/Time of Event 2018-02-18 4:45PM

Long Description of Sighting Report
I was on a flight to Ft Lauderdale and saw something interesting after 1-1:2 hr into flight. we are about 39000 ft up. Pilot told me those clouds in the photos below us in the plane are about 6-10 thousand high up
Looks like giant antenna or smoke stacks. Something large enough to be making the clouds look like a wake from a boat is going through them.
So here's what's weird, tallest man made structure is 2400 ft tall and is in Dubai.
Oil plat forms are only 200-240 ft above sea level.
That's how I noticed it. Saw the wake in the clouds
These are Live Photo's. You can play them and see that they weren't moving.
Flying over gulf heading towards ft Lauderdale
Near Louisiana
I thought maybe oil platform.
But. Nothing is that tall in the gulf
Again these things could be over 6-10,000 ft tall if the originate on the surface.
If you go on google earth to look at this area, it's all grainy and they only have it clear close to land.
Whatever it is is extremely tall and not just skinny. But massive enough to make large wakes in the cloud patterns
And it's like two large structures with several of the towers on them.
I could see oil platforms further on in my trip and they were tiny in comparison. So I'm ruling that explanation out.

And this is over the gulf. Unless there is some high mountain where they put stacks or antennas over 6/10 thousand ft tall to get them that high, I have no clue
No clue how accurate this is with the geo location in photo app, but here is the google satellite image shows nothing but dark blue in the area of the photos. Again the map is only clear close to land
You can see how they feather the image with photoshop so that everything beyond this line is not a clear image.

https://mufoncms.com/cgi-bin/report...=f1_submitted_datetime+DESC&case_number=90956
This looks to me like ground based structures, however he says he was over the ocean, so that means one of:
Ships
Oil Platforms
Islands
Giant hovering UFOs
Somewhat similar to the "Iron Giant" cooling towers: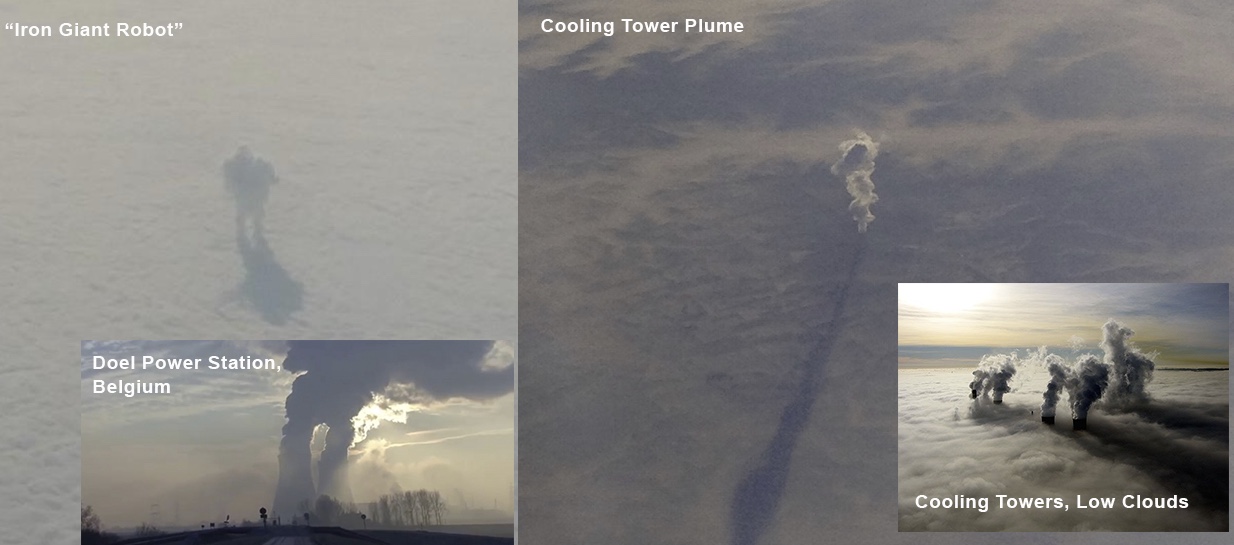 But here's it's leaving some kind of wake - either in the air or in the sea.