In begining I would make few important (imho) reservations:
RF - smth or smb which or who has direct relation to Russian Federation (RF or Russia).
Pro-russian or pro-russian - who advocates RF position or smth like this.
Russian or russian - smb russian speaking.
UA - direct to Ukraine.
Some time ago I begun to read UA mass media because noticed increased conflicting messages about content of humanitarian aid truck convoys from Russian Federation to Donbass region of Ukraine. Many UA mass media published reports about convoy which unlodead weapons, ammo and military devices 30th November 2014.
For example,
http://nvua.net/ukraine/zhurnalist-raskryl-soderzhimoe-gumkonvoya-putina-23031.html
Журналист раскрыл содержимое "гумконвоя" Путина
Один из соавторов издания Euromaidan Press Томас Сейнер заснял содержимое фур, прибывших из России под видом "гуманитарного конвоя" для жителей Донбасса.
Фото он выложил у себя в твиттере.
На них видно, что в фурах "гумконвоя" было оружие, амуниция и приборы военного назначения.
Let me translate.
Journalist revealed content of Putin`s humaid convoy
Co-author of media Euromaidan Press Thomas Theiner photographed content of cargo trucks which arrived from Russia under the pretense of humanitarian aid for Donbass people.
He uploaded the photos at his Twitter.
They show that there was weapon, amunition and military devices in the cargo trucks.
Following photos in the report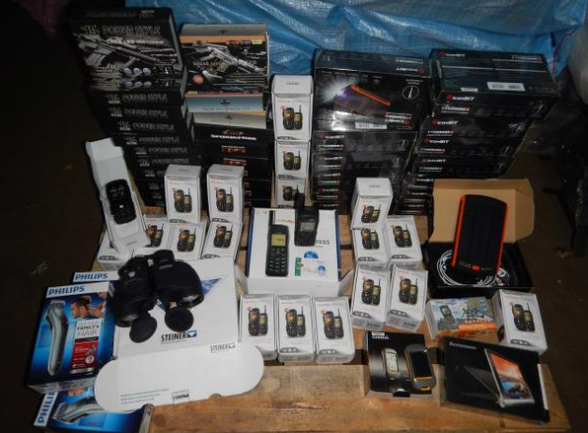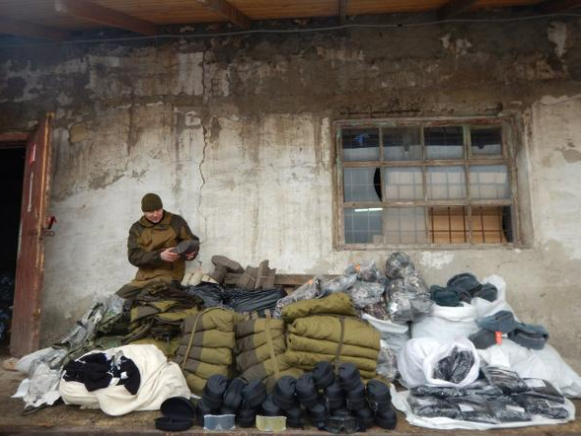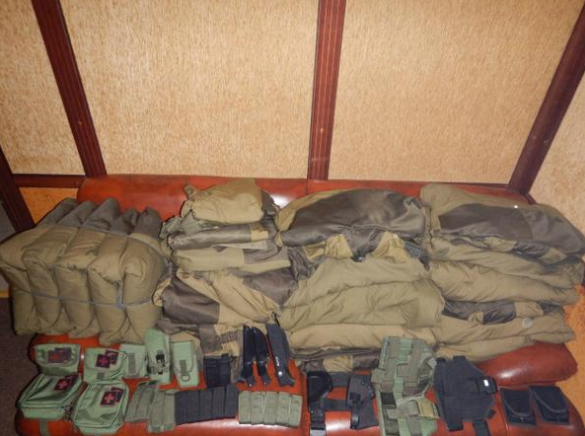 Attention, please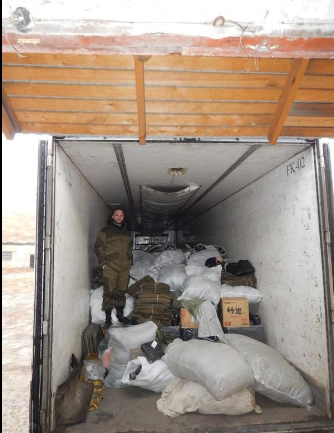 Also the report referred to video "Events in occupied Donetzk" which named such by
http://www.hromadske.tv/
(UA TV channel) and has marked date 30 November 2014(UA mass media).
OK, let`s find that twit. Here it is
It seems to be allright. But something familiar. Ah, I (and not only me) saw them at
http://antimaydan.info/2014/11/11_1...juchkovskogo_o_rashodah_i_zakupka_184960.html
. This is report of militant Alexander Zhuchkovsky about shopped items for territorial army of Novorussia. There more photos on the link (the website about pro-russian insurrection and its militia at Donbass and others).
We have:
1. Referred video and 4th photo - RF trucks with flexible cover of cargo units but "pay attention" photo shows truck with hard shell unit. The ground visible on the left side doesn`t match time and weather condition where RF trucks unloaded.
2. Thomas C. Theiner stole foreign photos which were publiched 11th November 2014 and gave them as 30th November 2014.
3. He named the tweet #Russia: "#Donbas is a humanitarian catastrophe & we send aid!" Sure it's aid: just look at what they unloaded today.
4. UA mass media reported about that tweet and added "weapons". There is no any weapon on the photos. Few knives only if.
5. Amunition. There are diffrent concepts of "amunition" in russian language and english. In russian амуниция - amunitsia or amunitzia - like soldier equipment or infantry gear in english. Additional belts, off-loading vests for ammo, mini-shovel and smth like this excluding uniform and its parts. Adequate term is снаряжение - snaryazhenie - equipmen or gear as above but they used "amunition" (not all of them its below). If "amunition" as equipment or gear as above, all right, the photos show different kind of such items.
6. Military devices. I didn`t see any military device. Optic sight Pulsar Digisight and few others, binocular Steiner, chinese Bailong Powerstyle flashlights, handheld GPS Garmin Dakota or Oregon, smartphones, hair trimmer especially. Yes, the civilian devices can be used at warfare. But they are not military devices as the mass media said.
In additonal to amunition-ammo. Several UA mass media directly reported about that was ammo:
http://podrobnosti.ua/accidents/2014/12/02/1005545.html
Журналист издания Euromaidan Press Томас Сейнер сфотографировал содержание гумконвоя России....На фотографиях видно, что грузовики "гумконвоя" перевозили оружие, боеприпасы и средства связи...
http://obozrevatel.com/crime/63854-...soderzhimogo-vosmogo-gumkonvoya-ot-rossii.htm
Журналист издания Euromaidan Press Томас Сейнер выложил в сети фотографии содержимого восьмого гуманитарного конвоя, который накануне зашел на Донбасс.
Так, согласно снимкам, белые грузовики привезли боевикам оружие, боеприпасы и средства связи.
http://ru.tsn.ua/politika/zhurnalis...uzhie-amuniciya-i-sredstva-svyazi-399040.html
Журналист издания Euromaidan Press Томас Сейнер сфотографировал содержимое "гумконвоя", который якобы привез из России помощь жителям Донбасса. Фото груза он выложил на странице в своем Twitter. На фотографиях видно, что грузовики "гумконвоя" перевозили оружие, боеприпасы и средства связи для боевиков.
PS. Fixed one link.
Last edited: