The theory is that a group of powerful people is hired by Monsanto and is controlling the governments view on said company. The theory names a lot of people, some more prominent then others as the source for this secret society.
Of course lobbyist are known to be doing exactly this, changing governments viewpoints for there own benefit, so it is not the Monsanto lobbing aspect that is the reason for this debunking. The reason is that upon scrutiny the names mention don't hold up. None of these people worked at monsanto at the same time as working in the government. Furthermore I don't think any former job at any company prior to once position as a political figure is of any interested. Unless the person cannot separate his or hers political engagement from his or hers prior business, of course. But that is true for any business not only Monsanto. If ones involvement whit Monsanto in the past was a valid argument for not having the person in a political office, then so should it be for any person in politics with a prior workplace.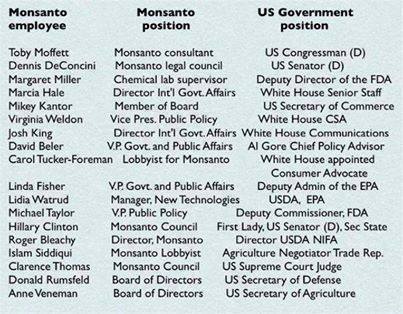 Toby Moffett
was in house of representatives from 75-83. His career in Monsanto started i 1996 where he was chairman until 1999. (
http://littlesis.org/person/43076/Toby_Moffett
)
Dennis DeConcini
has never been hired by Monsanto. (
http://www.opensecrets.org/revolving/rev_summary.php?id=11413
)
Margaret Miller (Margaret Ann Miller)
career in the FDA is as following:
"Margaret Ann Miller, Ph.D., RN joined the United States Food and Drug Administration (FDA) Center for Veterinary Medicine in 1989. She held several positions within the Center for Veterinary Medicine including Deputy Director for Human Food Safety. In 1999, Dr. Miller moved to FDA's Office of Women's Health as the Manager of Science Programs. In 2005, she was detailed to the World Health Organization, where she again worked in the food safety arena. Upon her return from the World Health Organization, Dr. Miller joined FDA's National Center for Toxicological Research as the Associate Director of Regulatory Activities where, among other duties, she serves as the Designated Federal Official for their Science Advisory Board." (
http://webcache.googleusercontent.com/search?q=cache:L4_prdO7HLAJ:www.fda.gov/downloads/AdvisoryCommittees/AboutAdvisoryCommittees/CommitteeMembership/MembershipTypes/UCM211473.doc &cd=1&hl=da&ct=clnk&gl=dk&client=firefox-a
)
Margaret Ann Miller has as far as I could find never been associated with Monsanto.
Mickey Kantor
worked in the United States Department of Commerce as Secretary of Commerce from 1996 until 1997 and before that he was in the Office of the United States Trade Representative as a Trade Representative from 1993 until 1996. I have not been able to find any association with Monsanto, but Mickey Kantor has been lobbing for different companies. (
http://www.opensecrets.org/revolvin...tp://littlesis.org/person/15855/Mickey_Kantor
)
Virginia Weldon
"Dr. Virginia V. Weldon, M.D., served as Senior Vice President of Public Policy for the Monsanto Company in St. Louis, Missouri, an agro-chemicals and biotechnology (life sciences) company, from March 1989 until her retirement in March 1998. Dr. Weldon also served as Vice President of the Washington University Medical Center. She has been Chairman of the Board of the St. Louis Symphony Orchestra since 2000. Dr. Weldon serves as a Member of the Board of Directors of GenAmerica Financial Corp. Dr. Weldon served as a Director of CPI Corp., a consumer services entity focusing on portrait photography, since 2002. Dr. Weldon served as a Director of Quintiles Transnational Corp., since November 1997. Dr. Weldon served as a Member of the Board of GenAmerica Financial, LLC, a mutual insurance company, which is now a subsidiary of MetLife. Dr. Weldon serves as a Trustee of the California Institute of Technology. After her retirement from Monsanto, Dr. Weldon served as the Director of the Center for the Study of American Business at Washington University for two years. Prior to joining Monsanto, Dr. Weldon was Professor of Pediatrics and Deputy Vice Chancellor for Medical Affairs at Washington University School of Medicine and a professor of pediatrics.
".
(
http://investing.businessweek.com/r...ICQ&previousCapId=29614&previousTitle=DIRECTV
).
Couldn't find any relations between Virginia Weldon and any government or political possitions. And I am not even sure what the position "Whitehouse CSA" is or should be. Unless it is the Cloud Security Agency, but that has nothing to do with either Monsanto or Virginia Weldon.

Josh King
"Josh King served as Director of Production for Presidential Events in the White House office of communications from 1993 to 1997. After leaving the white house Josh joined Monsanto Co. as director of international government affairs." (
http://www.politico.com/arena/bio/josh_king.html
)
Devid Beler
Couldn't find anything about him, nor anything about Al Gores Chief Policy Advisor. Closes thing was
Ronald A. "Ron" Klain
, who is chief adviser. Alternative spellings of David Beler(David Beller, David Belle), yielded nothing.

Carol Tucker-Foreman(Carol Le Tucker Foreman)
was on the board at the Consumer Federation of America(CFA) and acted as the CFA's executive director from 1973 unitl 1977. The position Consumer Advocate is not an actual position. Carol Lee Tucker Foreman is often qouted as being an consumer advocate, which I belive is the reason behind her position in the theory. She has no relations to Monsanto. (
http://supportagresearch.org/carol-lee-tucker-foreman/
)
Linda Fisher
is the current vice president for DuPont Safety, Health & Environment and the chief sustainability officer. And as quite openly stated she has also held a number of positions in the political sphere:
"Deputy Administrator of U.S. EPA; U.S. EPA Assistant Administrator - Office of Prevention, Pesticides and Toxic Substances; U.S. EPA Assistant Administrator - Office of Policy, Planning and Evaluation; and Chief of Staff to the U.S. EPA Administrator. Fisher, an attorney, was also vice president of Government Affairs for Monsanto and was "Of Counsel" with the law firm, Latham & Watkins."
(
http://www.dupont.com/corporate-fun...hip/executive-leadership/articles/fisher.html
)
Lidia Watrud
works at the EPA and has published a number of reports. No connection with Monsanto.
(
http://www.pubfacts.com/author/Lidia Watrud
)
Michael Taylor
"a former Monsanto executive, joined the F.D.A. in 2009 as "senior advisor to the commissioner." He was a staff attorney and executive assistant to the F.D.A. commissioner before joining a law firm in Washington in 1981, where he worked to secure F.D.A. approval of Monsanto's artificial growth hormone before returning to the F.D.A. as deputy commissioner in 1991."
(
http://littlesis.org/person/39121/Michael_R_Taylor
,
https://www.opensecrets.org/revolving/rev_summary.php?id=20919
)

Hillary Clinton
Needs no introduction, no connection with Monsanto. (
https://www.opensecrets.org/politicians/summary.php?cid=N00000019&cycle=2008
,
http://littlesis.org/person/13191/Hillary_Clinton
)

Roger Bleachy(Roger Beachy)
has an emeritus post at Washington University in St. Louis at the department of Biologi. The current director of the USDA's National Institute of Food and Agriculture (NIFA) is Dr. Sonny Ramaswamy. Roger Beachy hold the possition in 2009. No ties to Monsanto could be found. (
http://www.nifa.usda.gov/newsroom/bio.html
,
http://sustainableagriculture.net/blog/nifa-director-resigns/
)

Islam Siddiqui
is currently Vice President for Science and Regulatory Affairs at CropLife America , where he is responsible for regulatory and international trade issues related to crop protection chemicals. He doesn't hold the post as Chief Agricultural Negotiator any more. No ties to monsanto could be found.(
http://littlesis.org/person/45476/Islam_Siddiqui
,
http://fresnocitd.org/wp-content/uploads/2014/01/Ambassador-Islam-Siddiqui-Bio-FNL.pdf
)
Clarence Thomas
supreme court judge appointed from 1991. Clarence Thomas is a former employed at Monsanto from 1977 to 1979. (
http://littlesis.org/person/36985/Clarence_Thomas
)
Donald Rumsfeld
Had a former company which was sold to Monsanto in 1985 and was Secretery of defense under the Bush administration from 2001 until 2006. Currently he holds no position in congress and are not politically active. (
http://littlesis.org/person/33418/Donald_H_Rumsfeld
)
Anne Veneman (Ann Margaret Veneman)
has held a position in United States Department of Agriculture(2001-2005), California Department of Food(1995-1999) and is the former Executive Director of UNICEF(2005-2010). She currently holds no political positions. No ties with Monsanto could be found. (
http://littlesis.org/person/33880/Ann_M_Veneman
)