Thanks for this thread by the way, I didn't see it.
Here's a post that was never addressed or debunked:
This is one of the main points that I think has been ignored in this thread. The exploded backpack has a rather distinct white square as shown in the photo below as well as the photo Mick posted.

Two things I've yet to fully vet.

1. If both backpacks were used by the brothers to execute the bombing, why is the younger brother seen with his backpack after the bombing?

2. The exploded backpack, though dark like the Tamerlan's (the older brother), has that distinctive well defined white square which does not appear on the Tamerlan's backpack (not the same contrast) yet looks very much like the law enforcement officer's backpack. And though it could be the exposure of the photo, the exploded backpack looks much darker than Tamerlan's (which appears to be more of a grayish color).

So, alhough I'm not convinced that Craft or Blackwater operatives were involved in the planning or execution of the bombing, I am perplexed by this one issue. Thanks for any help you can give me on this. Perhaps it's already been debunked and if so please let me know of the thread.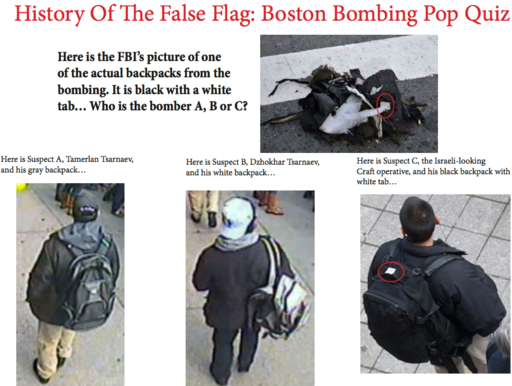 Last edited by a moderator: