Anyone familiar with orgonite and orgone theory? More specifically orgonite itself.
There seems little i can fined on this subject that goes into much detail and any help with looking into orgonite would be appreciated.
Orgonite is a device that apparently harness/generate "Orgone energy" a mystical universal energy/life force discovered by a Wilhelm Reich. I dont want to get into the history too much , i wanted to talk about a modern incarnation of his theory.
Orgonite.
Orgonite appears to be made of epoxy resin or fibreglass mixed in with various metal shavings/balls to a roughly;y 50/50 ratio.
They come in various shapes and sizes with a pyramid shape being quite popular
Which is understandable given the crowed they are sold to.
There are many claims made about this
such as it purifies the atmosphere around it, as well as stopping "EMF", making plants grow better, stops chemtrails, gives off good energy, make ice freeze upwards, if you place them of ley lines there power is boosted, and so on .
But there is a specific thing i want to address here.
When you place an ion meter near an orgonite pyramid it reads ions.
People claim that this is an ion/orgone generator and that the ions "generated" are a result of orgone energy.
according to the supporters it turns positive ions which are claimed to be "bad" into "negative" ions which are "good" for you.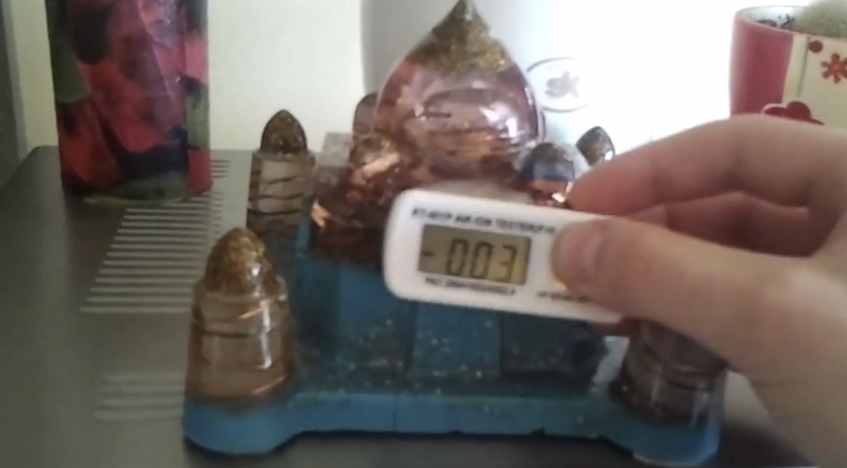 I did find some papers from probably about 30 years ago that did actually say something about positive/negative ions and their relationship on plant growth. Which gives credence to the good/ bad ion claim.
But i diddnt find much after that.
But i was hoping on finding out why we see a reading from a ion meter when we place it near orgonite?
I doubt it is "generating" anything. but an aid into looking at this would be appreciated
Last edited by a moderator: