Administrator
Staff member
I saw this contrail heading towards me and thought it would pass overhead, giving me a clear shot of the plane.
Instead it began a turn to the north (the plane's left)
Quite a dramatic one, from where I was standing.
Turns out it was this:
Identified on FlightAware as NASA502,
https://flightaware.com/live/flight/NASA502/history/20160323/1825Z/CHADS/R2508
It's an earthquake fault mapping flight.
http://www.nasa.gov/centers/armstrong/news/FactSheets/FS-089-DFRC.html#.U3WC_JQv-I4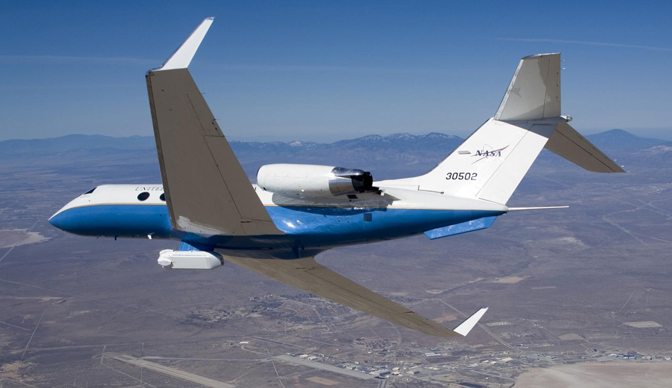 NASA's Armstrong Flight Research Center operates a C-20A, a military version of the Gulfstream III business jet, as an environmental science research aircraft for a variety of geophysical research missions. The aircraft has been extensively modified and instrumented for the role, including installation of a sophisticated synthetic aperture radar in an underbelly pod, a self-contained on-board Data Collection and Processing System (DCAPS) and a precision autopilot that enables the aircraft to fly repeat passes over a target within 15 feet of the original flight path.

The twin-turbofan aircraft provides long-term capability for efficiently conducting airborne environmental science missions for NASA, other government agencies, academia, and private industry.

UAVSAR

The Unmanned Air Vehicle Synthetic Aperture Radar (UAVSAR) is sophisticated synthetic aperture radar system developed by NASA's Jet Propulsion Laboratory in Pasadena, CA. Developed initially for carriage by remotely operated unmanned aircraft, the UAVSAR is mounted on the C-20A in a specially designed pod that will be interoperable with unmanned aircraft in the future.

The UAVSAR uses a technique called interferometry to detect and measure very subtle deformations in Earth's surface. The sensor is designed to gather data for geological studies on earthquakes and volcanoes, ice and glacier movement supporting climate change studies, biological studies supporting ecology and carbon cycle science, and oceanography research.

Since the UAVSAR was installed in 2007, the aircraft has flown more than 2,000 data-collection flight lines, most from an altitude of 41,000 feet
Interestingly I could see the turns in the path that was over San Francisco.
That's about 100 miles away!
NASA502 showed up before, with a very similar flight path:
https://www.metabunk.org/u-turn-contrail-near-san-francisco-nasa502-glf3-survey-plane.t3654/
Its still in the air, and I expect a lot of photos of curved contrails to be posted today by "chemtrail" enthusiasts. There's already a few on Facebook:
​

​
Last edited: