Claim: (emphasis mine)
NASA Photo Fakery

Photo 1 is from the book "Carrying the Fire" by Astronaut Michael Collins. It shows Collins in a no-gravity test inside an airplane. Collins is practicing for a space walk inside an aircraft (flying a zero-g loop to temporarily eliminate gravity). Collins is seen holding the jet reaction propulsion rod in his right hand.

Another famous photograph has Collins holding the jet reaction propulsion rod with his left hand while outside his Gemini 10 capsule --

he is, according to Collins and NASA, out in space on a spacewalk in Photo 2.

That photograph is NASA picture #66-40127. Photo 2 is also from "Carrying the Fire" and is allegedly of a Gemini 10 space walk.

https://www.coasttocoastam.com/article/nasa-photo-fakery
Astronaut Michael Collins published a book in 1974 "Carrying the Fire". In the book there is a photo of what appears to be Collins floating in space. The only place this photo is found is in this book. There is no caption accompanying the photo.
note:
It is very obvious and undisputed that the [photoshopped] photo originated from this photo:
Original NASA pic:
Source:
https://archive.org/details/S66-40127
The original photo is ALSO in the book
. And the caption reads: "The zer0-G airplane-sickening!"
https://www.abebooks.com/servlet/BookDetailsPL?bi=22243662718#&gid=1&pid=4
And Michael Collins states in the book: "One of the great disappointments of the flight was the fact that there were no photos of my space walk"

google books link
It is fun to note that in 1975 a London based publisher, W.H. ALLEN reprinting the book, took the artistic representation even further by sticking it on the dust jacket: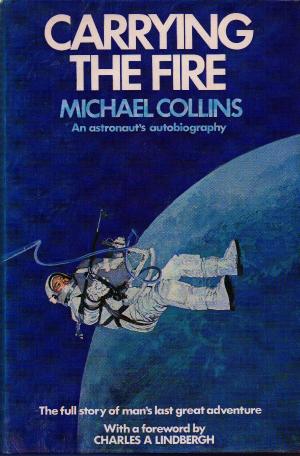 https://www.abebooks.com/9780491016032/Carrying-Fire-Astronauts-Journeys-Michael-0491016034/plp
So to summarize:
*I can find zero evidence that NASA, Collins or any of the publishers ever claimed this was an authentic photo OR was a photo of his spacewalk. There is zero evidence that NASA had any involvement at all.
* Collins tells us
in the very book
the photo originated from that "there were no photos of my spacewalk"
*The original photo is also in the book.
Last edited by a moderator: