Spectacular multiple parallel contrails were seen over Canberra in the morning of Friday , November 21, 2014
http://www.canberratimes.com.au/act...s-live-friday-november-21-20141117-3khtu.html
The Sydney-Melbourne air route is reportedly the fifth busiest in the world, and it certainly looked like heavy traffic passing over us this morning.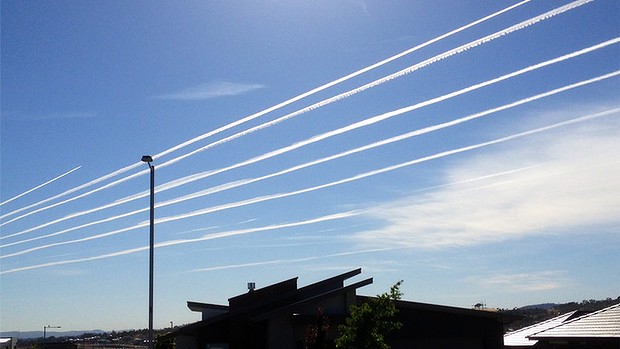 Contrails over Canberra on Friday November 21, 2014
Photo: Graham Tidy
A cover photo of these contrails on the ABC News FB page prompted a flurry of angry comments from local chemtrail proponents.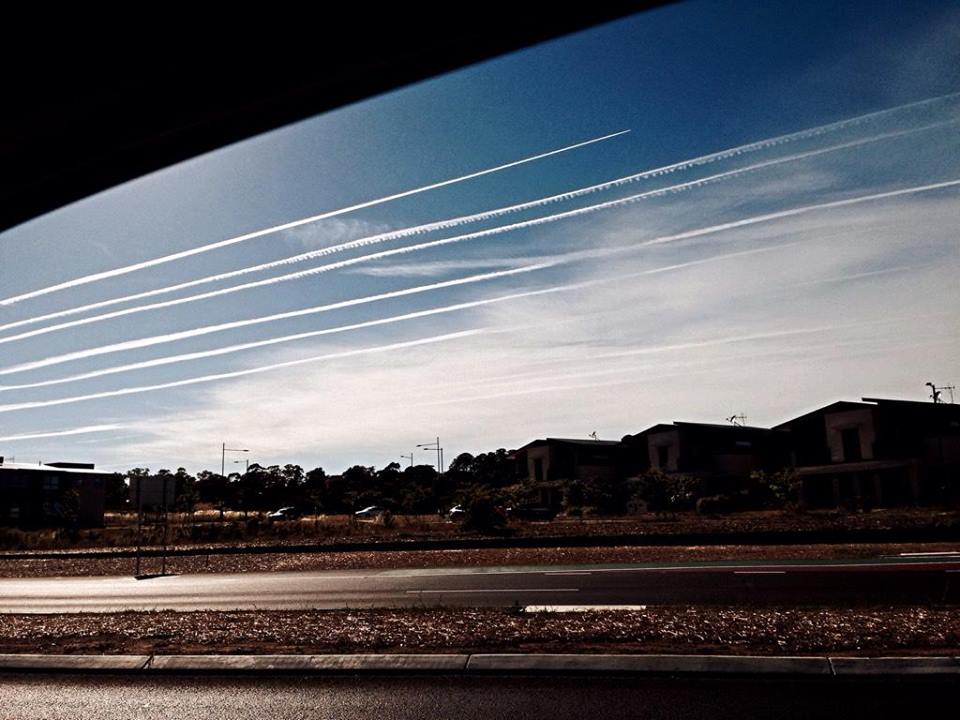 https://www.facebook.com/abcnews.au...72924719987/10153447215639988/?type=1&theater
The photos apparently were taken at different times between 8 AM and 10 AM of local time (21:00-23:00 UTC of the previous day November 20). FR24 playback shows that air traffic on Sydney-Melbourne route is arranged into two single files, with flights from Melbourne passing northwest of the Australian capital and flights from Sydney passing southeast of it.
The morning local traffic to Melbourne is joined by the transcontinental flights from Los Angeles.
The photos are taken in the eastern direction toward the morning sun and the Sydney to Melbourne file. A random flight track from this file displayed on Google Earth matches the direction of the trails in the photos, including the trails from the past accidentally captured by a Google StreetView car.
Comparison of the
EOSDIS Worldview
Terra and Aqua images of the southeastern Australia on the date shows differences in the cloud coverage consistent with westerly wind blowing across the common flight path. The presence of crosswind explains the formation of multiple parallel contrails by the planes following the same track. The shorter interval between the planes, the closer their contrails to each other.
Update:
A new
flickr photo
of known time and location allowed the identification of the flight for the nascent top contrail as VOZ814. Several other flights ahead of it have also been allocated to their respective contrails (red numbers). The time intervals (in minutes) between these flights passing Canberra are shown in orange between their contrails.
Last edited: