Wanted to canvas the sage advice of you guys, do you think this is a plane contrail or an incredibly fortuitous meteor capture?
http://flickr.com/gp/cedarsphoto/R73k05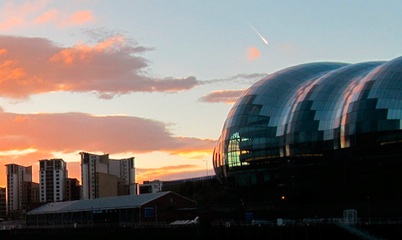 I'm inclined to say the former given the likelihood of the latter happening but what surprised me was that my Dad (who took the pic) exposed for the sunrise so as you can see the bulk of the rest of the scene is near-silhouetted. I'd have expected the plane to be visible, even if only as a couple of dark pixels, not an elongated bulbous head on the end of the "trail/tail"?
I'm asking him to check to see if he has images taken immediately before/after that show a similar scene which will be useful in narrowing it down but for what it's worth he doesn't remember seeing the object at all and was stood taking photos of the sunrise for about 30 mins.
Last edited by a moderator: