Administrator
Staff member
From one of the 9/11 threads, I followed this link, to find:
http://pilotsfor911truth.org/forum/index.php?showtopic=22665&st=20
You'll notice one very common theme among the "debunkers", they do not source anything, never use their real names, and expect everyone to believe them. This is perhaps why places like "Metabunk" are a

virtual ghost town

. It also doesn't help that the owner stifles discussion by banning anyone who challenges their resident idiots. Clearly an amateur.
Now beside the fact that I'm a big fan of sourcing things, and I do use my real name, and only ban people for repeatedly violating the posting guidelines, I was a little bemused by the "virtual ghost town" comment. So I clicked on the link:
http://urlm.co/www.metabunk.org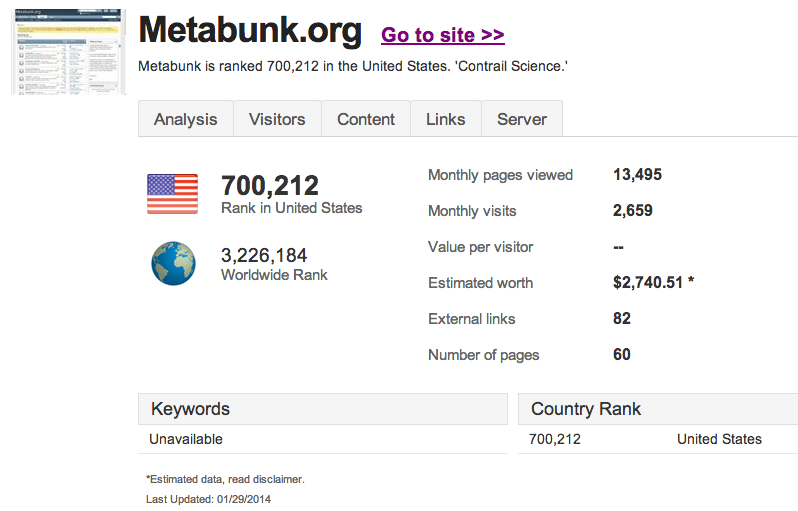 Which was rather surprising, especially the "monthly visits: 2,659" as metabunk.org has been getting over 5,000 visits
per day
for the last year, and for the last couple of months has averaged over 10,000 visits a day. And we have several thousand pages, not 60.
If the "Last update" figure of 1/29/2014 were correct, then the monthly visitors should actually have been 418,000, not 2,659. However looking at the screenshot, it's from when metabunk.org was running on vBulletin, which was at least a year ago.
So I looked at the results for pilotsfor911truth.org
http://urlm.co/www.pilotsfor911truth.org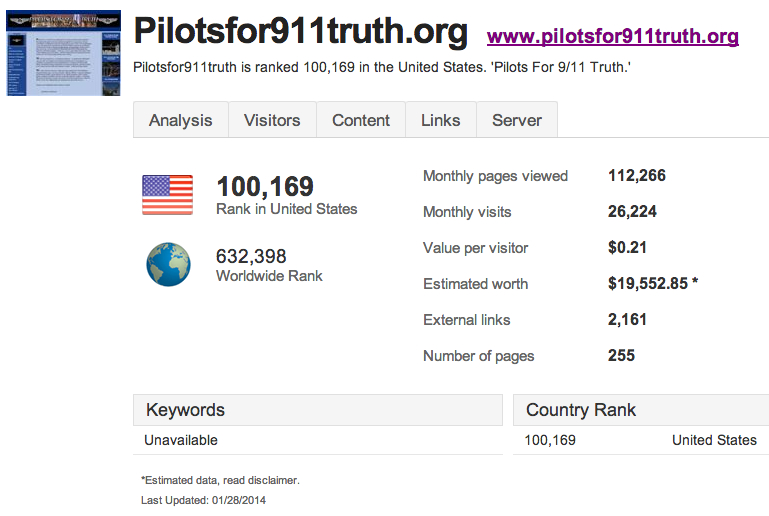 The problem here seems to be the use of the web site urlmetrics (urlm.co), which appears to be an incredibly obscure web site ranker than almost nobody uses. I can't even find any references to it. The much more commonly used web sites are Alexa.com and Similarweb.com
http://www.alexa.com/siteinfo/metabunk.org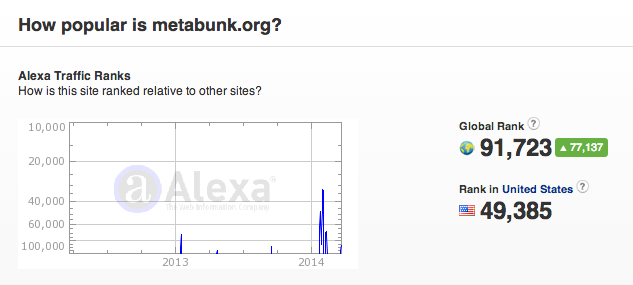 http://www.alexa.com/siteinfo/pilotsfor911truth.org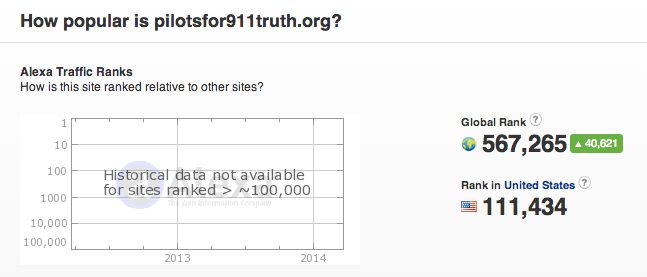 http://www.similarweb.com/website/metabunk.org#/#pilotsfor911truth.org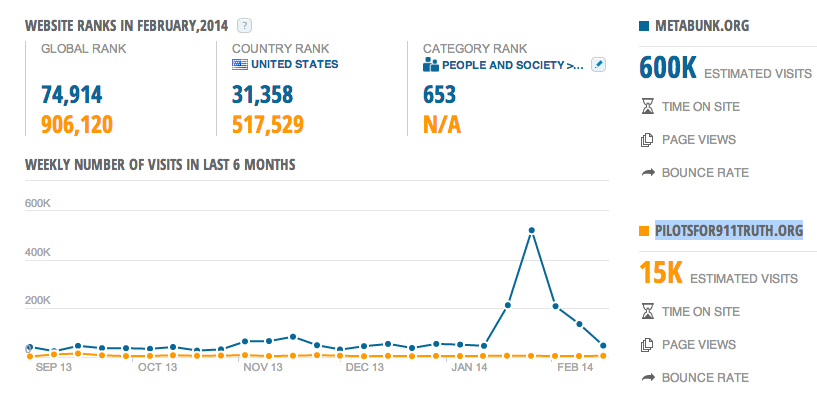 Of those two, I've found similarweb.com to be most accurate, as the figures for monthly and weekly visitors match quite closely the figures I get from my own measurements using clicky.com, although they tend to go out of whack during unusual peaks, such as I got during the start of February.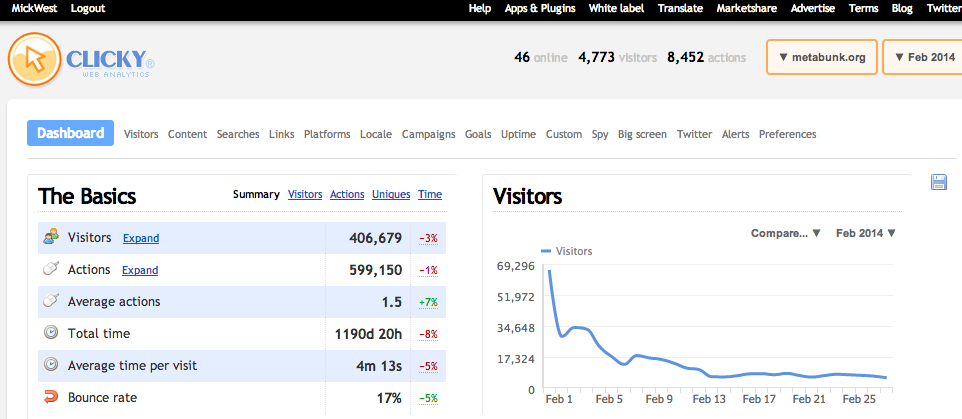 With a current typical day: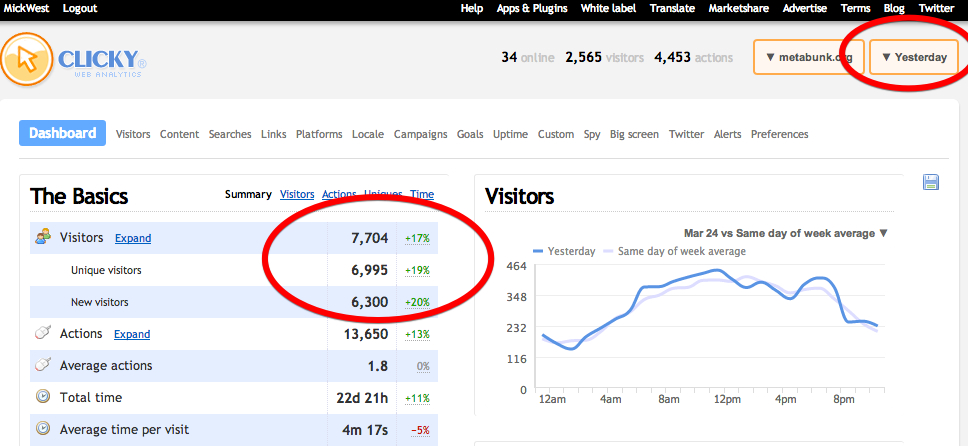 The similarweb figures also are a good ballpark match for my stats from cloudflare.com (my CDN) for february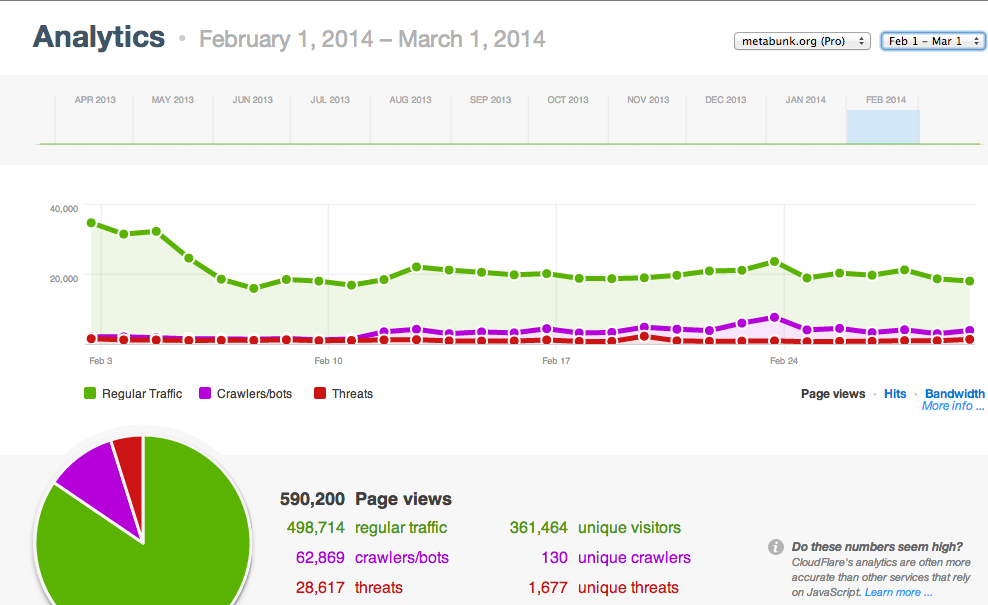 And the estimates for search traffic are consistent with the Google clicks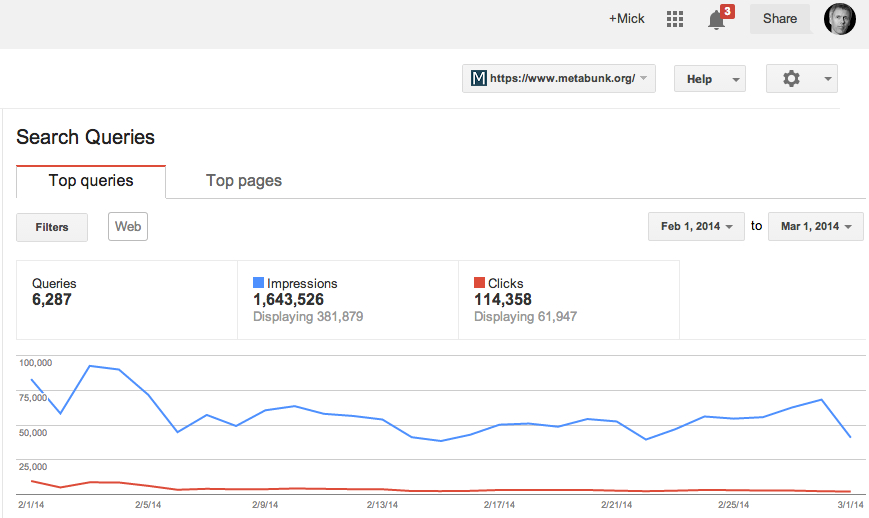 My main intent with this post is to simply correct the erroneous description of metabunk.org as a "virtual ghost town", as it's quite clear that description is based upon false data from a no-name site that uses figures that are the opposite of reality. It also seems clear that if there's a ghost town here, it's pilotsfor911truth, with just 15K visitors a month. But it does raise the question of why Rob Balsamo (
@SpaceCowboy
) would prefer to use the most obscure web site ranker there is. Is this an honest mistake, or an example of cherry picking? I invite Rob to clarify.
Last edited: