Administrator
Staff member
(A continuation of:
https://www.metabunk.org/threads/metabunk-is-three-years-old.2862/
)
I started Metabunk in December 2010, four years ago. Each year has brought changes and growth. Here are the numbers:
2011: Threads 361 Posts: 3,264, Active Members 67
2012: Threads: 833, Posts: 21,700, Active Members: 141
2013: Threads: 2,214, Posts: 78,219, Active Members: 216
2014: Thread 3,640, Posts 132,683, Active Members: 319
While this has not been quite the same exponential growth as in previous years, it's in keeping with my philosophy of maintaining a high signal to noise ratio. Debunking is useless if nobody can find it. Too often people put in lots of work in debunking something, but it ends up on page 12 of a hundred page thread, and only a handful of people will ever see it.
So I've continued to enforce and refine what might seem like a rather onerous set of posting guidelines, aimed mostly at keeping things focussed, and useful. The real results of this are that while the amount of new material has only increased by around 60%, the amount of new readers (i.e. people that the debunking is reaching) has greatly increased. Compare the SimilarWeb statistics from Nov 2013: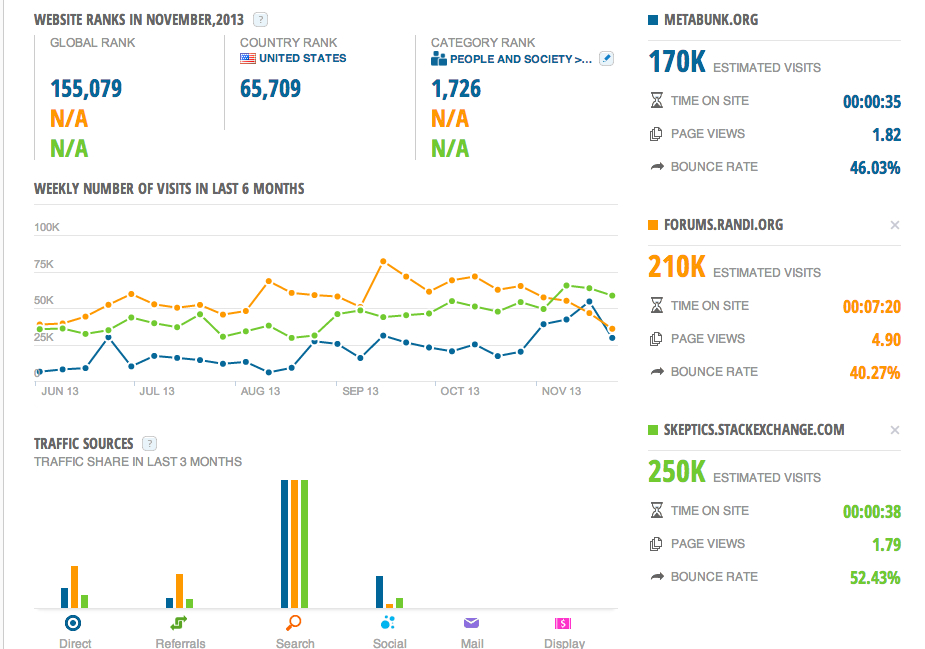 With the equivalent 2014 statistics:
Metabunk went from hovering around 100K visitors a month to over 500K visitors per month. The benchmark site I compared against, forums.randi.org was re-branded as internationalskeptics.org. One of my goals for 2014 was for Metabunk.org to become the #1 skeptics forum in terms of visitor traffic, and I think we have accomplished that. While the International Skeptics Forum has thirty times as many threads as Metabunk, and five times as many active members, they only get around half as much traffic.
So for 2015 and beyond, I want Metabunk to continue to create and refine useful content. Content that can help people avoid living in fear, and help them focus a bit less on fake issues, and hopefully allow them to focus more on real issues.
And while I expect Metabunk to maintain its unique blend of examinations of conspiracy theories and pseudoscience (with a focus on contrails and aviation), I also hope to encroach on the territory of the larger fact-checking sites like Straightdope and Snopes. These get about 10 to 20 times as much traffic, but I think with a continued emphasis on polite focussed and useful content, we can continue to close that gap
As well as being a resource for people who have beliefs or suspicious regarding various theories, I think Metabunk is also a useful resource for the friends and relatives of those people. When people have very strong beliefs in things that are incorrect, and a large degree of suspicion of "official" sources such as scientists, then it can be very difficult to talk to them. The topic of how best to interact with bunk-believing friends and family is something that I want to focus on in the coming year.
In closing, I want to thank everyone who has contributed content, questions, and corrections over the last four years. I greatly appreciate the help and the friendships I have made, and I look forward to investigating, debunking, and skydentifying with you for years to come.