The Claim:
Max Bliss is claiming that the stop start nature of the trails is proof of chemtrailing. He offers no aircraft type, identification, time of observation or altitude of the observed aircraft.
Analysis:
Max lives near Angloueme in southern France.
The Earth website reading for 250 hpa (approx 35,000ft) for Angloueme on the 22nd June reveal a RH of 97%
at 10.00am local time. From the position of the sun, the camera is probably pointing south at about this time of day.
Anything over 70% RH is usually an ice supersaturated region and hence likely to produce persistent contrails.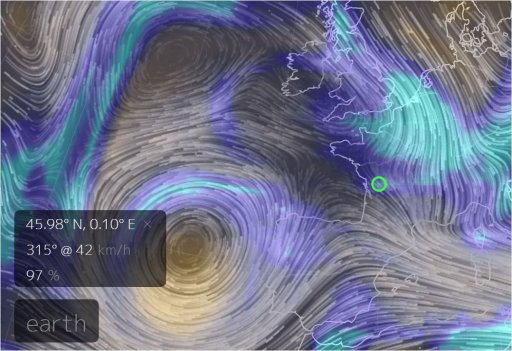 Max does not give an altitude for the aircraft but they are likely to be military aircraft flying in loose formation.
Conclusion:
The highest probabilty outcome with the evidence available is that there were three military aircraft travelling across the field of view in an ice supersaturated region. Aircraft travelling in this manner are subject to thrust changes to maintain relative position to other aircraft. This, and the non homogenous nature of the RH readings in the area account for the on-off contrail phenomenon observed.